It's not new to hear and see online advertisements about smartphone apps that pay you money. While there are scams that will probably just take up space on your phone, you can find legit apps that indeed help you earn cash using your phone. 
You could utilize some money-making smartphone apps that give you rewards for taking surveys, playing mobile games, shopping, losing weight, taking surveys, and many more. As a result, things are easier and hassle-free with the advancement of technology and the help of the internet.
Thus, if you want to need money for unexpected expenses, applying for mobile loans is much easier, such as SlideFinancial which provides ultra fast loan cash acceptance.
Outside of apps that help you manage your money or borrow money, let's shift our focus to ones that actually help you earn some extra cash. Who couldn't use a little extra money here and there as it could make all the difference when unexpected expenses pop up. Here's a list of the best smartphone apps that pay you money and are fun to use.
Apps That Pay You to Lose Weight
Here are some of the mobile applications that allow you to earn money by completing tasks related to fitness and health. 
myWalgreens (Formerly Walgreens Balance Rewards)
By completing daily and weekly challenges, you can score points and receive cash through myWalgreens weekly health challenges. 
First, you need to create an account and do the tasks for the day. For example, you'll be challenged to reach a certain number of steps in a day which encourages you to walk and lose weight. Then, just connect a device or app that you're using to track your progress and monitor your results. 
Evidation (Formerly Achievement)
Another mobile app that motivates you to walk and be in good shape is Evidation. The steps you complete daily are translated into points, which can be converted into cash. You can earn $10 when you reach 10,000 points, and you can cash it out through your bank or PayPal account. 
Apps That Earn You Money By Taking Surveys
Many apps pay you cash by asking you questions and giving your opinion. Here are two of the best survey apps that you can use to earn money. 
Survey Junkie
Make money by taking surveys through Survey Junkie. You can download this app on your phone and start answering surveys from companies doing market research. You can gather points by taking surveys, and these points can be converted into real money. 
Swagbucks
Just by signing up with Swagbucks, you can already have $5. Once you have your account, you can respond to surveys that pay you a few or several dollars. You can cash out the points directly to your wallet, or you can use it to buy gift cards. 
Related: Side Hustles Explored: Simple, Low Effort Ways to Make Money
Inbox Dollars
Inbox Dollars is a rewards site very similar to Swagbucks that will pay you to complete short tasks such as taking surveys, watching videos, or reading emails. You can earn a $5 bonus just for signing up and earn money during your spare time on the go.
Mobile Games That Pay You to Play
Play-to-earn mobile games are popular today. There are many to choose from your app store, but here are the best play-to-earn games out there that you can try. 
Solitaire Cube
For iPhone users who want to make some money by playing games, Solitaire Cube is a must-try free mobile app. You can play in the Practice League to earn Z Coins which you can redeem for prizes. If you want to bet money against other players, try the Pro League, which helps you win dollars if you win. 
Blackout Blitz
Do you enjoy playing bingo? If yes, you'll surely love this fast-paced version of this classic game. 
Blackout Blitz not only allows you to kill time by playing bingo, but it can also help you make money. If you're good at the game, you can earn as much as $25 in a week. You can download this game on your iPhone. 
Shopping Apps That Give Cash Back Rewards
Don't just spend if you can spend to earn. Here are two of the best apps that help you earn cashback rewards for your purchases. 
Rakuten
Rakuten allows you to earn cashback rewards for your online purchases. It offers a $10 signup reward, you can also earn coupons or money through referrals. If you want to make a passive income, download Rakuten on your smartphone now. 
Fetch Rewards
Fetch Rewards helps you earn rewards by taking photos of your grocery receipts. It's free to sign up, and you can use it in every grocery store. Just don't forget to snap pictures of the receipts for you to earn cashback.
Related: How to Save Even More Money on Groceries With Fetch Rewards
Ibotta
Ibotta is another app that helps you earn cash back when you shop for goods. Just use the app to claim relevant offers that you want to purchase. Then, do you shopping as your normally would and scan the receipt into the app to earn rewards.
Related: How to Eat Well With a $300 Monthly Grocery Budget
Takeaway
Many mobile apps that help you earn money are making the rounds on the Internet today. Just by shopping, taking surveys, playing tasks, and doing fitness-related tasks, you can already make money. The mobile apps mentioned in this post are the best cash-earning apps nowadays.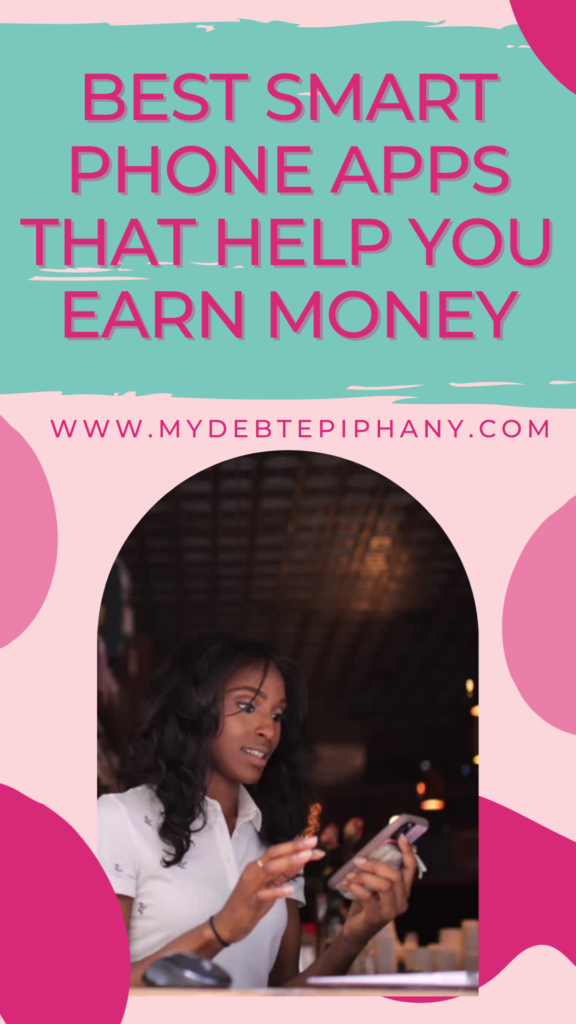 Stop Worrying About Money and Regain Control
Ready to regain control of your money? Take the first step with this free starter pack which includes:
2 Monthly Bill Calendar templates
1 'Start Paying Off Your Debt' Checklist
1 'Drastically Cut Your Expenses' Checklist