Do you have the opposite of a green thumb? Would you like to release your inner plant lady but don't know where to begin? Well, you've come to the right place because you will discover the best plants for success.
Houseplants are a great addition to any home. Not only will they beautify your space, but they will also beautify your life. Benefits of indoor houseplants include: 
Reduce stress levels
Boost productivity
Improve air quality
Sharpen your attention
Improve your whole outlook on work and life
If you are just getting started on your journey towards plant life, start with these 7 houseplants that are perfect for beginners.
1. Golden Pothos Vine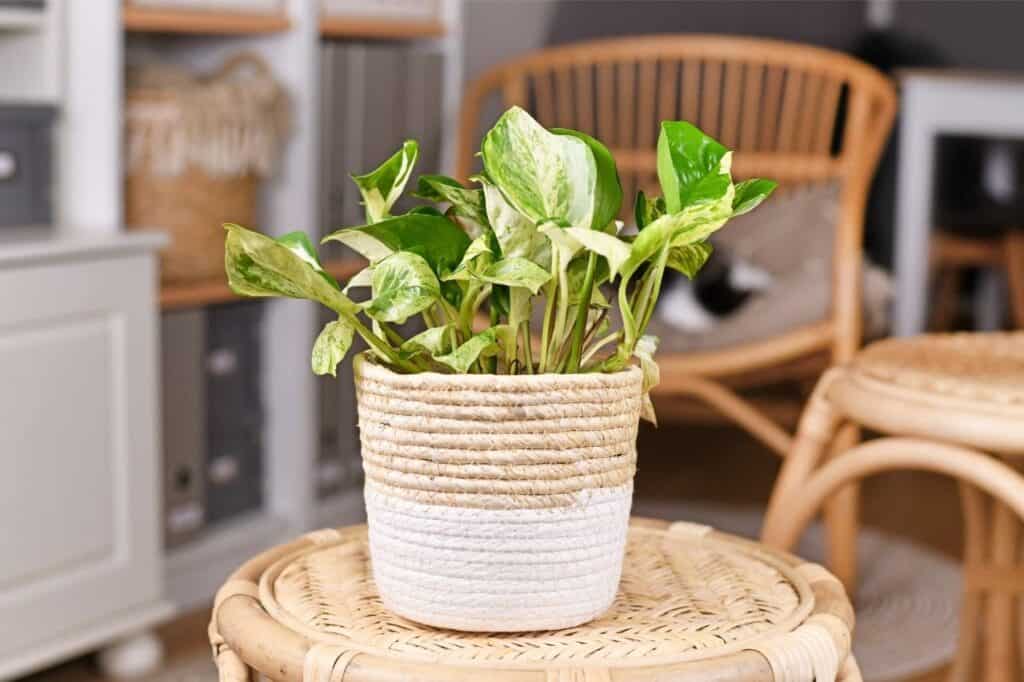 Worried you will forget to water your plants? The Golden Pothos Vine, also known as Devil's Ivy, is the plant for you! 
It requires minimal watering and actually thrives as the soil dries out between waterings. Plus, it's easy to tell when it is time to water your Golden Pothos Vine because it'll start to droop. Once it droops, water it and leave it alone.
This plant is also easy when it comes to how much light it needs. The Golden Pothos Vine prefers bright but indirect light. If the plant isn't receiving enough light, the color on its leaves will revert to all green. On the other hand, the leaves will turn pale if the plant gets too much light. 
Best of all, the Golden Pothos Vine is virtually indestructible! 
Earn Cash Back When You Shop for Plants Using Dosh
Dosh is a cash-back app that allows you to earn free money easily. Once you download the Dosh app and connect your credit card, you earn free money every time you make a purchase at a Dosh-participating business (100,000+ places). Your free cash appears in your Dosh Wallet, which you can transfer to your bank, PayPal, or Venmo.
The best thing about Dosh is that it works seamlessly behind the scenes. You don't have to worry about logging in, signing on, or showing a QR code. When you purchase something at those Dosh partner businesses with one of your linked cards, the rewards rack up automatically.
Download Dosh and earn free money while you shop.
2. Spider Plants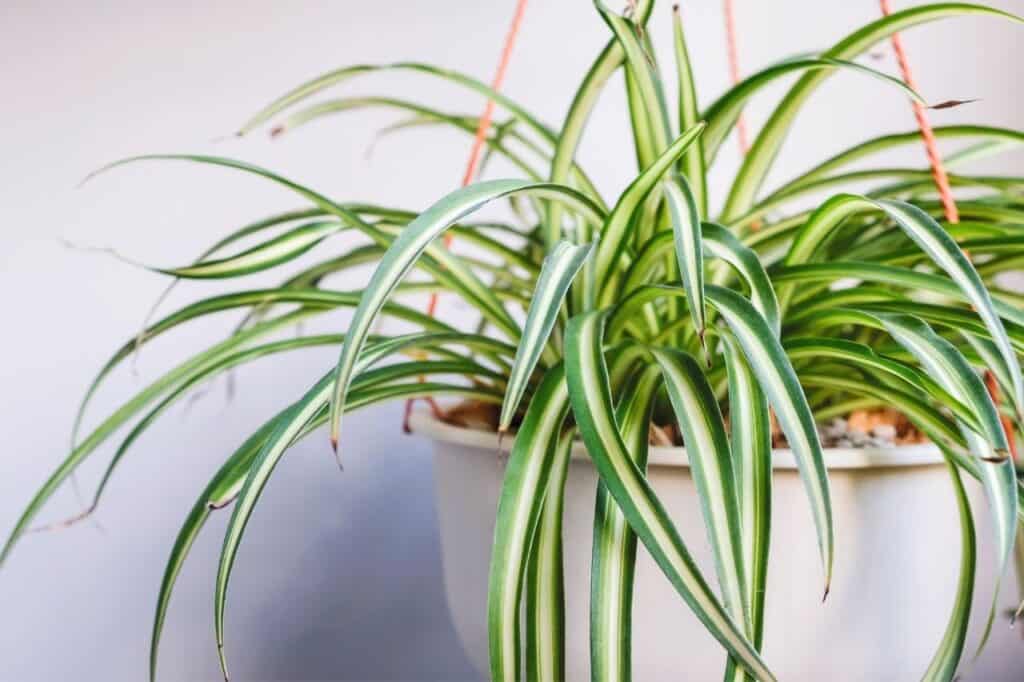 Are you looking for a robust houseplant that will live for many years – possibly even generations? Then, a spider plant is likely the right choice for you! Spider plants are one of the most popular houseplants for several reasons, including how easy they are to care for and their health benefits. 
The spider plant is a good choice for people that want to purify the air in their homes. It has been shown to remove indoor pollutants, such as formaldehyde, all throughout your home. To cleanse the air in an entire house would require a large indoor garden, but if you place four or five spider plants in your office, your colleagues will notice its effect.
Spider plants require regular watering, but their beautiful foliage cascading from hanging baskets will make it easy for you to remember. They thrive indoors with light shade or indirect sun. 
3. Snake Plants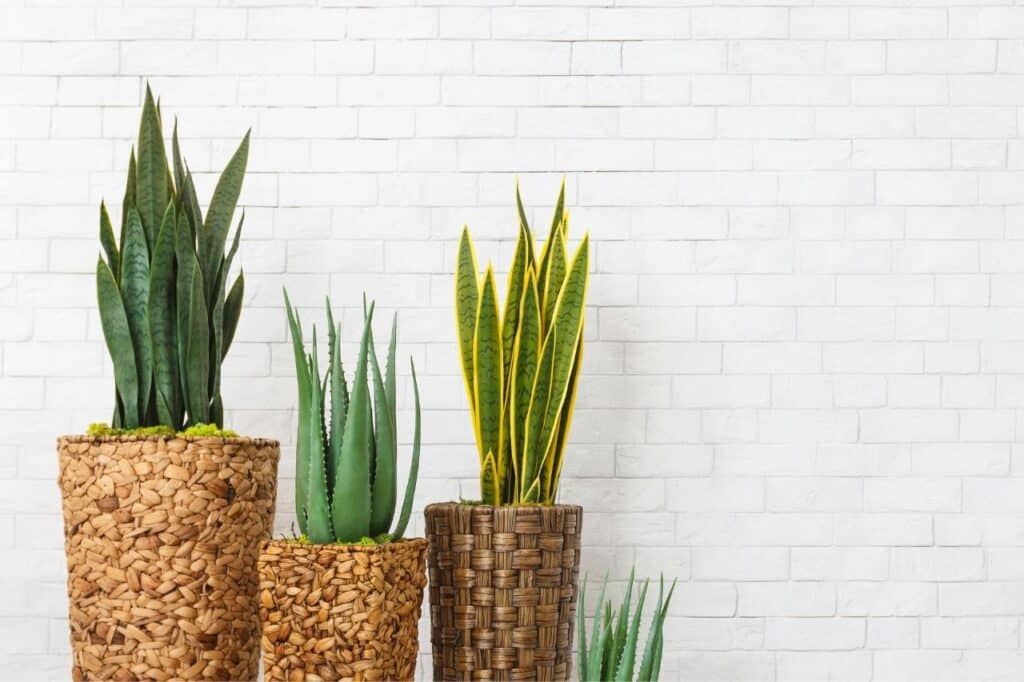 For those who swear they don't have a green thumb, the snake plant is the way to go. Why? It's simple: The snake plant is very, very difficult to kill. The reason is because they come from places like Africa, Madagascar, and Southern Asia, where they thrived in arid, harsh conditions.
The snake plant can grow in a room with very bright light or the complete opposite (an almost dark room). It requires very little watering, and it can even last up to two months without watering it. The snake plant has been deemed drought-resistant, which makes it easy to care for.
Save Money on Your Houseplants with Capital One Shopping
Did you know buying houseplants online is a thing? Whether you buy your houseplants online from retailers like Amazon or order them online and pay curbside like at Lowe's, there's a way for you to see if there are coupons, better prices, or rewards. Capital One Shopping is a browser extension that will instantly compare online prices for you.
When you download the Capital One Shopping browser extension, you get alerted about coupon codes (that work!) for your order at checkout – no more opening a new window to search for those promo codes. Plus, if you shop on Amazon, Capital One Shopping is a must. It will comparison shop for you and notify you if a better price is available.
Download Capital One Shopping today.
4. Aloe Plants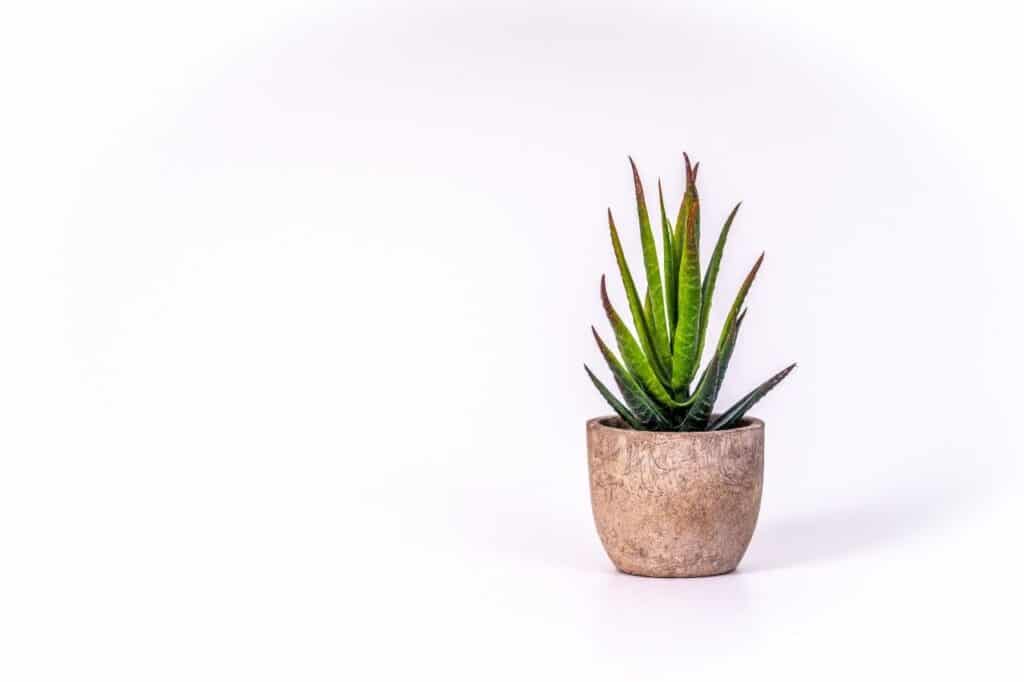 There is something incredibly satisfying about growing a living thing that directly benefits you, such as fruit, vegetables, and aloe plants. Aloe has multiple medicinal and health benefits. Many people have aloe plants in their homes to use gel inside the leaves as a salve to treat sunburns and other burns. But, the cosmetics, pharmaceuticals and food industries use aloe for a wide variety of products.
If you want an aloe plant for protection against burns, the good news is that it is easy to grow and take care of. Aloe plants tend to thrive in indirect light with minimal watering. These plants are drought-hardy and just need to be watered once the soil dries out completely. 
Find a Variety of Healthy Aloe Products at Vitacost
Are you intrigued about the medicinal and healthy benefits of aloe and how the various industries use the aloe gel? Head over to Vitacost, a nutrition and health-focused online retailer, and see all the kinds of products containing aloe, like juice, gel caps, toothpaste, liquid vitamins, body lotions, skin gels, and personal lubricants.
When you visit the Vitacost website, you will find a range of natural and organic products for less. There are vitamins and supplements, along with healthy foods you can buy for a fraction of the price you will find in your local stores. They also carry their own line of products.
Go to Vitacost to check out its comprehensive catalog of healthy products and save.
5. Dracaena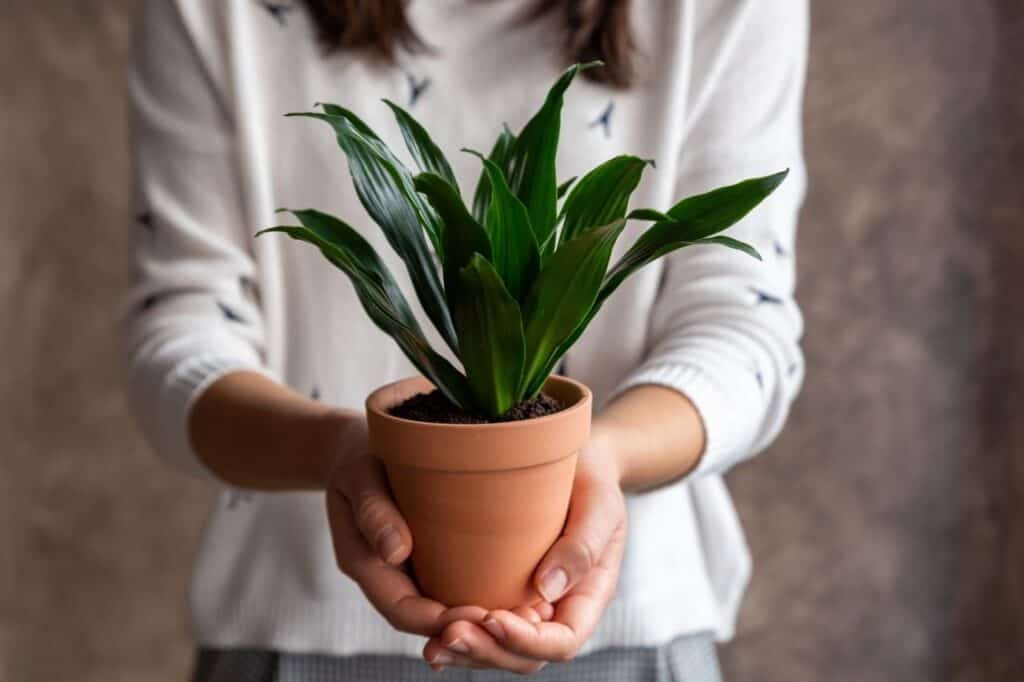 Want to give your home a tropical feel? Consider adding Dracaena to your mix of houseplants. There are several different varieties of Dracaenas, but the one popularly sold as an indoor houseplant is the Dracaena fragrans (also known as corn plant). The leaves grow from a thick cane-like stem, giving them a palm tree look.
The corn plant grows well indoors in areas of the home with bright but indirect sunlight. With regular watering, it will grow tall and thin (perfect for smaller apartments). Like other indoor plants, they help with air purification, and the Dracaena fragrans also increases humidity and reduces dust, too.
Free Workshop – Join our free Simplify Money Workshop
The *only* way to save money is to spend less than you earn. That means you need to decrease your expenses or increase your income.
We want to help you do both.
Join our FREE Simplify Money Workshop to learn the fundamentals of growing wealth. Because when you can spend less than you earn, your money has no choice but to grow. You will build your savings and pay down debt. 
What's more? We've got a bunch of free money-hacks to share with you:
Hacks to lower your monthly bills
Hacks to spend less on debt
Hacks to start investing
Hacks to increase your income by $20/month (with no extra effort)
This workshop has everything you need to accomplish the cardinal rule of personal finance: keep your income over your expenses.
Join our free 5-day Simplify Money Workshop, and start growing your wealth today.
6. Succulents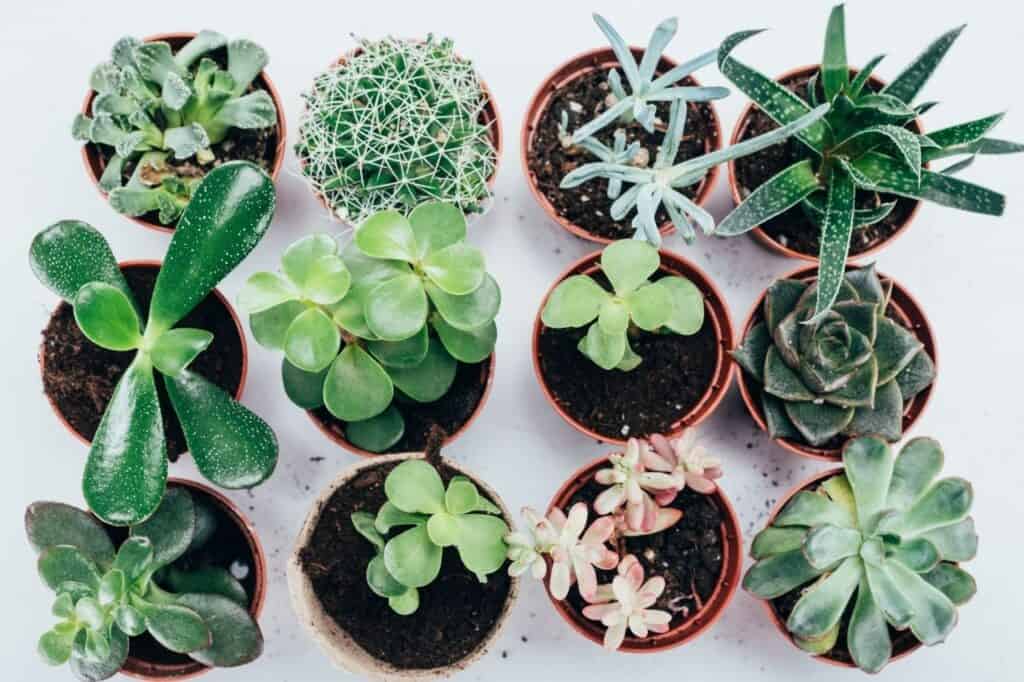 Variety is the spice of life – and the indoor garden. With over 10,000 varieties, succulents allow plant lovers to pick and choose to their heart's content. 
Decorate your window sills with succulents, which is perfect placement since succulents require more light than other houseplants. 
Don't worry about killing them because their leaves will let you know what they need. The leaves will pucker when they need water. You'll know they are getting enough light if their leaves blush or change colors. 
7. Bamboo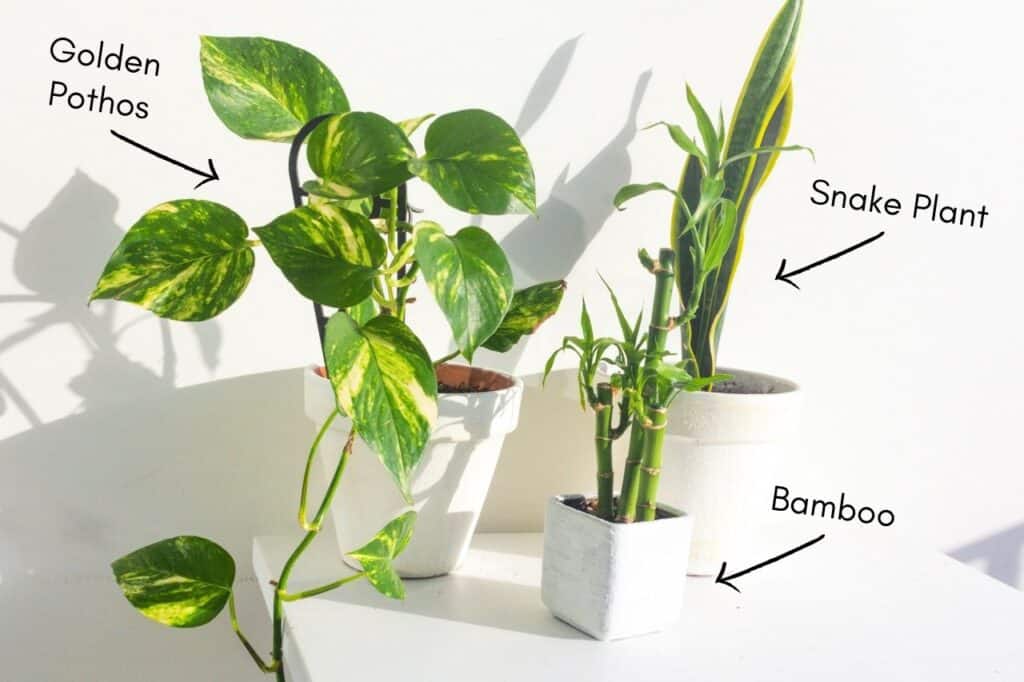 Are you looking for a plant that requires a basic care routine? Look no further than bamboo. Bamboo is a hardy plant that is difficult to harm, but it does require regular maintenance.
If you keep your indoor bamboo plant in a pot, you should place it by a window to ensure it gets plenty of light and rotate it occasionally so it gets light on all sides. It also requires regular watering.
Want more life hacks? Check these out…
Need help saving money? Read these next…
Want to save these tips for later? Click here to pin this post!
Be sure to follow us on Pinterest for more money-saving life hacks!
*Capital One Shopping compensates us when you get the Capital One Shopping extension using the links we provided*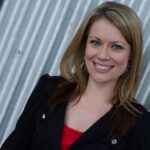 Michelle Salater is a freelance finance writer with a passion for personal finance education. When she's not in front of her computer, she's reading biographies and exploring remote areas of the world. She also freelances for Wooster Media Group LLC.