Axos Bank is a popular online bank since it offers multiple free checking accounts and high-yield savings accounts. 
Whether you're opening your first account or you want to switch banks and stop paying monthly service fees, this bank might be a good fit for you.
Our Axos Bank review can help you decide if the banking account options meet your needs.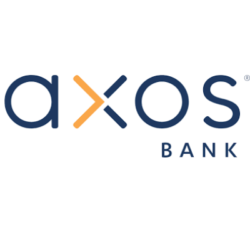 Summary
Axos Bank offers fee-free checking and savings accounts with no ongoing balance requirement. It's possible to earn high interest rates and get unlimited domestic ATM fee reimbursements. Recurring direct deposits and debit card rewards let you qualify for the best perks.
Pros
Unlimited domestic ATM fee reimbursements

No monthly service fees

Earn above-average interest rates
Cons
Some benefits require direct deposit

Account options can be confusing

Accounts may require a minimum deposit
What is Axos Bank?
Axos Bank is an online-only bank previously known as Bank of Internet USA. The company has been offering savings and checking accounts for over 20 years.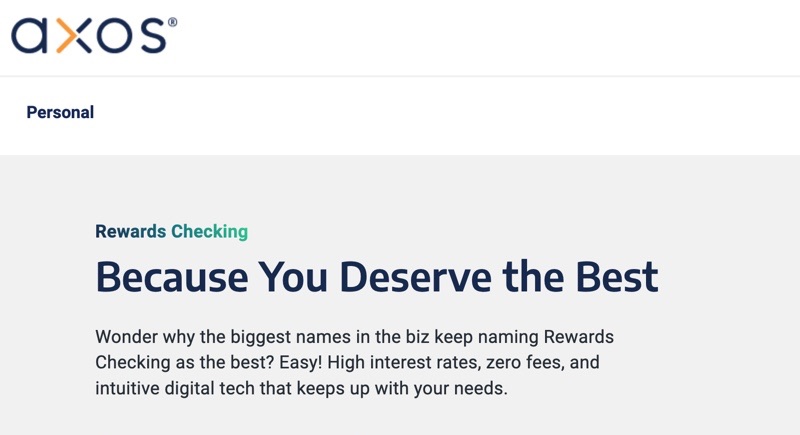 There are several different account options offering various benefits. These include ATM fee reimbursements and the ability to earn above-average interest rates.
In addition to enjoying more rewards, you're less likely to pay standard bank service fees. 
For example, you won't have to keep a minimum balance or enroll in direct deposit to waive the monthly account maintenance fee that other banks may require.
Customers can open no-fee bank accounts with a small initial deposit and no ongoing balance requirements.
The bank offers these account types:
Who is Axos Bank For?
The Axos Bank checking and savings accounts offer more perks than most local banks. It's possible to complete all of your banking on this platform if you don't need physical branch access.
You might also consider this platform as a secondary bank account. 
For instance, you can open a high-yield savings account with Axos to earn more interest while keeping a local checking account for paying bills and making cash deposits.
Axos Bank Features
Here is a closer look at the different internet banking products available through Axos Bank.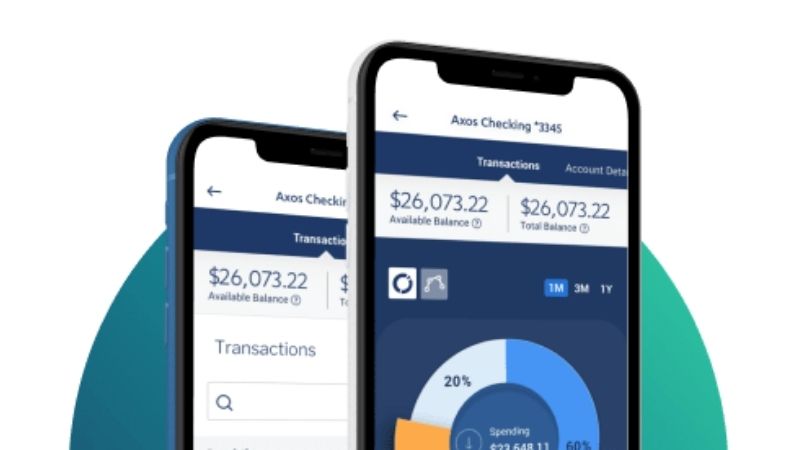 Checking Accounts
There are several free checking account options you can choose from. Each one has different perks, but they all share the benefit of no monthly service fee. 
Common features for most accounts include:
Unlimited domestic ATM fee reimbursements
No minimum monthly balance requirements
Online bill pay
No overdraft or insufficient funds fees
Up to $250,000 FDIC Insurance
Here are the checking account options offered by Axos Bank.
Essential Checking
The Essential Checking account offers minimal features and doesn't charge any fees. It is best for potentially receiving your direct deposit payments early.
Account owners automatically qualify for the Direct Deposit Express feature to receive payments up to two days early.
There isn't a minimum initial deposit, but you won't earn interest or debit card rewards like the other checking account options.
Best for: Receiving direct deposits early and $0 minimum opening deposit
CashBack Checking
Consider the CashBack checking account if you want to earn cash back rewards on debit card purchases. The minimum opening deposit is $50, but the ongoing balance requirement is $0.
It's possible to earn up to 1% back on your first $2,000 in monthly debit card purchases. The only requirement is maintaining an average daily balance of at least $1,500.
Your purchases earn 0.50% if you keep a lower balance.
These purchases may not qualify for cash rewards: 
Supermarkets and grocery stores
Superstores
Discount stores
Wholesale clubs
Payments made using virtual wallets
Note that cash back is only earned on signature based purchases.
If keeping the balance high is a hurdle, you might opt for the Axos Bank Rewards Checking Account in order to earn interest by completing a minimum number of debit card purchases.
Another option is using receipt scanning apps to earn cash rewards on in-store and online purchases.
While you can earn debit card cash back, your account balance won't earn interest with this account.
Best For: Earning cash rewards on debit card purchases
Rewards Checking
The Rewards Checking account can be the best checking account option if you plan on using Axos Bank for direct deposit and debit card purchases.
The minimum initial deposit is $50. Completing certain activities each month lets you earn an interest rate that is higher than most savings accounts.
The highest interest rate is 1.25% APY (as of June 26, 2022) by completing several monthly activities.
| | |
| --- | --- |
| Monthly Activity | Interest Reward |
| Receive at least $1,500 in direct deposits | 0.40% APY |
| At least 10 debit card purchases ($3 order minimum) or sign up for Account Aggregation/Personal Finance Manager (PFM) | 0.30% APY |
| Maintain a $2,500+ average daily balance in an Axos Managed Portfolios Invest account | 0.20% APY |
| Maintain a $2,500+ average daily balance in an Axos Self Directed Trading Invest account | 0.20% APY |
| Make a full Axos Bank consumer loan payment from your Rewards Checking account | 0.15% APY |
You will earn interest on the first $50,000 of your account balance.
Not every checking account offers interest rewards. This interest-bearing account can be an easy way to make a little extra money with the cash you use to pay the bills.
Earning up to 0.70% APY is more realistic if you only use this service for your checking account. You will need to have qualifying direct deposits and make qualifying direct deposits or enroll in the account management tools to get two interest rate tiers.
However, earning the full rate is difficult unless you also invest with Axos and get a personal loan.
Best for: Earning interest with a checking account
Golden Checking
The interest-bearing Golden Checking account is for customers age 55 or older. It requires a minimum initial deposit of $250.
Account benefits include:
Earning 0.10% APY on all balances
Up to $8 in domestic ATM fee reimbursements per month
Free personal checks
The free paper checks benefit lets you get two 40-check boxes each year at no cost.
Not having to complete any actions to earn interest is convenient as well.
Best for: Seniors who want to earn interest and receive free paper checks 
First Checking
Teens between ages 13 and 17 can open a First Checking account.
Important account features include:
Earning 0.10% APY on all deposits
Receiving up to $12 in domestic ATM reimbursements per month
Daily transaction limits (up to $100 in cash and $500 for debit cards)
This account can help your teenager learn how to manage money. Some jobs for teenagers require a bank account to receive direct deposit payments, so this account can be helpful.
Best for: Teen checking accounts
Savings Accounts
Two different savings account options are available and can earn more interest than local banks. Each account offers unique features.
High Yield Savings
The High Yield Savings account requires a minimum $250 opening deposit but has zero ongoing balance requirements.
This account can earn more interest than other online savings accounts. However, it uses a tiered interest rate system, so high account balances may earn lower rates.
Each account balance tier earns a different interest rate:
| | |
| --- | --- |
| Account Balance Tier | Interest Rate (APY) |
| $0-$9,999.99 | 0.61% |
| $10,000.00-$24,999.99 | 0.61% |
| $25,000.00-$49,999.99 | 0.25% |
| $50,000-$99,999.99 | 0.25% |
| $100,000+ | 0.15% |
If your savings balance is more than the lowest tiers, consider transferring the excess balance to another high-yield savings account to earn a better yield. 
You can also request a free debit card to use at ATMs. However, ATM fees may apply, and you can only make up to six withdrawals per month.
Best for: Earning an above-average interest rate on savings
High Yield Money Market
The Axos Bank High Yield Money Market account provides the interest-bearing benefits of a savings account and the check-writing abilities of a checking account.
Account benefits include:
The entire account balance earns 0.25% APY
Can request a debit card
The ability to write paper checks
Money market accounts don't have the same flexibility as checking accounts, but they can earn a higher interest rate. These can be worth it if you make fewer than six monthly withdrawals.
The minimum initial deposit is $1,000, but the ongoing balance requirement is $0. 
Best for: Earning interest and having debit card access
Certificates of Deposit
The certificates of deposits (CDs) are worth a look in order to earn a potentially higher interest rate than the other interest-bearing Axos Bank accounts.
The CD terms are between three and 60 months. This makes it easy to secure a fixed interest rate for a short-term or long-term investment period.
The minimum investment is $1,000 per CD opening.
Each CD term currently earns 0.20% APY, which is lower than the Rewards Checking and High Yield Savings yields (as of Jun 26, 2022). 
You should also compare the best CD rates to find the highest yields for your desired investment term. Several banks currently offer better rates than Axos Bank.
If you open a CD with this bank, you cannot make penalty-free early redemptions. 
You have the option of renewing your CD term ten days before the maturity date at the current interest rate. The renewal will then take effect on your renewal date.
Best for: Earning a fixed interest rate on long-term savings
Premier
Clients who have a high liquid net worth can qualify for the Premier service with a minimum combined balance of $250,000. There are no service fees for this banking product.
Premier customers get a dedicated advisory team and access to exclusive checking and savings accounts.
Here are the different Premier account options.
Private Client
You can open a Private Client Checking and a Private Client Savings account as a Premier customer. The minimum opening deposit is $250,000 for either account.
Some of the benefits include:
Earning up to 0.40% APY interest with Private Client Savings 
Unlimited domestic and international ATM fee reimbursements
Free personal checks
Unlimited complimentary domestic and international wire transfers
Priority Pass Select airport lounge access
Reduced lender fees on first mortgages
If you don't enroll in direct deposit for your savings account, the interest rate is 0.20% APY instead of 0.40% APY (June 26, 2022).
Best for: High net worth banking
InsureGuard+
An InsureGuard+ savings account offers multi-million-dollar FDIC insurance coverage. This is superior to the standard $250,000 coverage.
Instead of spreading your cash across several banks to get FDIC coverage, Axos partners with several institutions to keep all your savings in one insured account.
Best For: Savings accounts needing additional FDIC insurance coverage
World Checking and Savings
A World Checking and Savings account can be an excellent option for international residents and world travelers. 
Unlike most U.S. bank accounts, you don't need a United States-issued government ID to open an account.
The World Checking and World Savings accounts are similar to the Private Client accounts. However, they have some differences in benefits.
One difference is a minimum $75,000 opening deposit for either account. You will also need to maintain a minimum $150,000 account balance to waive the $30 monthly service fee.
Some of the best benefits include: 
Multilingual staff support (English, Mandarin and Spanish)
Unlimited check writing
The first outgoing international wire fee is waived each month
Unlimited domestic ATM fee reimbursements
Up to four foreign ATM fee reimbursements per month
Unlimited fee waivers for incoming international wires
World Savings account earns 0.25% APY
While this account has a monthly service fee, it's waivable and the benefits can be valuable.
Best for: International banking
Axos Bank Bonus Offers
Axos Bank offers limited-time promotions that adjust seasonally.
So make sure to check their site for current offers
Does Axos Bank Charge Fees?
Most banks will charge standard service fees. Fortunately, Axos Bank works a bit differently. 
Axos Bank doesn't charge these standard service fees:
Account maintenance fee
Domestic ATM withdrawals
Overdraft fees
Insufficient funds
Incoming wire transfers (domestic and international)
Electronic monthly statements
However, Axos Bank does charge fees for certain features.
Fees for less common services include:
Outgoing wire transfers: $35 domestic and $45 international
Paper checks: At cost 
Stop payment requests: $10 online and $35 by phone
Debit card foreign transaction fee: 1%
You can review the full fee schedule here.
FAQ
Here are several questions you may have about Axos Bank before you open an account.
How do I open an account with Axos Bank?
You can apply for an Axos Bank account online. 
The first step is choosing which accounts you want to open. Next, submit your name, email and phone number. 
After entering your personal contact information, your account is open. You can start depositing money, transferring funds and request an ATM card.
Is Axos Bank safe?
Yes. Each Axos account has up to $250,000 in FDIC insurance.
Axos Bank uses industry-standard data security practices. Some of the security measures include two-step authentication, data encryption, account fraud monitoring and more.
That said, like any financial institution, banking with Axos isn't risk-free.
How do I choose the right account for me?
Start by considering your needs and financial goals for opening a new account. 
Do you need a checking account that gives you rewards or lets you access your direct deposits faster?
Are you looking for a savings account with higher interest rates? Or can you put money into a CD for a while to earn more interest? 
Calculate your monthly activity for direct deposit balances, debit card purchases and your average account balance as you determine which account will offer you the best perks.
What customer service options does Axos Bank have?
Customers can call Axos Bank 24/7 for personal banking, except for Thanksgiving Day and Christmas Day.
You can also contact customer service by logging into your online account and sending a secure message or by using the virtual chat feature.
Does Axos Bank have physical branch locations?
No. Axos Bank doesn't have physical locations. If you need to deposit cash, the ATM locator in the mobile app can help you find participating ATMs. 
Summary
Axos Bank could be a great online banking option for checking and savings accounts depending on your needs. 
It's possible to earn a competitive interest rate, avoid withdrawal fees on any domestic ATM and potentially receive debit card rewards.
Additionally, this bank doesn't charge monthly service fees to provide these amenities.
You will need to decide if your banking activity qualifies for the checking account rewards. If not, other banks might be a better fit and offer similar rewards.