This was the question I asked myself when I saw the notification in my app for Grab's latest subscription plan. At $5.99 a month, how much savings can I get in exchange, and are the rewards worth the (low) upfront fee? Here's my experience after using it for a month.
Spoiler alert: it is a must-have, not just for convenience but from a budgeting point of view, the amount of savings you can chalk up (so easily, too) makes the plan really value-for-money. Read on below to see why.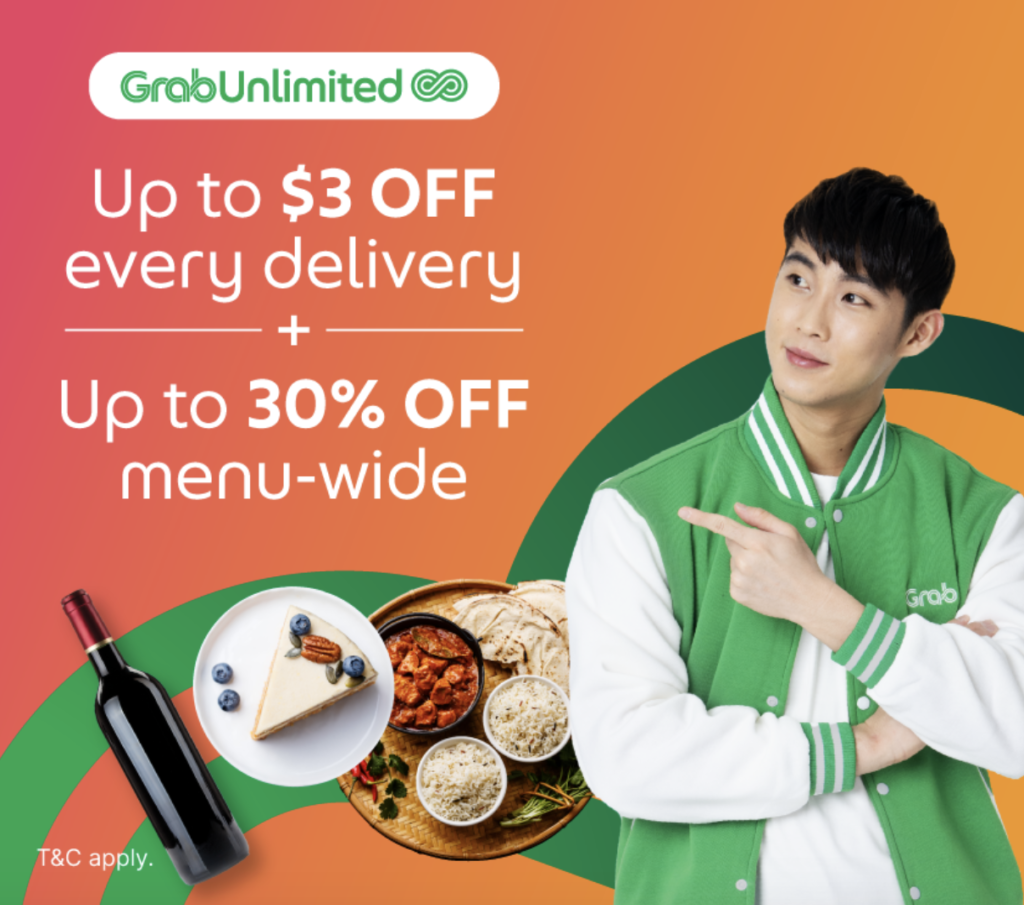 Now that I'm older (and busier), time has become a scarce resource, so much so that I find myself more willing to pay for convenience, as long as it isn't a rip-off. This is a marked difference from when I was in my 20s, where I had less responsibilities on my plate and could afford to spend more time just to save a bit of money. That's also why we hired a helper to outsource our household chores and send our kids to school – the convenience allows us to focus more on our work and increase our earning power there.
But as some of you would know, my child will soon be going for an operation which requires 24/7 care post-surgery to avoid lifelong complications, which unfortunately means that my helper will no longer have as much time to cook or clean like she did before. Hence, we decided to have her focus on 100% caregiving, while we hire a part-time cleaner to come in every 2 weeks to clean the house. To further lessen her cooking burden, we signed up for GrabUnlimited to save on food and delivery fees.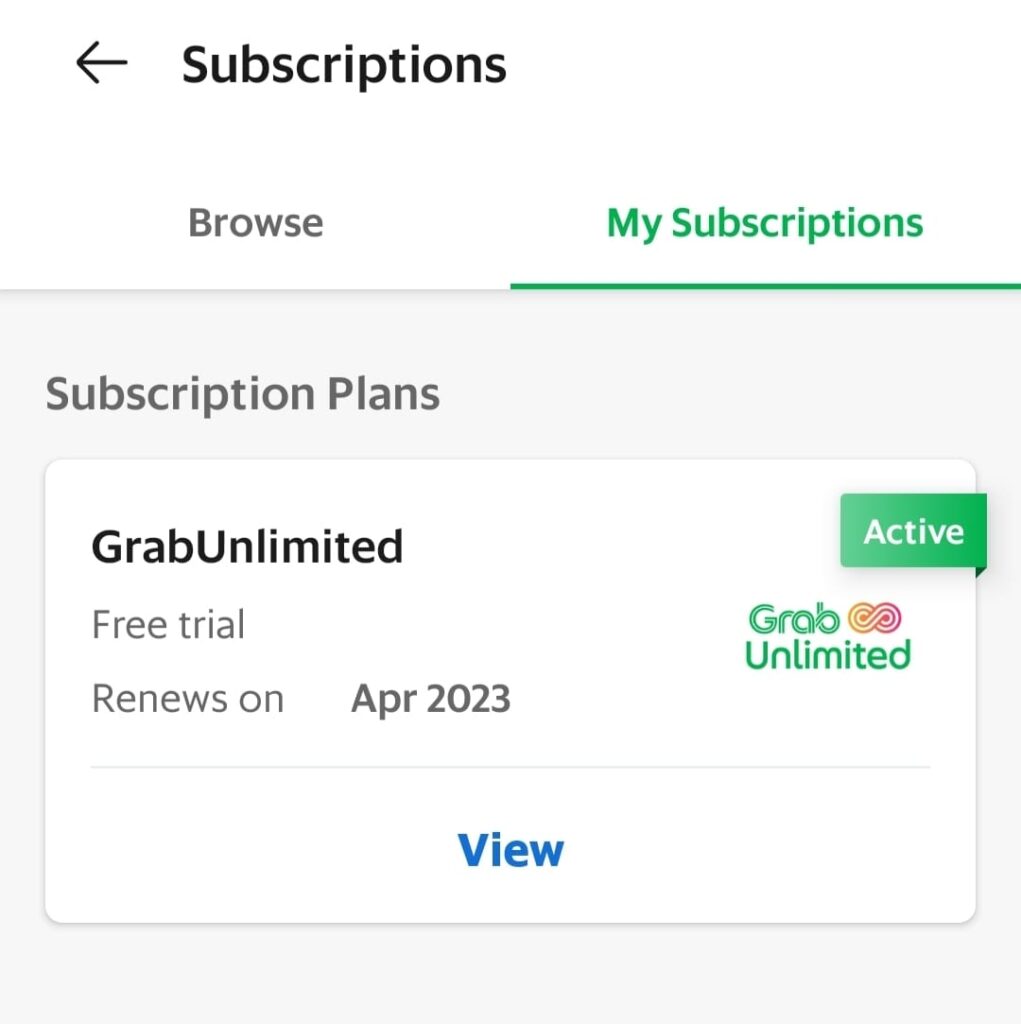 What does $5.99 get me?
Let me confess – the previous plan of $7.99 for discounted food delivery didn't appeal to me because (i) I felt it was too much to commit upfront and (ii) I didn't need it then.
But now that Grab has revamped their plan to lower the price AND extended the savings to both food and delivery, it got my attention.
Here's what you get for $5.99 a month:
The ability to stack vouchers (!!)
Unlimited deals of up to 30% off at GrabFood preferred merchants
99 x $3 OFF GrabFood delivery vouchers (min. spend $15)
99 x up to $3 OFF GrabMart delivery vouchers (min. spend $30) for preferred stores
99 x up to $2 OFF GrabMart delivery vouchers (min. spend $30) for all other stores
1 x 10% OFF GrabExpress delivery vouchers (capped at $4)
Other bonus vouchers that refresh monthly
At first glance, the 3 x 99 vouchers look exciting, but let's be realistic – I don't know of anyone around me who would be able to use up all the 298 before the month ends, nor of anyone who will fully utilize the $1,000+ savings that Grab advertises as its headline.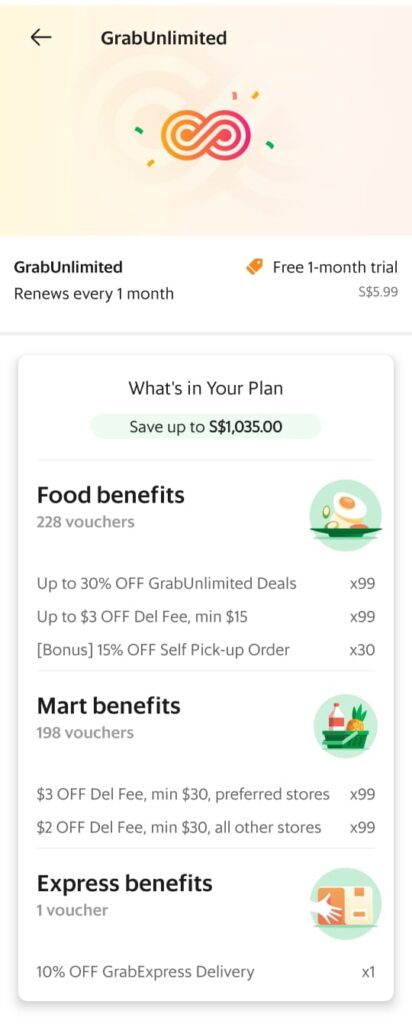 But what I do know is that with all those vouchers, it isn't difficult for me to get back more than $5.99 in savings within a handful of orders. The pleasant surprise was that I managed to do so from the very first order – read on for my experience below!
Hence, the better question to focus on would be: how much can YOU personally get out of this subscription?
GrabUnlimited subscribers can stack vouchers to save more $
To me, this is the biggest game changer because previously, we could only choose 1 voucher to use with each order, and the savings weren't always fantastic. Combining vouchers was not an option, which meant that you would have to choose between getting a discount on your food OR your delivery fees.
Now, as a GrabUnlimited subscriber, you can stack multiple vouchers to save more money. 
How much more?
To demonstrate how much you can potentially save, we ordered food from Maki-San for lunch to show you the difference between using a normal Grab account and a GrabUnlimited account: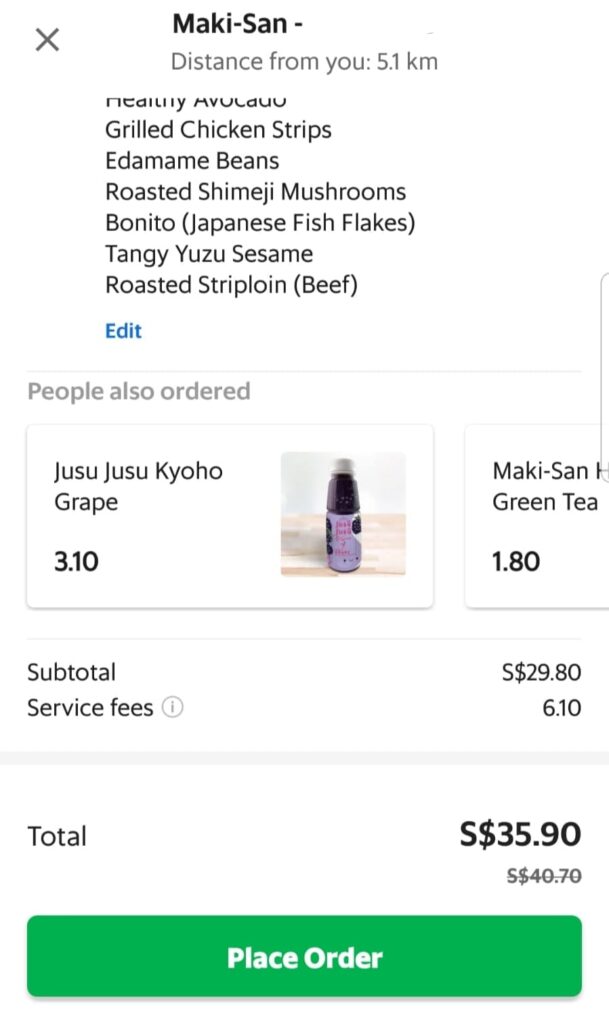 $12 difference in savings for a normal Grab user vs. a GrabUnlimited subscriber for the exact same order.
Start saving from your first order
The Budget Babe way of calculating value is how long it takes for my subscription plan to pay for itself.
It is also the reason why I cancelled my Premium k-drama streaming subscription last year since I no longer needed a Korean drama to accompany me during my 3am breastfeeding pumps.
With GrabUnlimited, the shiok part is that I'm able to cover my subscription fee back in a single order once I combine both a 30% off menu-wide + $3 off delivery fee vouchers. As you can see, my first lunch order from Maki-San already paid for itself ($16 saved vs. the $5.99 subscription fee)!
Hence, even if you feel like you don't order in food as often, you can easily save money from your very first order when you stack the vouchers like I do.
Bonus vouchers each month!
Grab also gives its GrabUnlimited subcribers exclusive bonus vouchers that refresh on a monthly basis.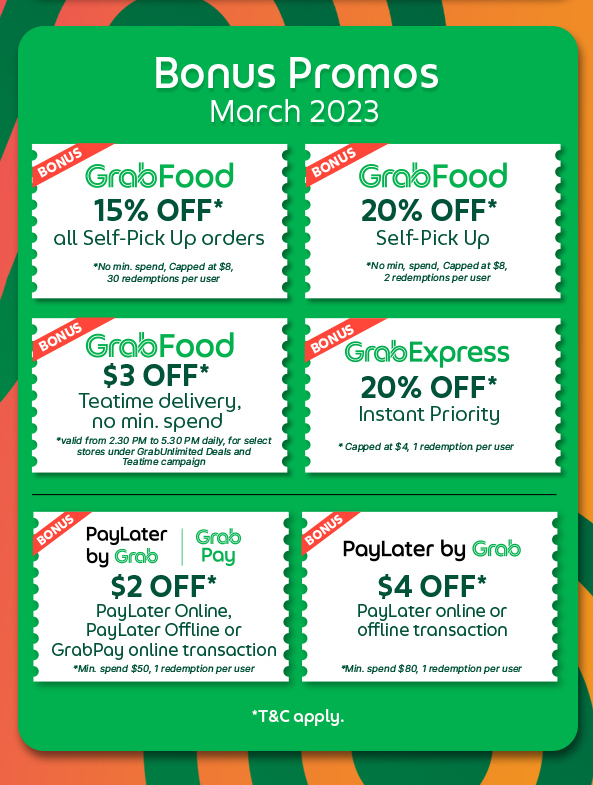 We used the 20% off GrabExpress Instant for a priority delivery to a customer who wanted to get some carb-blockers from me urgently before she set off for her cruise, and I'm intending to use the $4 off PayLater by Grab voucher on an upcoming purchase next week.
No commitment, cancel anytime
For the gamophobic (fear of commitment), don't worry because you can cancel your subscription anytime on the app when you no longer need it. 
It might be a good idea to create a calendar task each month to review this, lest you happen to be travelling in that month and forget to unsubscribe while you're abroad.
Our experience with GrabUnlimited
I tracked our usage and savings on GrabUnlimited and found that we saved ~$40 in a single week:
Purpose
Merchant
GrabUnlimited Savings
Lunch
Maki-San
$11.94
Dinner
AMRIT (Indian cuisine)
$8
Lunch
Paris Baguette (Western)
$3
Teatime snack
Koi
$1.86
Party
Booze Buddy
$8
Party
Domino's Pizza
$3
Birthday gift
Twelve Cupcakes
$3
Total Saved in 1 Week
$38.80
The best savings came from when I stacked a food promo + delivery fee discount, so that's definitely a tip to take note of!
1. Our own meals
Instead of driving out for food to satisfy our cravings, we've been ordering in and the low delivery fees (even for restaurants that are more than 10km from us) has made it even more attractive.
For instance, the other day I was craving for butter chicken and naan, so we ordered dinner from an Indian restaurant and got 2 mains, 2 side dishes, 2 naans and a dessert for a total of $52 (saved almost $38). It was enough to feed 3 adults and 2 kids, and felt like such a bargain to me because just the day before, I'd just spent over $90 at Swensen's feeding the same folks!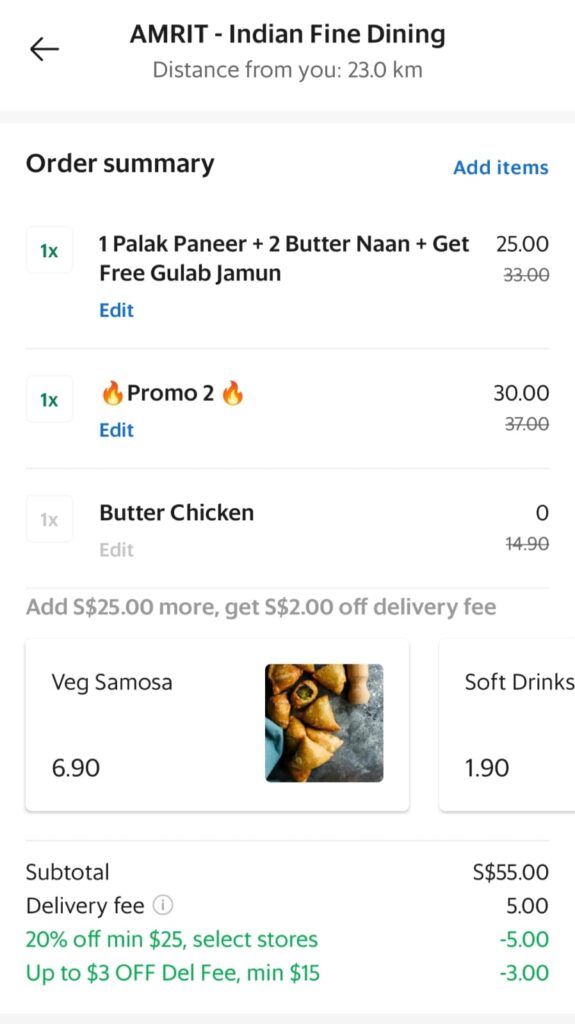 Fun fact: I happened to pass by Paris Baguette the next day so I compared the prices, and found that the prices at the physical outlet were exactly the same as what I paid on Grab! For another merchant that I frequent, the markup was $0.40 – $1 per menu item which I felt was reasonable in exchange for the convenience of not having to queue and travel down.
On some days, we ordered from restaurants near us and chose the self-pickup option. This is the other thing that I appreciate as a GrabUnlimited subscriber, because I can opt for self-pick up to enjoy 15% off while also saving myself some time from needing to queue up in-person and wait for the food to be prepared.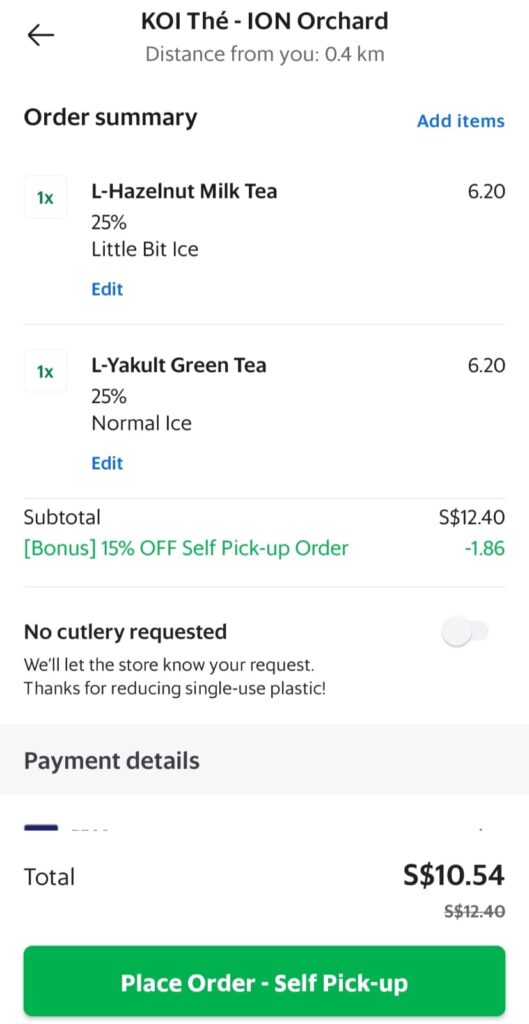 2. Hosting our friends 
We had our friends over last Friday for a TGIF session, but because it was such a spontaneous session and we didn't have drinks at home, I ended up ordering pizza and beer from Grab as soon as I got off work.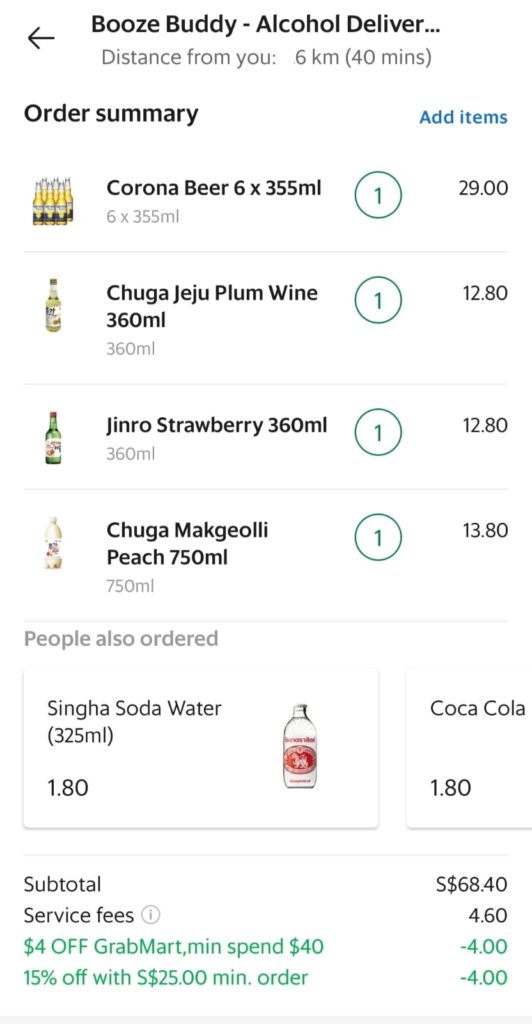 We fed 8 adults for ~$123, which worked out to be ~$15 per pax. That's an even better deal than if we had gone out for pizza and alcohol instead!
3. Sending birthday gifts
One of my favourite uses of GrabMart is for sending last-minute birthday cakes or gifts, and I've used this function several times to surprise my friends with ice cream / dessert boxes / skincare packages in the past.
Last week happened to be a friend's birthday (which I completely forgot about until our group Whatsapp chat started wishing her in the morning), so I arranged for a birthday cake from Twelve Cupcakes to surprise her in the evening.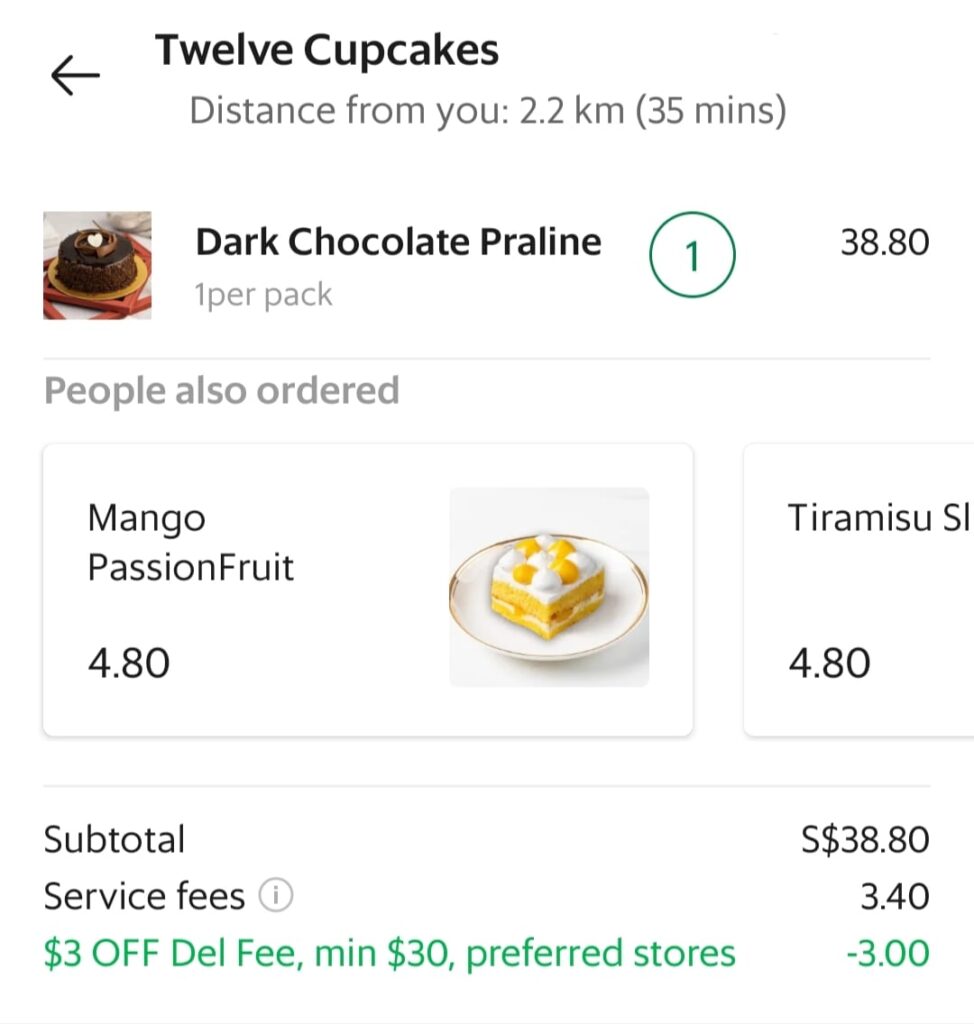 I was deciding between a cake or a game set, but decided on the latter instead. If you forget birthdays like I do, don't fret – your friend doesn't have to know, now that you can send a last-minute cake or present via Grab 😛
For the men, you can also use GrabMart for sending flowers to your ladies. No more excuses for forgetting a special anniversary!
TLDR: Is GrabUnlimited Worth It?
In my view, GrabUnlimited is a "must-have" to save on both food and delivery. I like it because at just $5.99, it is affordable enough + I can start saving right from my first order. It also helps me to save time (when I opt for self-pickup) and is a small price to pay for the convenience that I can get in exchange.
It is easier to think of who would NOT be a good fit for GrabUnlimited i.e. those who are on a super tight budget, and do not order from Grab at all.
Plus, if you're smart about how you use the subscription (like me), you should easily be able to save anywhere between $10 to $200* each month.
*Assuming you order GrabFood twice in a month and use the 30% off + $3 off delivery fee = more than $10 saved. If you order GrabFood for yourself twice each week + host a party of 8 once a month + and use GrabMart for one birthday delivery = $200 saved is fairly easy to hit.
Our experience was pretty good so we'll be sticking to the subscription, but of course, your own mileage may differ. Since Grab is now offering a 1-month free trial for those new to GrabUnlimited, I suggest that you take it up to try it out for yourself and see how much you can save.
Bet you'll find yourself staying on thereafter, because once you see how convenient it is and how much you can save as a GrabUnlimited subscriber, the $5.99 suddenly looks like a super worthy deal.
Disclosure: This post is written in collaboration with Grab, who had no say over the purchases I chose to make on the app 😛