by Ashley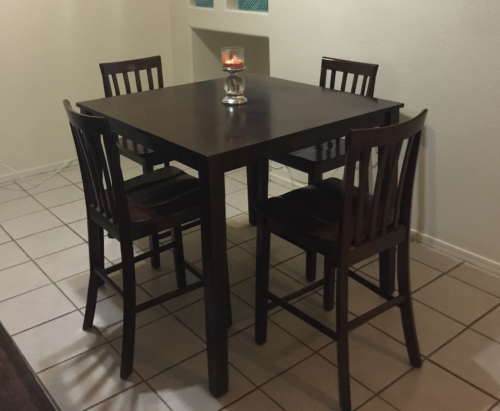 When my ex-husband and I first separated back in the summer of 2018, I left a lot of the joint marital possessions behind. When I moved out, I took my bedroom set (which was a hand-me-down from my Dad), some patio furniture (which I used as indoor furniture initially since I had none), and most of the kitchen stuff since I was the cook in the family. But that was it!
In those first months, things were very tight financially. I made two immediate purchases that I considered necessities – a new bedroom set for my kids (bunk beds + dresser, as I'd left theirs behind with their Dad) and a washer/dryer. I figured we could slooooowly add whatever else we needed in time.
Making Do
That meant we did not have a kitchen table. Instead, we had a kitchen island and two barstools. Each night when we had dinner together, the girls each sat on a barstool at the island, and I stood at the island with them. That is how we had our family meals for months and months.
Maybe 6 months into this living situation, one of my friends moved away and offered to give me her old craft table. This was not a huge or fancy dining room table situation. It was scuffed and a little wobbly and had paint marks on the top. But it was a table and four chairs. I was THRILLED at the generous offer and snatched it up as quick as I could!
Combining Lives
It was maybe a year after that when my now-husband and I moved in together (I was in a rental home and he joined me about mid-way through my lease). I was still making do with our old craft table + kitchen island. But he had a lovely kitchen table set and that became our primary table. My craft table was now a secondary table. We used it in the breakfast nook and it became the place where the girls did their homework. But we never ate there anymore. My now-husband's table took its place.
In Summer 2020, we got married and bought our first home together. Both tables came – my husband's (now a little beat up, itself), and my trusty craft table. We've still used the craft table for kids' homework and my husband's is where we eat all of our meals.
New Horizons
Since joining lives, we've verrrrry slowly added new pieces here and there. I wrote in this post about how our formal living room came together spending very little money out-of-pocket (instead acquiring most of the things second-hand).
But I've turned my sights on that old craft table and think it's now time for an upgrade. While I still love my husband's original table and fully plan to keep it as our primary table, I want our formal dining room to get a formal dining table it deserves. As it is, my husband's table (I guess I should just say "our" table at this point? Lol) only seats 4 comfortably. If there are children we could squeeze in a few extra chairs, but the table does not have a leaf to extend. It's a square table, not a long rectangular one, so it's tough to fit additional people on each side. And, being over a decade old now, itself, it shows its age. It's perfect for regular usage, but I want a more traditional table (long, rectangular, with a leaf for added length) that we can use for special occasion meals like Thanksgiving, Christmas, or when we have guests over for dinner.
Savings Plan
Because I love myself a challenge, I'm using this desire as a motivator to cut back in our budget and trim off excess. I want to save up for a new dining room table with the goal to be able to buy one in cash in time for our Thanksgiving dinner! I actually started saving last month, so that gives me 6 months of savings time between now and the goal purchase date. I don't have an exact table picked out yet, but will probably start window shopping soon just to get an estimated price range so I know if I'm on track with my savings. I hope to save up between $1200-1500 in that time. That's a savings rate of about $250/month, which I think I can do if I squeeze the extra out of my budget! Last month I'd set aside $200 so I'm a smidge bit behind, but I think I can catch up.
In the coming week, I plan to take a hard look at my August planned budget to see where I can pinpoint areas with heavy spending. I know I can likely do better on our grocery and eating-out budget, and with extras like clothing purchases and entertainment. After I've had a chance to really dive in, I'll report back with my savings plan!
If you had a big savings goal, what is the first budget category that you would try to trim or cut back?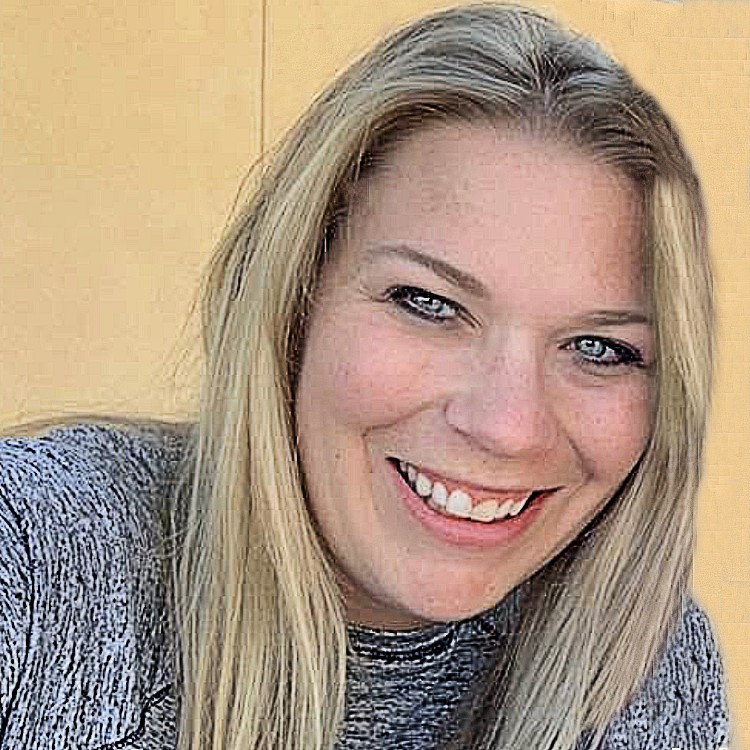 Hi, I'm Ashley! Arizonan on paper, Texan at heart. Lover of running, blogging, and all things cheeeeese. Late 30's, married mother of two, working as a professor at a major university in the southwest. Trying to finally (finally!) pay off that ridiculous 6-digit student loan debt!