According to the Census Bureau, the number of people with master's degrees went up by 50.2% during the 10 years from 2011 to 2021. By 2021, there were around 24.1 million Americans with a master's, making up around 13% of the US workforce[1]. What's more, more than 8 million Americans are expected to finish their postgraduate studies between this writing and 2030[2]. So, is a master's degree worth the investment?
To answer that question, we need to look at the pros and cons of investing years of your life in getting a second degree.
Is a Master's Degree Worth It? The Pros 👍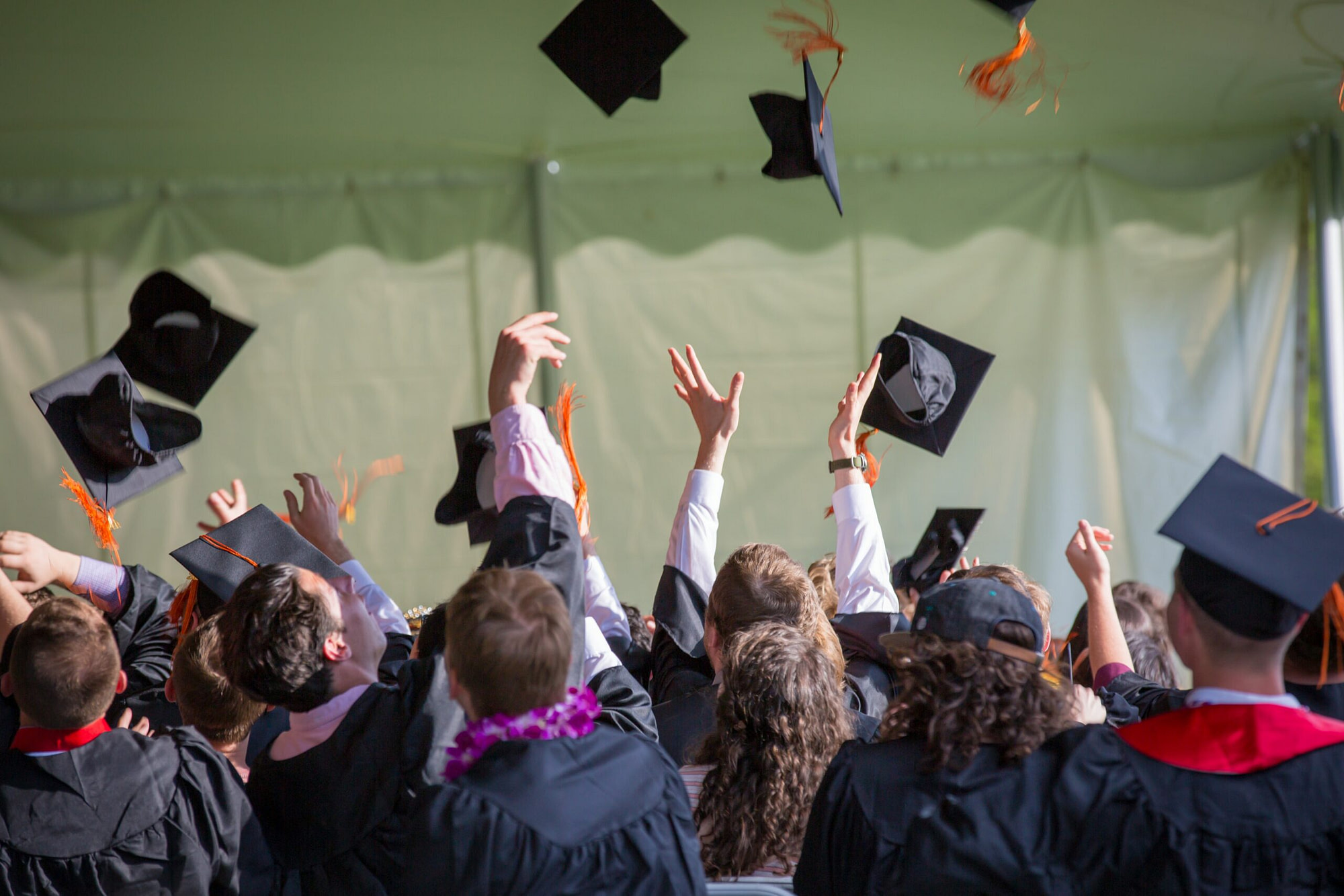 When talking about postgraduate degrees, the conversation is never so black and white that we can just break it down into a general list of pros and cons. Instead, your expected return can vary depending on what you choose to study.
For some career paths, a master's degree is essential. For others, the cons outweigh the pros, as a master's degree represents a costly investment with little probable return.
Let's explore whether a master's degree is worth the investment, particularly if you're pursuing a career where it can offer significant benefits.
Higher Expected Salaries and Lifetime Earnings
According to the U.S. Bureau of Labor Statistics, the median income of master's degree holders was around $81,848 in 2021[3]. Earning a master's degree will likely net you a better paycheck than someone with just a bachelor's degree, whose median income was around $69,368 in 2021. Yet, you will probably make less money than someone who has a Ph.D. or a professional degree.
To put things into context, the average salary in the US is $76,554, and the median annual salary is $56,473 across all occupations and states.
The impact of a master's degree on your professional prospects depends on what you choose to study. So, let's take a look at some career choices that benefit from a postgraduate education[4]:
| Job | Annual Salary |
| --- | --- |
| Industrial Production Manager | $117,780 |
| Mathematician | $112,430 |
| Physician Assistant | $119,460 |
| Healthcare administrator | $119,840 |
| Economist | $120,830 |
| Software Engineer | $120,990 |
| Chemical Engineer | $121,840 |
| Computer Scientist | $142,650 |
| Petroleum Engineer | $145,720 |
| Engineering Manager | $158,970 |
The U.S. Bureau of Labor Statistics estimates that almost half of all jobs that pay more than $94,000 annually demand a master's degree[5].
The fields that benefit the most from postgraduate studies are math and science, engineering, education, information science, and healthcare.
The Bureau of Labor Statistics predicts that the number of jobs requiring a postgraduate degree will increase by 16.7% by 2026.
A master's degree can boost your earning potential over your entire life. When considering if a master's degree is worth it, you want to ask yourself how many more years you expect to stay working. The longer you expect to stay in the workforce, the more beneficial a master's can be for you. Studies show that people with a master's degree can expect their earnings to increase steadily even when they're past 50 years old, but people with only a bachelor's degree tend to see their earnings plateau when they're in their mid-forties.
👩‍🎓 Learn more: Navigating college financing can be less daunting; our recent post outlines avenues to help mitigate costs and avoid loans.
Higher Chance of Getting Employed
In terms of determining whether a master's degree is worth it for job prospects, it's worth noting that the unemployment rate among individuals with a master's degree is around 4.1%, compared to a 5.5% unemployment rate for those with a bachelor's degree. So, having a master's degree does offer a slightly better chance of finding a job.
This lower degree of unemployment bodes well for those with a master's degree. For one thing, it means that during hard economic times, they will be more likely to hold on to their jobs. This lower unemployment rate highlights how gaining a master's degree gives you some leverage and helps you stand out from the rest of the pack when applying for a job.
You won't even be considered for some positions if you don't have a master's degree.
💵 Learn more: Looking to earn a bit extra while balancing college classes? Our latest piece offers a rundown of feasible side hustles for students.
Expanded Network
Last but not least, one of the factors that make a master's degree worth considering is the opportunity to network with others in your chosen field, thereby improving your career prospects. The connections you make during your postgraduate studies with your professors and your peers can help open doors for you or even generate future business partnerships.
---
Is a Master's Degree Worth It? The Cons 👎
Deciding whether a master's degree is worth it involves weighing the clear benefits of the right postgraduate program against the drawbacks, especially before committing two or more years of your life to advanced academic studies.
The Cost
The cost of a master's degree differs from program to program and from college to college. The tuition at a private, non-profit college will be more costly than the tuition at a public school.
Here are some numbers to bear in mind[6]:
If you pursue a master's degree and are doing a two-year program, you can expect, on average, to pay somewhere between $44,000 and $57,000.
You can expect to pay around $31,046 in total every year of your master's program.
An expensive master's program might cost you around $60,000 annually or $120,000 for a two-year program.
These are only tuition costs. You also need to consider rent, food, bills, and other living expenses. If your education will be a full-time occupation, you won't be receiving any income for two to three years.
Master's graduates tend to hold more debt than bachelor's degree holders. The average master's holder will owe around $46,798 in student loan debt, which is around 37% more than the debt held by your average bachelor's degree holder. This is also another important factor to think about when wondering if a master's degree is worth it.
🎓 Learn more: If you're questioning the true merit of a college degree in today's world, our analysis offers a balanced perspective.
What Factors Will Affect the Cost of a Master's Degree?
Your choice of program and college will have a large influence on the tuition you will have to pay. There are several other factors to consider when asking yourself if a master's degree is worth the investment:
Residency is a big factor. At many state universities, out-of-state students pay as much as twice the tuition cost of students who qualify as in-state.
The course load you take matters. If your school charges you a flat fee for your credits, then whether you're a part-time or a full-time student will affect your final cost.
The amount of time it takes you to finish your degree can have a huge impact on your cost and on the time spent before you begin earning.
You will run into other costs. If you want to get a master's degree in a subject related to medicine or science, you will pay lab costs in addition to your tuition. A master's degree in education might force you to pay more if you want to take a special licensing exam to be state-qualified and ready for the job market.
You need to consider the interest rate costs if you decide to take out a student loan. Those interest rates might differ depending on the type of loan, but no loan is free, and financing costs matter.
The costs we've talked about so far have been monetary. You also need to consider the time you need to invest to receive a master's degree.
💵 Learn more: Preparing your college budget? Our recent article highlights the often overlooked expenses and offers tips to reduce them.
Years of Study
Although a typical master's program lasts for two years, this period can be stretched out to three years, especially if you can't afford to be a full-time student. If you have a job and a family to feed, doing your master's part-time may be the only feasible option.
Some programs limit the number of years available to you. For example, a program might state that you need to earn all your required credits within a certain time frame, or else you flunk the program.
Other programs might offer you an accelerated track, allowing you to cram all your credits into only two semesters, finishing your degree in one year rather than two.
You need to consider the opportunity cost of taking on a master's degree. This means that the time spent doing your master's would preclude you from doing other things. For instance, you could be working extra hours rather than studying, or you could be spending more time with friends and family, investing in your social life. The bottom line is that you need to be willing to sacrifice these other options for your master's.
Other Miscellaneous Drawbacks
There are also going to be some hidden drawbacks.
For instance, considering whether a master's degree is worth it for your career is important because having one could make you overqualified for many entry-level positions. So, if you see an opening at a company you would love to join, you need to be careful. The employer might assume that you are only applying to use the entry-level job as a stepping-stone or as a temporary source of income till you find something better.
As a result, the employer might suspect that you are a short-term hire, discouraging them from investing in you.
---
Factors That Can Affect Your Experience
Is a master's degree worth it or not? It depends on what you choose to study as well as on your particular circumstances.
Bearing that in mind, there are some other factors that can impact your experience.
Which School You Go To
Where you study matters. Private schools cost more than state schools, but the school you attend also influences your post-degree earnings. If you get your master's from an accredited college, you should expect a higher starting salary than if you were to go to a non-accredited school.
Employers care whether your degree comes from an accredited school, but your chances of getting financial aid also skyrocket when you pursue a degree from an accredited institution.
Even when you compare two accredited universities, you will usually find that one of them will get ahead of the other in terms of future prospects. The Tuck School at Dartmouth boasts on its website that its MBA class of 2022 enjoyed an average starting salary of $175,000. Conversely, the Claremont Graduate University Drucker School of Management was proud to announce that its MBA class of the same year earned an average starting annual salary of $75,000, less than half as much.
How Eligible Are You for Financial Aid?
One of the biggest negatives of a master's degree is the t price tag that comes along with it. You can reduce this total cost if you qualify for financial aid.
Financial aid can come in the form of scholarships, grants, and fellowships. To see what you qualify for, you might want to start with the Free Application for Federal Student Aid, also known as FAFSA.
Some states and cities may help you pay off your student loans. These states and cities provide something called a "reverse scholarship," which is available to those who live there. So, if you are willing to move after your degree, you might want to consider these places.
Some employers offer tuition assistance, so you might want to explore that avenue if you already have a job. If your employer helps you pay for your degree, they will usually have conditions, such as studying a specific topic or staying at the company for a specific number of years after receiving your degree.
---
Putting It All Together…
Is a master's degree worth it? There is no one-size-fits-all answer. Instead, you need to decide what makes sense for you. To help you down that path, here are some questions you might want to ask yourself:
What are my short and long-term professional goals?
Will a master's degree get me one step closer to these goals?
What subject am I planning to study, and what is the expected ROI of that particular field?
Can I fit a master's program into my life? Can I devote the necessary time to complete my degree?
Can I afford to pay for a master's program?
Are there any financial aid options available to me? If not, am I okay with taking out student loans?
Are there alternatives to a master's degree that can also help me achieve my professional goals?
If you feel that the answers to the above questions lead you to the conclusion that a master's isn't your best option, here are some alternatives for you to consider:
Professional certificates.
Specialized courses.
Online master's degree.
Apprenticeship programs.
Professional mentorship.
The bottom line to the question, "is a master's degree worth it?" is that there are numerous ways for you to advance your career. A master's degree may or may not be your best option. It all depends on your unique circumstances and needs!