Considering healthcare represents 18.3% of the US economy[1], it's no surprise that many investors are on the hunt for the best healthcare stocks. This sector is a significant part of the investing world.
It is also a much less volatile sector than many others, as falling sick and needing healthcare is close to unavoidable. With an aging population, it is likely that the sector will keep growing for the foreseeable future.
Best Healthcare Stocks
When discussing healthcare, many analysts conflate it with pharmaceutical, biotech, and other "medical" sectors. In this article, we will focus entirely on hospitals, insurance, and other "pure" healthcare stocks, excluding the pharmaceutical, biotech, and medical devices sectors.
So, let's look at the best healthcare stocks.
This list of the best healthcare stocks is designed as an introduction, and if something catches your eye, you'll want to do additional research!
⚕️ Learn more: For those wondering where the US stands on healthcare spending, our latest analysis provides clarity.
---
1. HCA Healthcare, Inc. (HCA)
| | |
| --- | --- |
| Market Cap | $82.3B |
| P/E | 15.18 |
| Dividend Yield | 0.80% |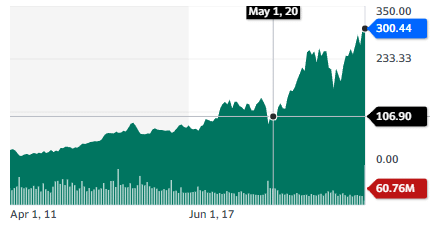 HCA Healthcare is a massive hospital organization, with 182 hospitals in the US and the UK, treating 37.2 million patients annually, of which 9 million are in ERs.
Thanks to its massive scale, HCA is able to run its operations very efficiently. The company has grown its revenues by a 6.7% CAGR since 2017 and grew its diluted earnings per share by a 23% CAGR. HCA is also very shareholder-friendly, with a massive share repurchase by far larger than its dividend distribution.
HCA invests in growth through the acquisition of existing hospitals and newly built facilities and medical capacities.
It is no secret that Americans as a population are not getting healthier due to general aging and the obesity epidemic. This makes HCA one of the best healthcare stocks to consider, as it's poised to benefit from continued high levels of healthcare spending. Sustained demand combined with large share repurchases could make HCA's stock price keep rising.
⚕️ Learn more: A pressing concern in today's healthcare debate: How many Americans lack insurance? Our article sheds light on the data.
---
2. The Cigna Group (CI)
| | |
| --- | --- |
| Market Cap | $81.2B |
| P/E | 12.55 |
| Dividend Yield | 1.79% |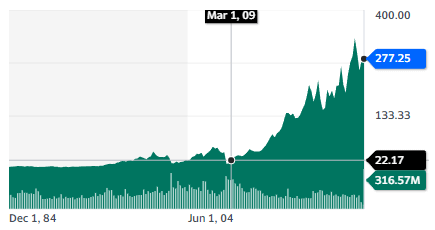 Cigna is an insurance company (Cigna Healthcare) that also provides health services (Evernorth). Cigna's health services are used by 60% of U.S. health plans for things like fertility assistance, digital formulary, vaccination programs, home-based care/telemedicine, or cost containment strategies.
The company serves 180 million customers in the US and overseas, of which 14 million are in the US insurance segment. Cigna Insurance has significantly outgrown the industry, with revenue growing at 7.1% CAGR in 2018-2021, compared to the industry's 3.5%.
The company is growing earnings per share at 10-13% CAGR. The company also has a very shareholder-friendly policy, with 4/5th of the available cash flow redirected toward dividends, debt repayment, and share repurchase/acquisition.
When considering the best healthcare stocks, Cigna stands out. Thanks to its service segment, Cigna benefits from the overall healthcare activity in the US and is leading the digitalization of the industry. Together with the insurance activity, this gives Cigna a strong growth profile, something that does not seem fully priced at current levels.
⚕️ Learn more: Self-employed and on the hunt for quality health insurance? Our guide breaks down the most fitting options for you.
---
3. Veeva Systems Inc. (VEEV)
| | |
| --- | --- |
| Market Cap | $31.4B |
| P/E | 61.42 |
| Dividend Yield | – N/A |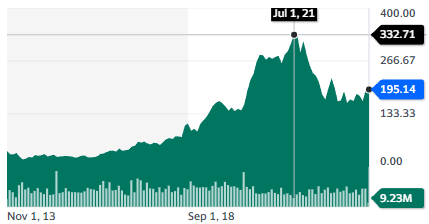 Veeva is a provider of cloud-based software for the medical research industry. This includes clinical trials, quality control, safety, confidentiality, medical communications, and data.
The company is so embedded into the medical and pharmaceutical ecosystem that 83% of new drugs approved were launched using Veeva CRM.
The company has been growing its revenues quickly, at a 16% CAGR since 2017.
The business is extremely profitable and benefits from the trend of health digitalization and data mining. The main negative point can be a pretty pricey valuation, as Veeva is a high-quality stock that is well-known among healthcare and biotech investors.
---
4. DaVita Inc. (DVA)
| | |
| --- | --- |
| Market Cap | $8.9B |
| P/E | 18.46 |
| Dividend Yield | – N/A |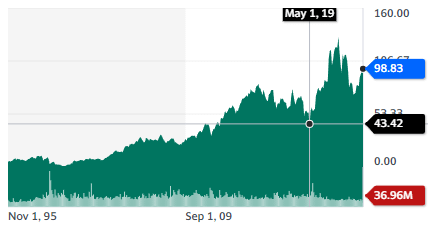 Another one of the best healthcare stocks is DaVita, which is a network of 3,100+ clinics specialized in kidney disease and related therapies. It treats 241,000+ patients globally, with 65,000 employees. The company is active at all stages of chronic kidney disease, from detection to regular dialysis to transplants.
Kidney failure is a treatable but very serious disease, often requiring more than 10-20 hours of dialysis per week, with 8-10 days in hospital per year.
DaVita's integrated care model can save up to $8-13k per year per patient in medical costs, of which DaVita captures $2-4k. It achieves this by monitoring patients carefully, leading to 7% fewer hospitalizations and a 4% reduction in mortality.
Besides care, DaVita has invested in kidney-focused startups, notably Miromatrix, which is trying to create transplantable bioartificial kidneys and Neprhosant, which is working to predict transplant failure.
The company is targeting earning growth of 8-14% CAGR until 2025. It has also engaged in an aggressive share repurchase program, reducing the share count from 182 million in 2017 to 90 million in 2023.
---
5. R1 RCM Inc. (RCM)
| | |
| --- | --- |
| Market Cap | $7.6B |
| P/E | – N/A |
| Dividend Yield | – N/A |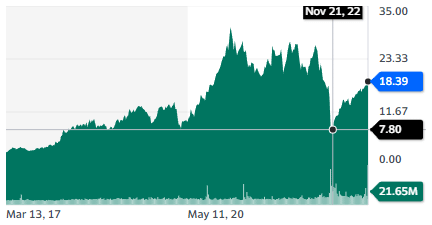 R1 is one of the best healthcare stocks available on the market as it offers software and cloud-based solutions to manage the revenue cycle of patients in the healthcare system. Its solutions allow doctors and hospitals to reduce the collection cost of medical bills, automate tasks, register patients, manage schedules, and overall improve the operations of the medical facilities.
R1 has managed 28% year-to-year revenue growth in 2023, with a 15% CAGR since 2018 for revenues and an impressive 60% CAGR for adjusted EBITDA.
This is a rather "sticky" line of business, as a hospital using R1 services will not want to change and risk disrupting its workflow for marginal gains.
It also gives R1 access to a large treasure trove of medical data, allowing it to further improve its automated solution, including its CouldmedAI, automating 125 million tasks annually for 95% of US payers.
With 70% of spending managed in-house, in a total market of $115B, the company still has large space to grow, as it offers superior results at scale to hospitals compared to home-grown solutions. The same inertia that limited the adoption of third-party providers will play a role in keeping R1's retention rates high.
💰 Learn more: Medical bills don't always have to be overwhelming; discover a step-by-step strategy for negotiation in our latest article.
---
6. Hims & Hers Health, Inc. (HIMS)
| | |
| --- | --- |
| Market Cap | $6.2B |
| P/E | – N/A |
| Dividend Yield | – N/A |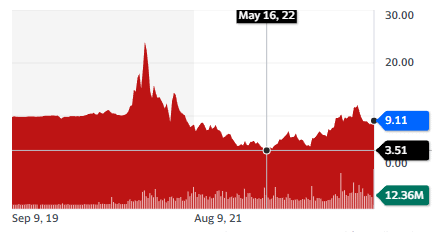 Hims & Hers is a telehealth company focused on a subscription model for men's & women's health, as well as mental health and dermatology. The company is also considering the prospects for expanding in new applications like weight, fertility, diabetes, or pain management.
This is a generally poorly addressed market, with "90% of the applicable population yet to seek treatment in some conditions".
The company puts a strong emphasis on privacy and data safety, as well as personalized care, relying on digital apps, online consultations, and innovative products & formulations. For example, personalized ED formulations with multiple different possible molecules and concentrations to achieve the best result for each patient.
This strategy targets the often embarrassing or private health matters many people might be reluctant to talk about with their family doctor.
The marketing strategy is multi-channeled, with social media celebrities but also ads on streaming platforms and major sports events.
The subscription model allows for repeat sales and overtime cross sales for other health issues. The payback period (time to recover customer acquisition costs) is less than 1 year. Both subscriber count and revenues have grown very strongly, by 87-88% as of early 2023.
The company has turned EBITDA positive in Q4 2022, with a solid cash position and no debt, making it one of the best healthcare stocks on the market.
By using digital tools, the company might be able to grow this market and overcome the reluctance of patients to seek treatment. Unwillingness to talk to or trust family doctors is solved by teleconsultation with specialists. The discretion and "from home" nature of the consultation and treatment delivery allows patients to overcome the idea of being too embarrassed to visit a doctor's office or go to a pharmacy looking for the treatment.
With the unit economy now proven with the company reaching an efficient scale, this can be an interesting growth story despite a stock price essentially unchanged since 2020.
---
Best Healthcare ETFs
For many investors, healthcare is attractive for the sector's general attributes rather than any company in particular. An ETF can provide a high level of diversification while still capturing the investing performance of the healthcare industry.
1. SPDR S&P Health Care Services ETF (XHS)
This ETF focuses on healthcare providers, like hospitals, clinics, etc. This makes it one of the rare ETFs without any exposure to the biotech/pharma sectors and solely focused on pure healthcare providers.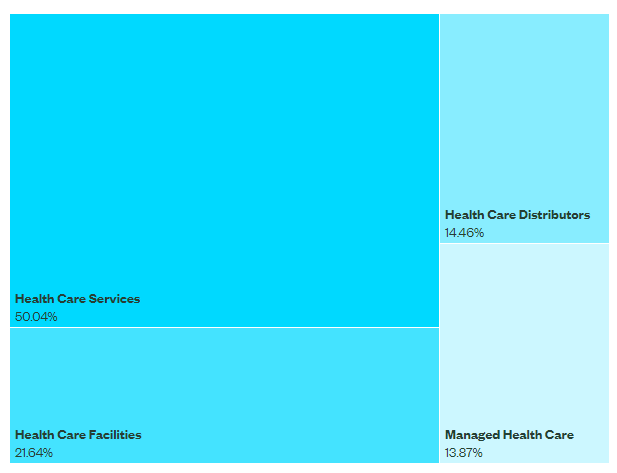 ---
2. Vanguard Health Care ETF (VHT)
This ETF is focused on healthcare at large, with a focus on managed healthcare, biotech, pharmaceutical, and equipment. This makes it a good pick for betting on healthcare spending in general and no company in particular.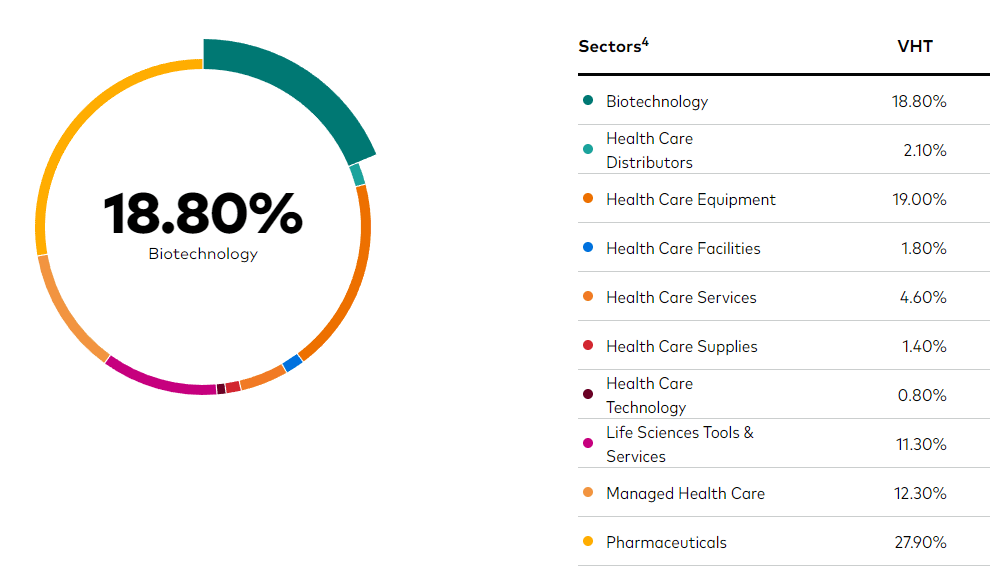 ---
3. Invesco S&P SmallCap Health Care ETF (PSCH)
Most healthcare ETFs focus on the largest companies in the sector, from big pharma to mega-insurance companies. For investors looking for more growth potential, even at the cost of more volatility, small caps might be more attractive.
The focus is on healthcare providers and equipment and technology/service providers to the industry, with biotech/pharma taking a back seat, combining for only 33% of holdings.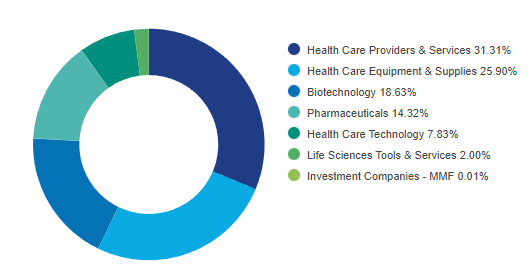 ---
4. iShares U.S. Healthcare Providers ETF (IHF)
This ETF includes healthcare providers but also insurance companies like Cigna, its 5th largest holding, and laboratories performing medical analyses. That gives this ETF a wider selection of healthcare providers while still not including biotech and pharmaceutical companies.

---
Conclusion on the Best Healthcare Stocks & ETFs
Healthcare is something we may not think much about when we and our family members are healthy. It's also the most important thing we think about if anyone gets sick. This is unlikely to change in the future and makes the industry one of the most resilient in the entire economy.
Investors might want to diversify their healthcare-related holdings to include some of the best healthcare stocks on the market, growing startups upending the status quo, and service providers that are at key junctions of the industry.
Whether to include or not biotech and pharmaceuticals depends in large part on the level of volatility an investor is willing to accept.