We recently visited the Holiday Inn Resort in Montego Bay, Jamaica. This is an all-inclusive resort that we've been to twice now. Both times we paid for our stay exclusively with points – so it was 'free to us'.
Jamaica is a beautiful country, and we really loved the resort. While the resort was nice overall, I wanted to put together this in-depth review so you can learn:
How we booked our stay for free with IHG rewards points
Why I recommend this property if you're visiting Jamaica
What to expect when you get to the resort
Holiday Inn All-Inclusive Resort Overview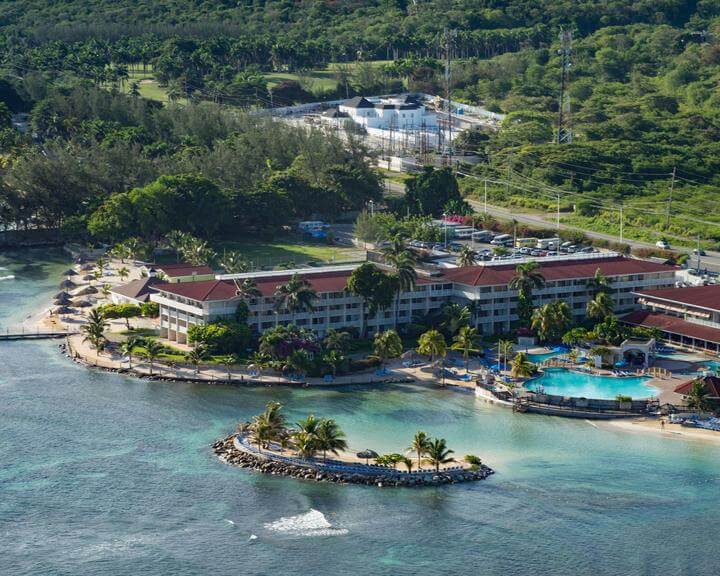 The Holiday Inn Resort Montego Bay All-Inclusive Resort is a family-friendly oasis that sits along a private beach just 10 minutes from the Montego Bay airport. This resort is very family-friendly and kids under 12 get to stay free.
What I love about the resort is that all the food and drinks (both alcoholic and non-alcoholic) are included. So once you book a stay here, you don't really have to worry about food unless you leave the property to do something. The food is actually delicious too. I've heard some guests at other all-inclusive resorts in the area complain about the meals, but luckily, we didn't have that problem at Holiday Inn Montego Bay Jamaica.
This resort has a few pools and outdoor bars, and eating areas. They also have a kids club and an adults area with a private adult pool and swim-up bar. Across from the main beach is a small private island as well.
Check-in is at 3 PM and check-out is at 11 AM.
Pros:
All-inclusive
Part of the IHG rewards program
Private beach and decent-sized pools
Kids under 12 stay free
Gift shops on site
Free Wi-Fi
Free parking
Kids and teen's club amenities
Private adults area
Plenty of entertainment and restaurants on-site
Cons:
Can get a little noisy
A/C didn't run as well in the lobby
Small laundry room
No pets allowed
Booking With IHG Rewards
Normally, the Holiday Inn Resort Montego Bay Jamaica costs around $197 per night for a standard room. This price isn't too crazy, especially compared to everything you get. It's actually similar to what you'd spend at a Hampton Inn or Crowne Plaza hotel with far fewer amenities.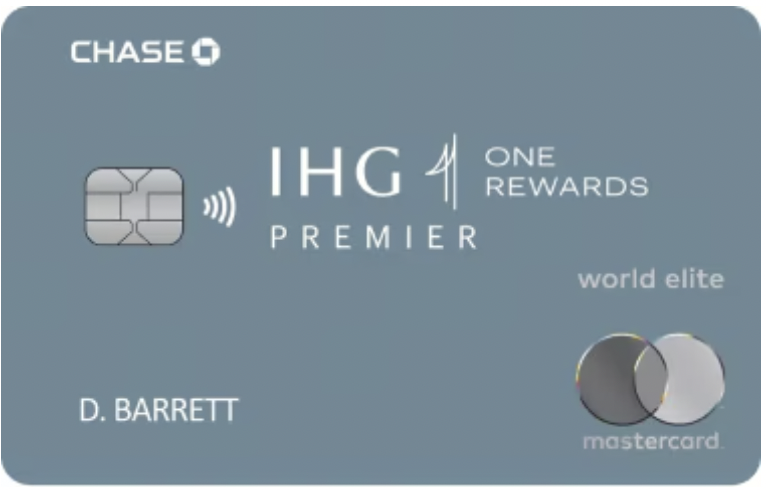 However, we got to stay for free since we paid with points. I did this by becoming an IHG Rewards member and signing up for the IHG Premier One Rewards Card. This card has a great sign-up bonus right now where you can earn 140,000 rewards points after spending $3,000 during your first 3 months of opening the card.
The IHG Premier One Rewards card also offers benefits like:
Up to $100 in Statement Credits on purchases at IHG® Hotels and Resorts during the first 12 months from account opening
Up to 26X total points at IHG® Hotels and Resorts
5X total points on travel, dining, and at gas station
3X points per $1 spent on all other purchases
1 free night each year
4th night free when you redeem 3 consecutive nights during the same hotel stay
I believe I got this card for a second time in 2019 and earned the sign-on bonus right before Covid hit. We wanted to visit Jamaica and kept getting delayed, but luckily reward points don't expire.
The Holiday Inn Montego Bay Jamaica can range from 37,000 to 50,000 points per night. We booked 3 nights and got the 4th night free, so we stayed from Tuesday – Saturday.
First Impressions
When you arrive at the resort, you'll immediately see the lobby and check-in area to your right. It's a very open area where you'll also see the main bar to the left. Further down the hall is the main buffet area, which then leads you right out toward the pool, beach area, and resort activities.
Expect for the morning, you'll hear lots of music and people all throughout the day since the lobby area is "open" and doesn't have any doors. This didn't bother me, though, as it sounded just like any other fun resort. The one thing I did notice was the lack of airflow in the main lobby since it's an open area.
They might have had some A/C running, but it also wouldn't have made a difference since it wasn't an enclosed space. Being that we're in a hot tropical island though, this just comes with the territory.
The rooms were pretty standard, in my opinion, and there are 4 floors for most buildings. Everyone gets a balcony view. We also happened to arrive on August 1st which is Jamaican Emancipation Day and the resort was decorated with colors of the beautiful Jamaican flag.
Check-in Process
As soon as we got to the checkout counter, they told me I was a VIP member (due to my rewards credit card) and told us to go around the corner to a separate check-in room. The check-in process took a little longer than I expected, but we were quickly greeted with some fruit punch and rum punch from the bar which was nice.
We arrived around 2 PM and were told our room wasn't ready yet and to come back in about 40 minutes. So we dropped our bags off and walked along the pool and beach area to stop at the Jerk Hut. This is probably my husband's favorite spot on the resort, and the jerk chicken is amazing.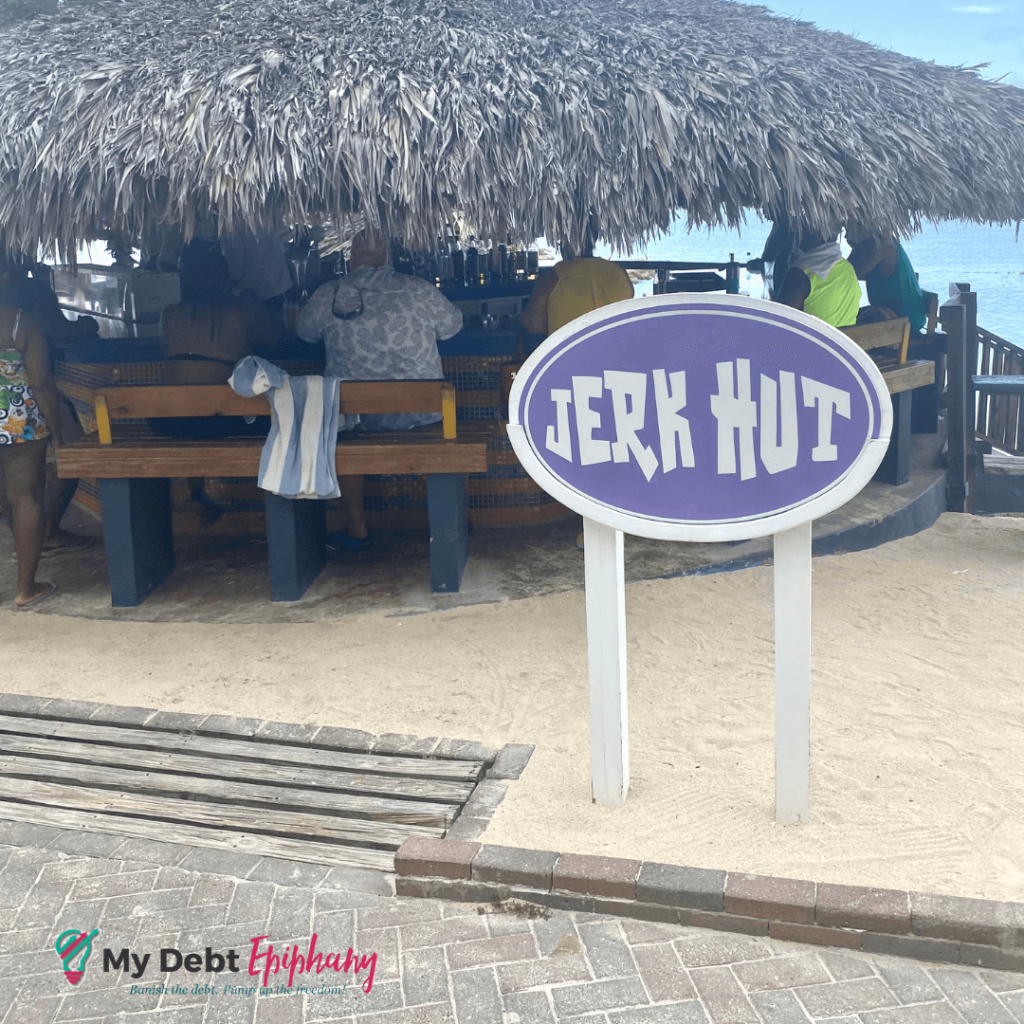 Next, we headed to some gift shops on the resort and the prices really weren't bad. I was able to get my son a T-shirt for $12 and a bag for myself for $14. They also have bracelets for around $9 and other nice souvenir items.
Here are some pictures of our room.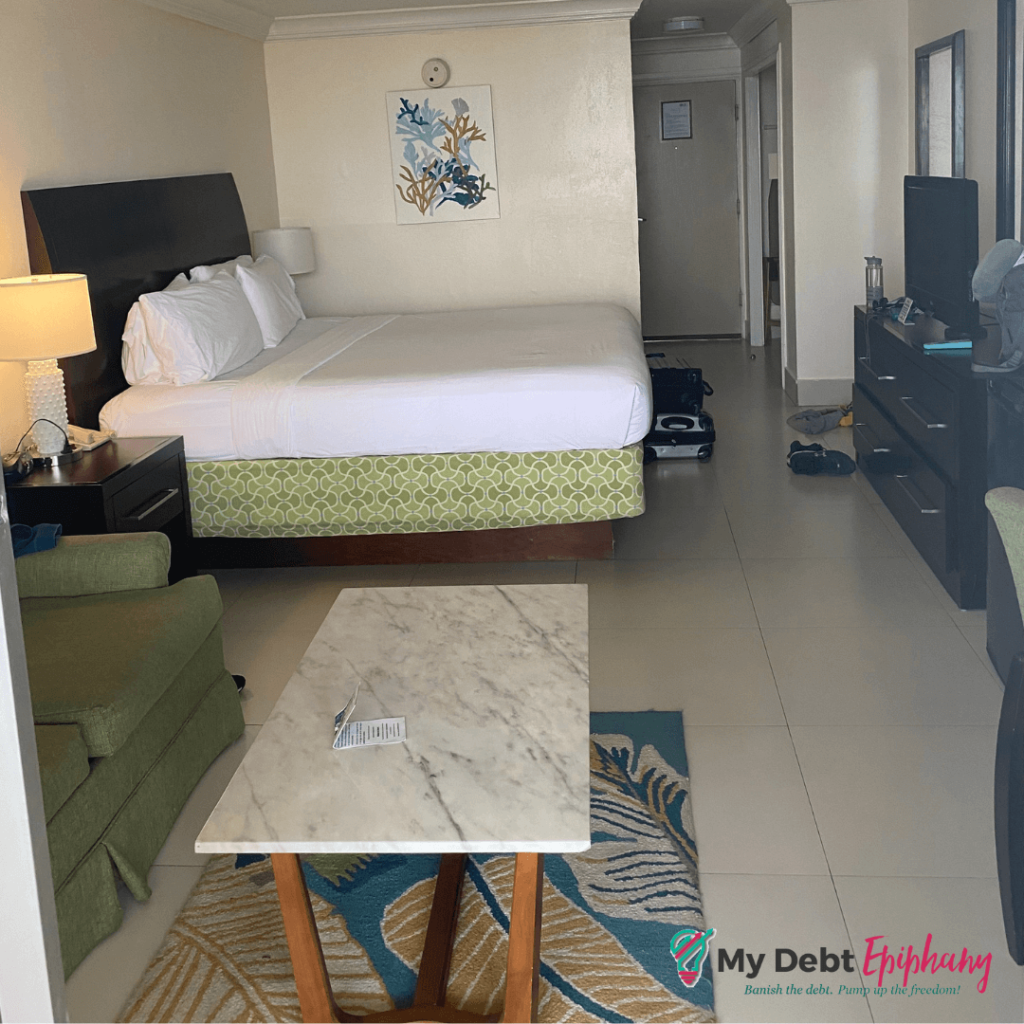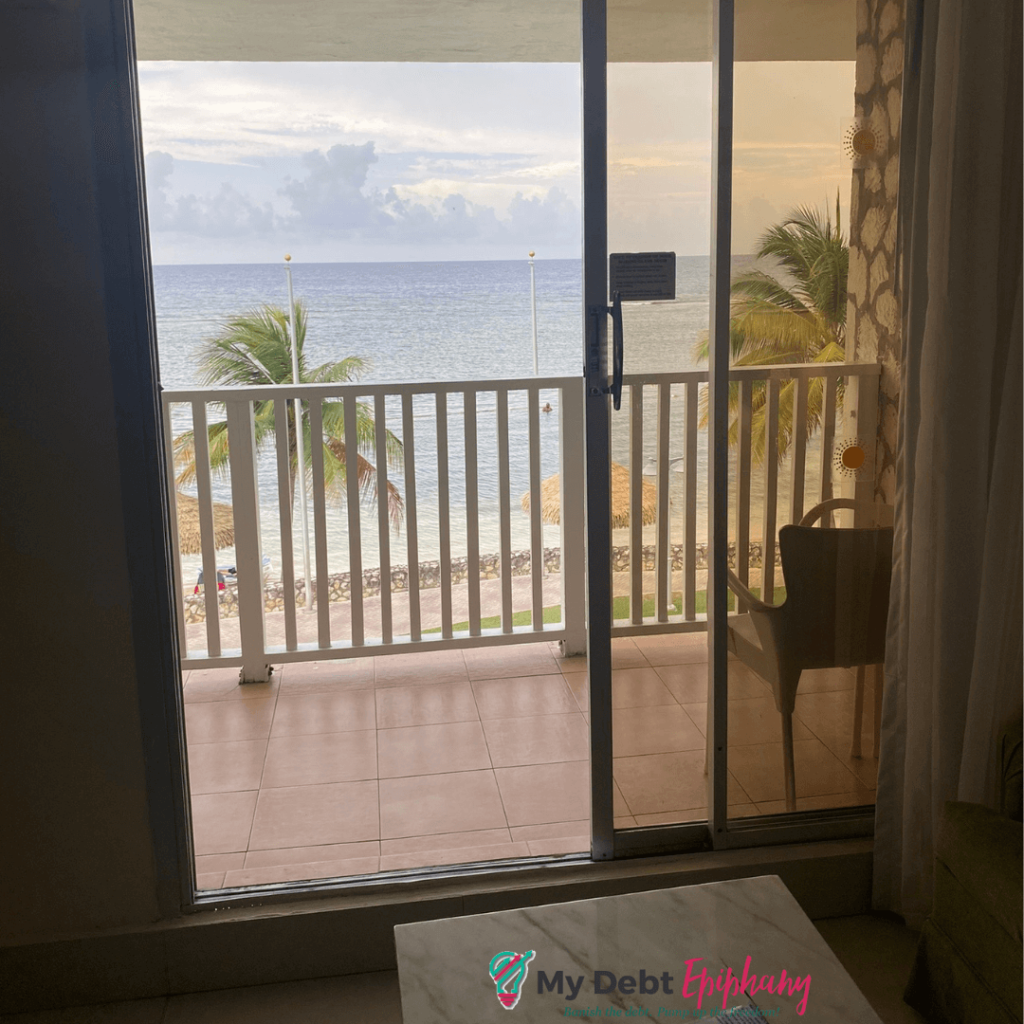 Food and Restaurants
The food at the resort was so good, and you have plenty of options. There are 5 restaurants at the resort and some of the dinner options require a reservation. You can only reserve your meal 24 hours in advance. But for breakfast and lunch, there are plenty of options at the buffet and poolside restaurants.
Here are some of the options:
Sorento – This restaurant serves Italian food, and we ate here the first night. Everything was very good and you get an appetizer, entree, and dessert. (Reservation required)
Barefoot Bar and Grill – Located near the main pool area, it's a great place to get burgers and drinks.
Portside Buffet Restaurant – This offers casual dining and is open for breakfast, lunch, and dinner. They have delicious made-to-order omelets in the morning, and we tried their specialty pizza options for lunch as well.
Sea Breeze Restaurant – Gazebo-style restaurant that serves food a la carte by the beach.
De Terrace – Outdoor casual Jamaican-themed restaurant. (Reservations required)
Kenko Japanese Restaurant – They offer a Teppanyaki a la carte dining concept with full waiter service, including appetizers, dessert, wine, and cocktails. This is the only restaurant that is not included in the all-inclusive rate. Each person pays a premium charge of $29.
Jerk Hut – Located outside on the resort along the beach walk near the adults' area. It's very informal, so you walk up and ask for a plate. Just go there, you won't regret it!
The resort also had another gazebo-style food shop outside that served snacks like nachos, hot dogs, and soft-serve ice cream but I forgot the name.
I took so many pictures of my food, so I created a gallery.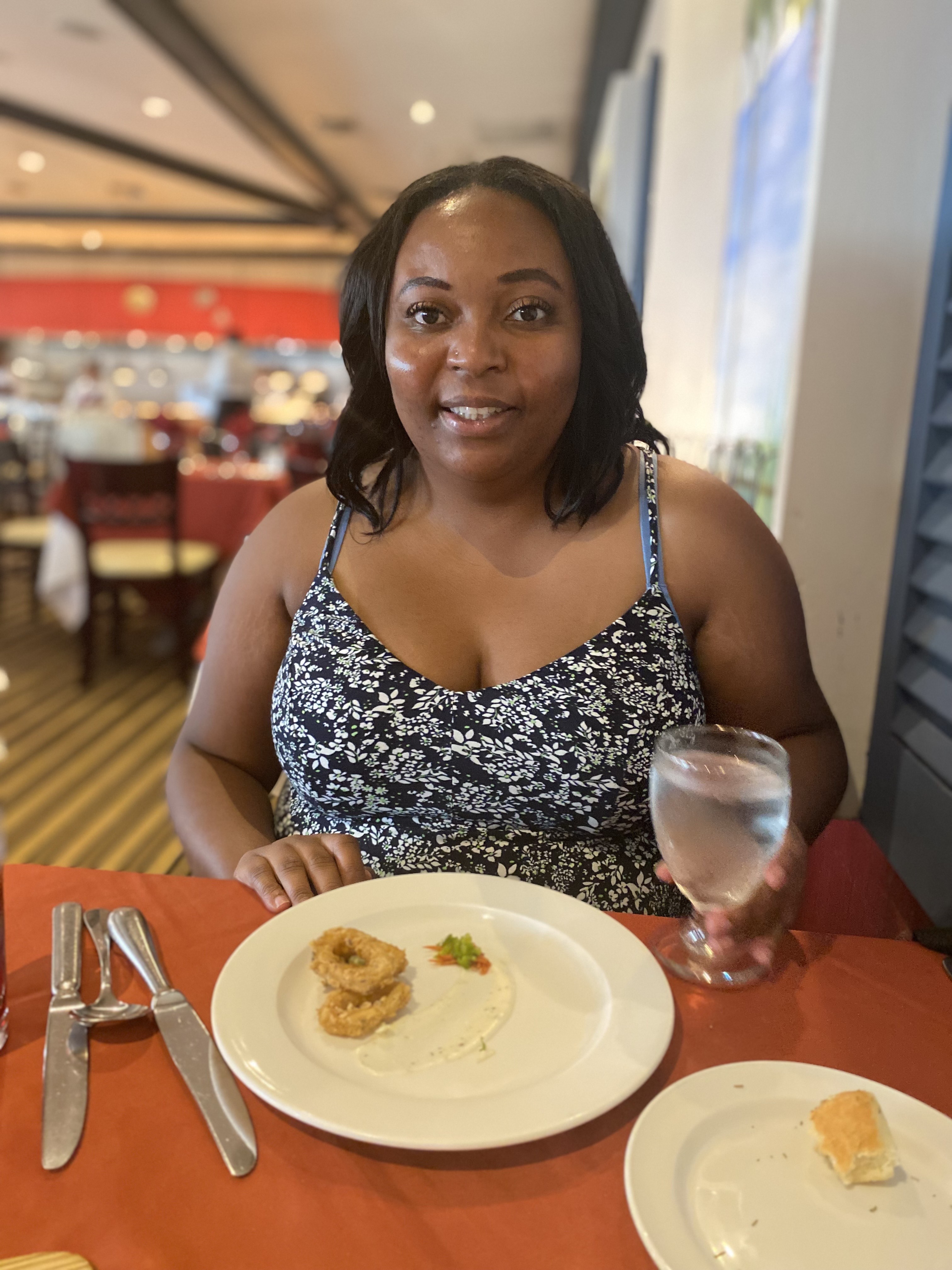 Activities
There are several fun things to do at the Holiday Inn Montego Bay Jamaica. These are some of our favorites.
On-site Kids' Activities
Live Entertainment
Kayaking
Cocktail Lounge
Adults-only pool
Table Tennis or Ping Pong
Outdoor whirlpool
Adults-only pool
The resort also has an on-site gym and spa. Every night there is always a live show of some sort on the main stage next to the pool, whether it was a musician or a contest. The evening entertainment was always family-friendly, and people could just drop in and out as they wanted to.
We also did some kayaking on the resort and played a round of mini golf. I also liked the adults-only pool with a swim-up bar.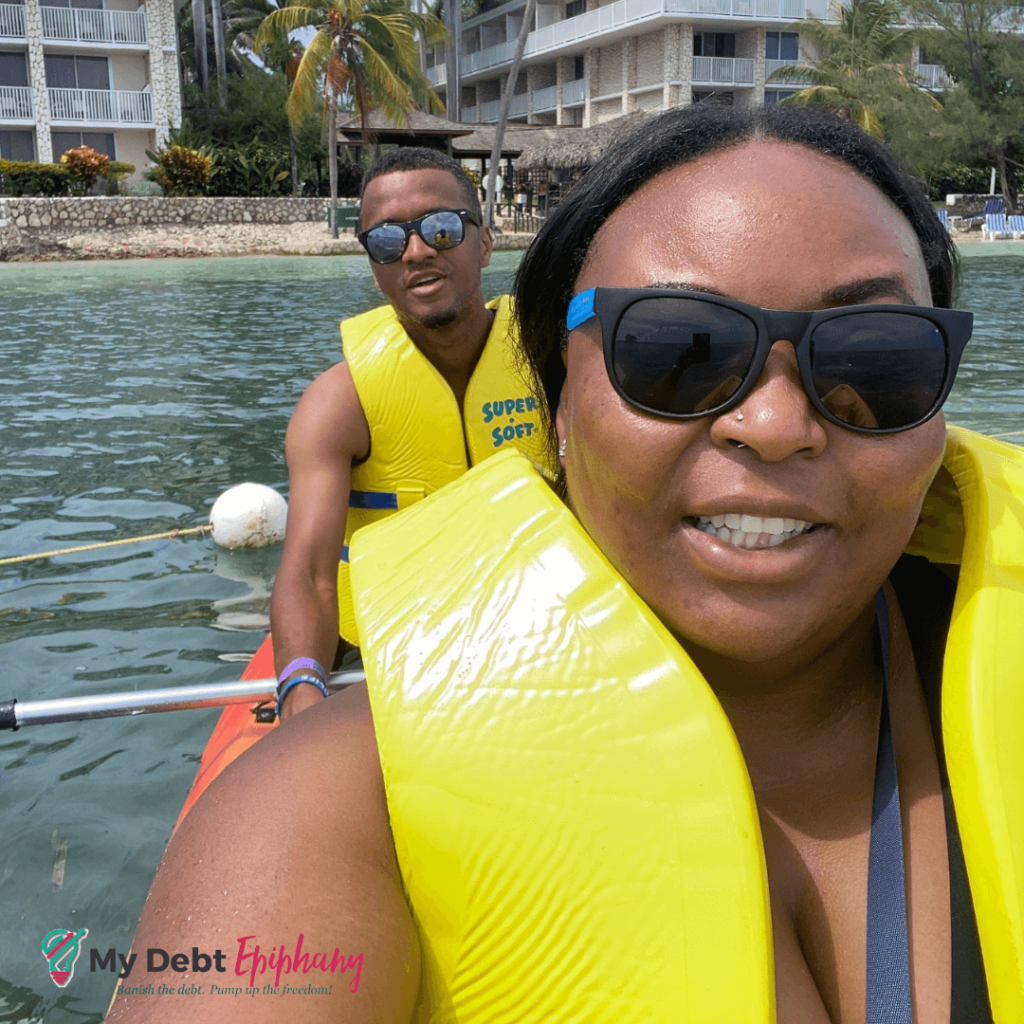 VIP Perks and More
Being a VIP member helped us score a free room upgrade with a beachfront view. However, one of my favorite perks at this resort is that each Wednesday, they do a VIP dinner for guests. It's invite-only and its a great time to mingle with other resort guests and enjoy some great food.
You also get to meet the resort staff and enter a raffle where they give out tons of free prizes. My husband's number was the first one called for the raffle during our dinner. Most importantly, it's just a great time to get some insider information about the resort and the updates and changes they're making. They don't try to sell you anything which is nice and we truly enjoy this part of the trip when we visit.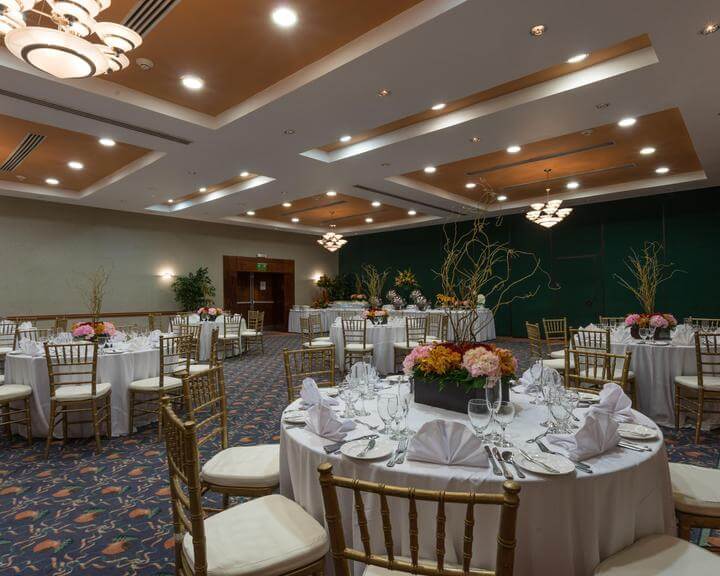 Should You Tip at the Holiday Inn Montego Bay Jamaica?
Absolutely. Even though the resort is all-inclusive, it's still customary to tip the staff. They truly deserve it as everyone we came across was so kind and helpful. The staff was always friendly and went above and beyond to make our stay special. From the servers at dinner and the bartenders to the cooks at the omelet station during the breakfast bar and the housekeeping staff, everyone was excellent.
One day we returned to our room after a long day of fun activities and found a fresh fruit plate in our mini-fridge. Those little things matter. I ended up bringing $ 100 cash with me, including several $5 bills, $10 bills, and $1s. I honestly wish I would have brought a little more because we also tipped our drivers whenever we left the resort.
What's nice is that you don't have to convert your money and everyone will accept American dollars.
Overall Thoughts on the Holiday Inn Montego Bay Jamaica
Overall, my husband and I truly enjoyed our time at this resort and thought our stay was excellent. Is this a 5-star resort? No, but we also weren't looking for this. The rooms are standard, and there's not a ton of frills. But it's clean and beautiful nonetheless.
Our room had a really good A/C and a nice view of the beach. The staff was super friendly, and even though we paid for our stay with points, the nightly rate for the resort didn't seem overpriced at all. Plus, the food is AMAZING. Again, it's not super fancy food (minus the VIP dinner), but it was very flavorful, and the presentation was nice. Also, the evening live entertainment, mini golf, and kayaking activities were super fun.
The only potential downside of staying here is if you're looking for a kid-friendly vacation and prefer an adults-only resort. There are tons of kids and families at the Holiday Inn Montego Bay so as long as you're okay with that, you'll probably like this resort.
That said, I highly recommend this resort! Have you ever been to Montego Bay, Jamaica? If so, what's your favorite place to stay?
Stop Worrying About Money and Regain Control
Join 5,000+ others to get access to free printables to help you manage your monthly bills, reduce expenses, pay off debt, and more. Receive just two emails per month with exclusive content to help you on your journey.