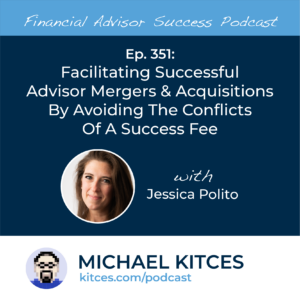 Welcome back to the 351st episode of the Financial Advisor Success Podcast!
My guest on today's podcast is Jessica Polito. Jessica is the Founder and Principal for Turkey Hill Management, a mergers & acquisitions consulting firm that assists financial advisors with the sale, acquisition, integration, or merger of their firms.
What's unique about Jessica, though, is how she has built a practice helping financial advisors and their firms navigate the intricacies of buying, selling, or merging their firms by deeply understanding their business expectations, educating them on the transaction process, valuing their firm so they can get the best deal for them, and guiding and providing counsel to them through the transaction process… while doing so without the conflict of an investment banker's success fee.
In this episode, we talk in-depth about how Jessica leveraged her investment banking experience in wealth management mergers and acquisitions to build her own business where she could provide more independent M&A advice, why and how Jessica developed her flat-fee advice model for mergers and acquisitions to, similar to the evolution of fee-only RIAs, be able to demonstrate that her services are not incentivized by just getting a sale at the end and that she is truly providing advice she feels is best for her clients, and how Jessica helps her advisor clients parse through a seemingly overwhelming number of potential buyers and understand how to negotiate the terms of their agreements so that they can find the right deal for them that aligns with their business goals.
We also talk about why Jessica cautions her clients and advisors considering selling their firm to not base their asking price in comparison to the purchase price of other firms as without context on how the price and more importantly the terms were decided, why Jessica counsels that advisors who want to retire in 3-5 years need to start not just preparing for a sale but actually beginning the transaction now (because it can take several years to finalize a deal and wind down the post-sale retention contingencies), and why Jessica feels advisors considering a sale in the more distant future should actually spend less time trying to go through the laundry list of updates to their firms to extract the top value and should instead focus on simply doing what is right for their business that keeps it on a healthy growth track (because that is what will make their business most attractive, whenever the time comes to sell).
And be certain to listen to the end, where Jessica shares why, because she works on her own, she is intentional about the number of clients she works with at any given time so that she can both provide dedicated service and preserve time to spend with her family, how Jessica dealt with imposter syndrome and the fear of being compared to larger institutions with longer histories by investing into developing and sharing her own thought leadership through podcasts, videos, and conferences, and why Jessica defines success differently for her professional and personal lives in that professionally, success is a moving target (because she feels that without new goals she may become complacent and limit herself), while personally, success is continuing to build her business (especially in a male-dominated industry) and take chances so that her children can see that she kept trying even if that meant she might fail, and ultimately that she made something she is proud of.
So, whether you're interested in learning about how Jessica helps advisory firm owners sort through the 'noise' of different proposals to find viable potential deals, how Jessica discerns when to use an EBITDA or a revenue multiple to value firms or practices, or what other 'fine print' Jessica feels is important to understand before engaging in an M&A deal, then we hope you enjoy this episode of the Financial Advisor Success podcast, with Jessica Polito.