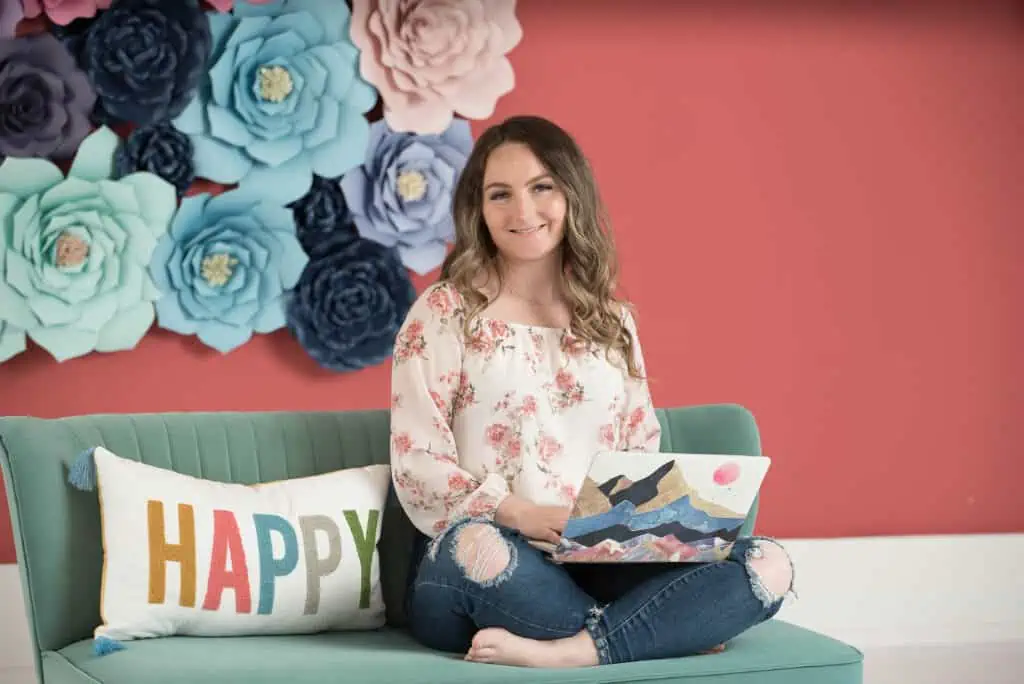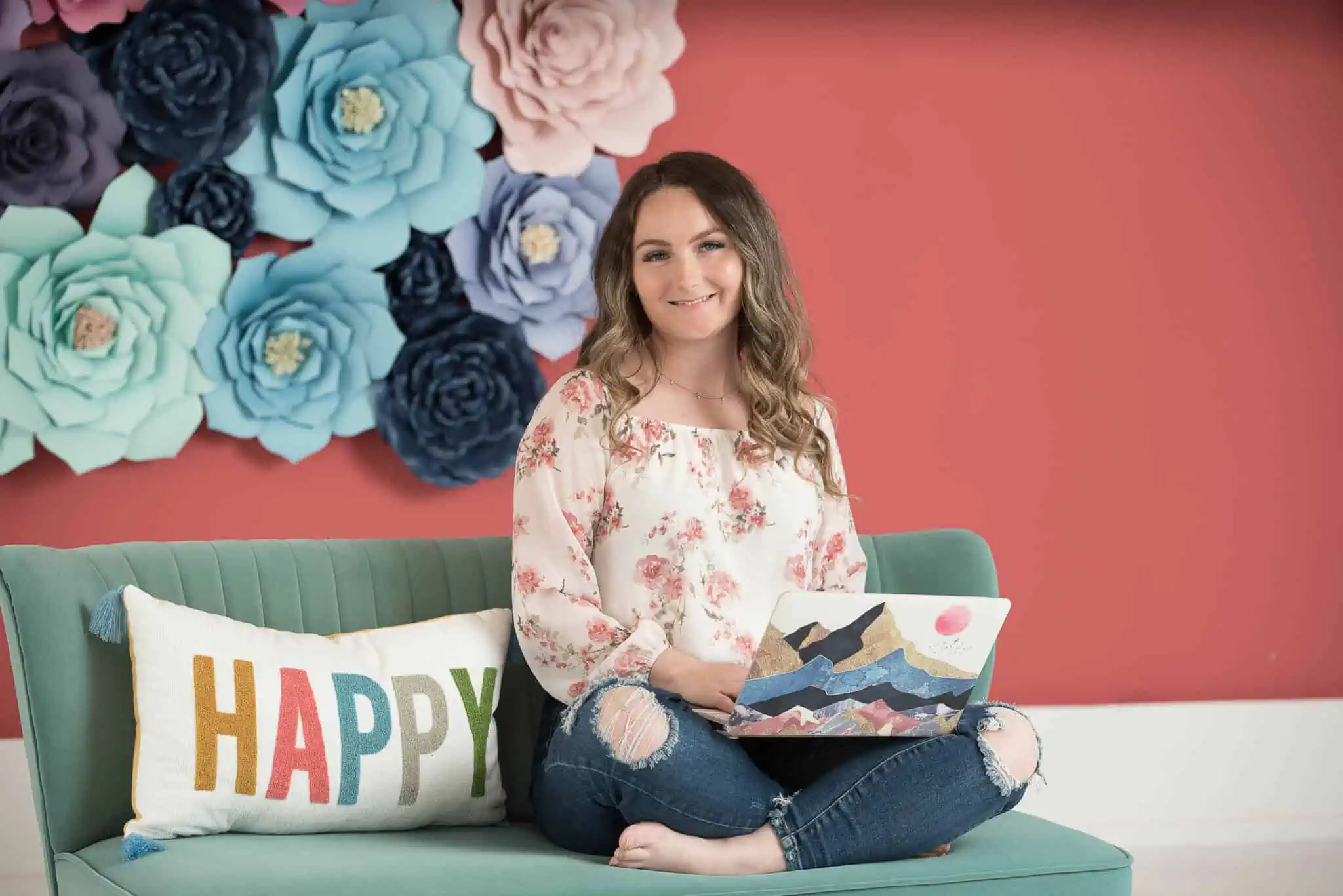 How to Make Money with Print-On-Demand
Who would've thought losing your job would be one of the best things that ever happened to you?
For Cassiy Johnson it was!
We were blown away when we read her interview with CNBC about how she brought in $101,000 in a month! When we read her interview we had to contact her because the first question we had was…how did she do it?
The answer…Print on Demand.
What is Print on Demand? Don't worry, you'll get to hear it all from Cassiy below but she has found an unconventional approach that has made her wildly successful.
She started doing this from her PHONE! If you're looking for a way to make money from home this just might be it.
We had the pleasure of asking all the questions you'd want to ask Cassiy, and thankfully she didn't hold ANYTHING back. By the time you're done reading this you'll have a whole plan on how to get started today!.
So we first want to thank Cassiy for such an awesome interview, and I want to tell you all, you're welcome 🙂 because we are giving you one of the greatest ways to make money from home today! Take a look…
This post contains affiliate links, which means I may receive a small commission, at no cost to you, if you make a purchase through a link.
How to Make Money With Print-On-Demand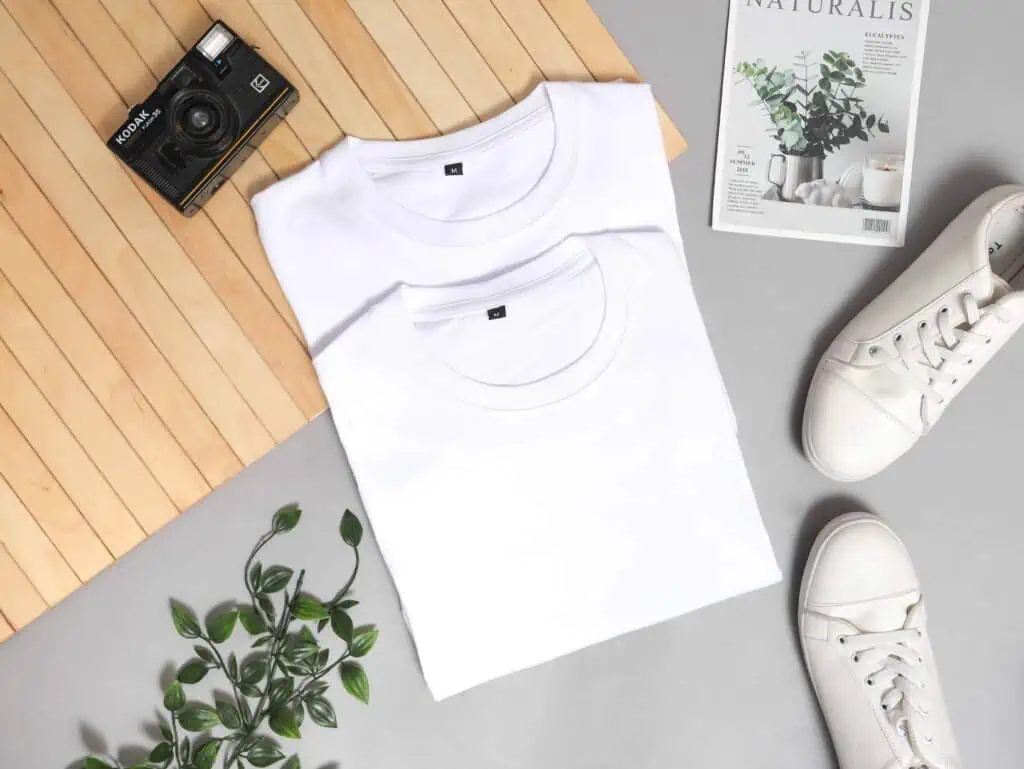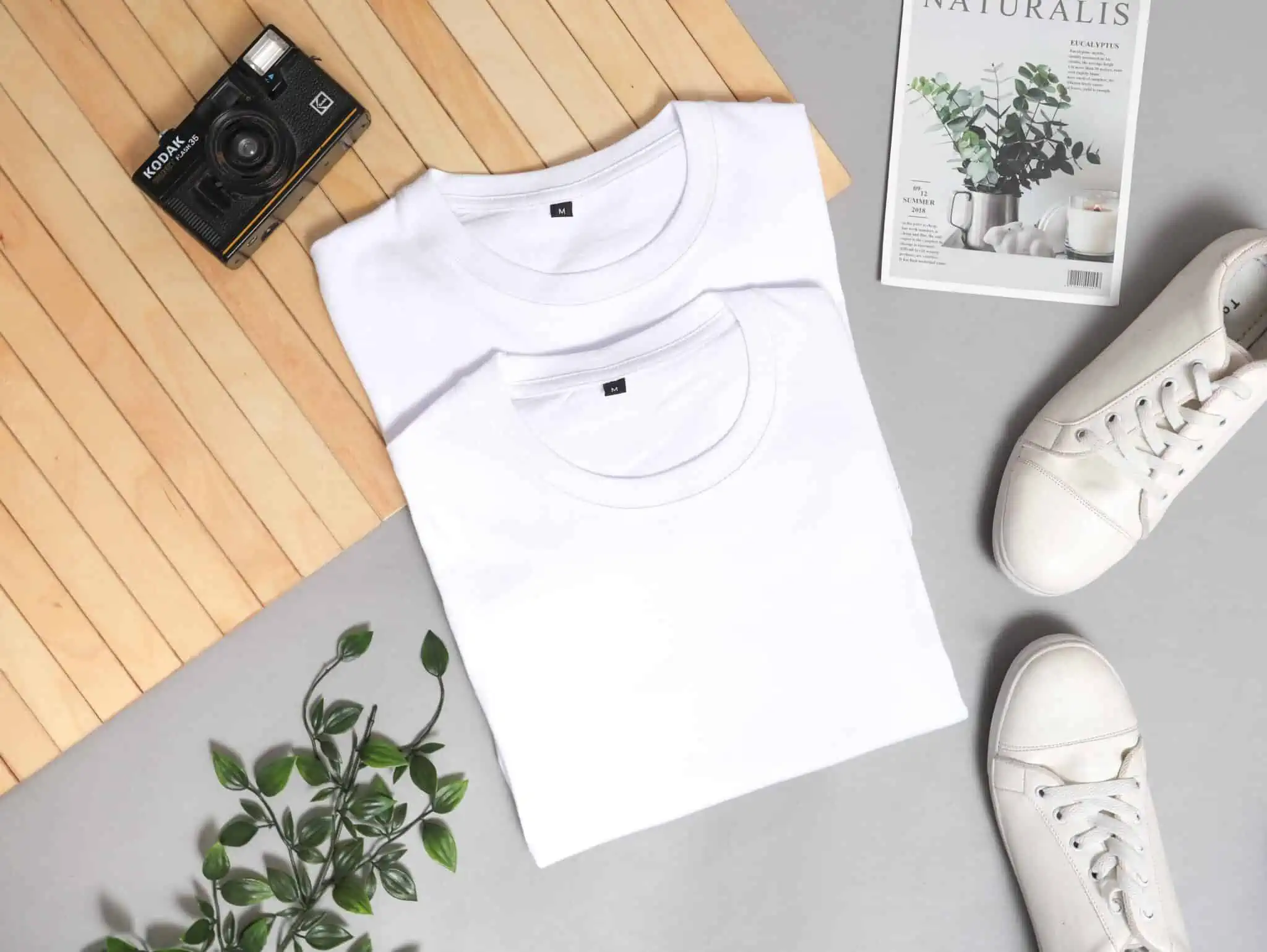 Can you tell us about yourself and how you got started with Print on Demand?
My name is Cassiy Johnson and I got started with Print On Demand back in 2020 after my husband and I both lost our jobs during the pandemic.
At first, I thought I was just furloughed for a few weeks and decided to start this after watching a YouTube video, just to see if I could make some money on the side.
I got started the very next day and from then on I was obsessed and spent the next 4 months off work working on my Print On Demand store for 20+ hours every week!
How Does Print-on-Demand Work?
Print On Demand is a process where you create designs for products like shirts, mugs, and tote bags for example digitally online using software like Canva.
Then you post them for sale on Etsy using digitally made mockups of the products to show what they will look like once they are printed (see image below).
Once the customer orders the item though, your print production partner, in my case Printify, will actually print and ship the items to your customer for you and even update the tracking information on Etsy as well!
So all you need to do is do the research of what is already selling well on Etsy, create unique designs that add value to the market and handle the customer service, Printify takes care of the rest!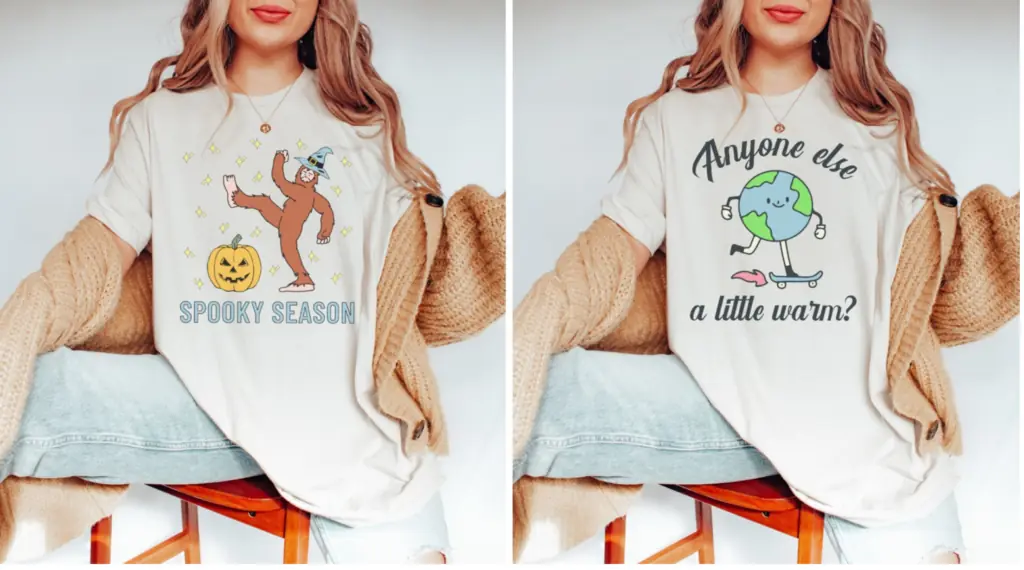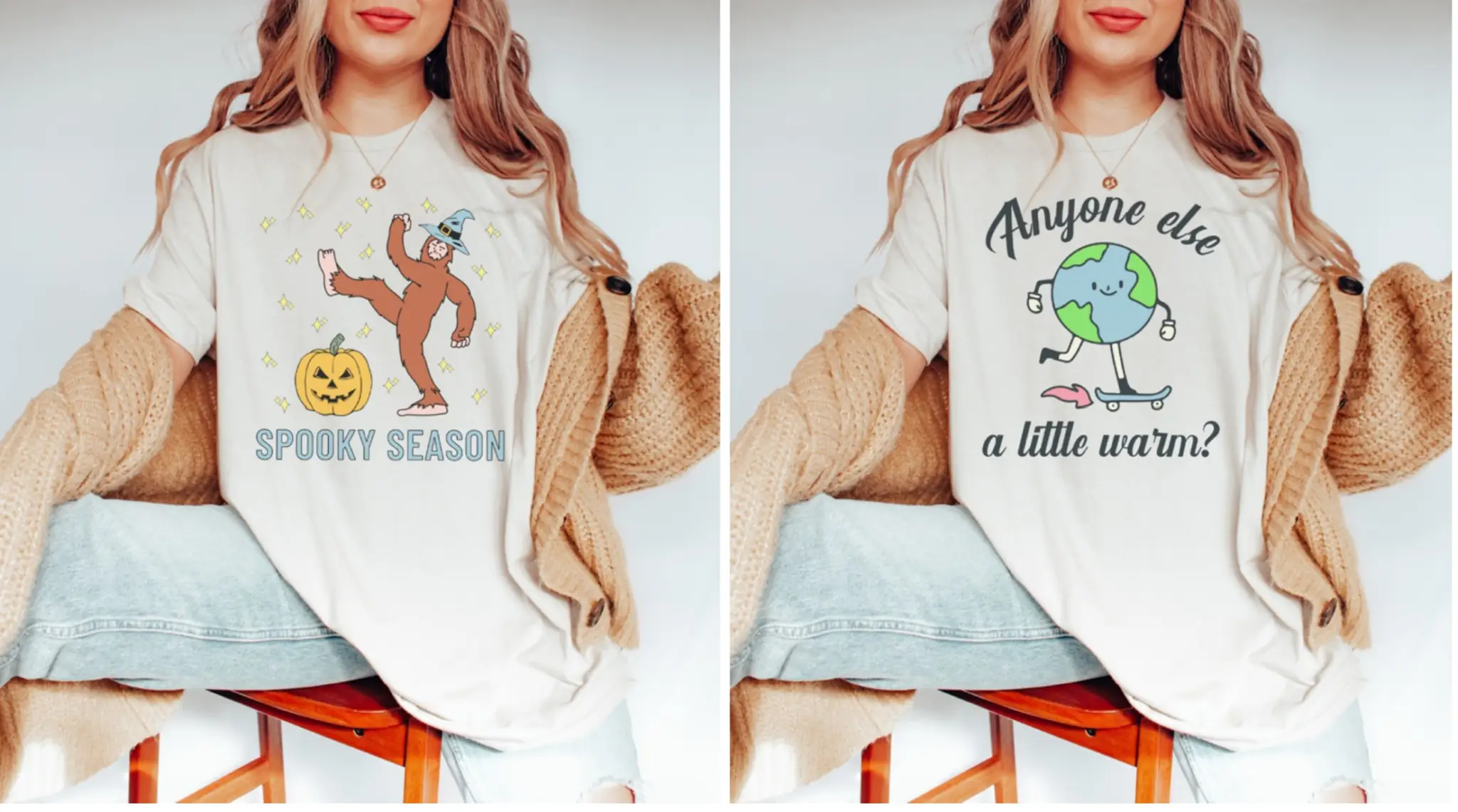 What Products Can You Create Using Print on Demand?
There are hundreds of products that you can create with Print On Demand! Anywhere from apparel products like Shirts, Sweatshirts, Tank Tops, Kids Clothing, and even pet bandanas, to home decor like throw pillows, blankets, ornaments, and even shower curtains.
The sky really is the limit on what you can create but the real magic is finding a product that is already proven to sell on the platform you are looking to sell on.
While it's fun to be creative and design products that inspire you, this is also a business and it's important to do market research to ensure you can make a good profit selling the items you want to sell on Etsy!
I do this by finding 10 stores that have opened in the last two years that are successfully selling the product type that I am looking to sell.
This might sound counterintuitive, but competition means that there are enough people already organically coming to Etsy looking for and purchasing those items.
This will ensure you have a much better chance of getting sales. You also will learn a lot from these stores on what types of product photos work well and what type of pricing will be competitive.
How Do You Create Your Designs?
I create all of my designs within a design software called Canva. This is a really easy-to-use software that will let you use graphics and fonts to come up with a unique design!
Now in the beginning I just designed things that I liked or that I made up, and while some of you may have a great eye for design and the current trends, most of us don't.
My first designs weren't very good and not that many of my items sold. Out of about 100 items posted in my first month, only a few of them sold.
Over time though, I really learned to study the top-selling items on Etsy to understand what types of fonts to use, what types of colors, and what types of graphics and layouts to use for my designs.
There are always ways to add value to designs and make them your own but still using proven elements within your design. This takes time to learn but the more dedicated you are to the research, practice, and trial and error, the better you will get!
Which Print-On-Demand Platform Do you Use?
I currently use Printify to list on Etsy, and I also sell on Amazon Merch On Demand a little bit as well but the Amazon platform is harder to get approved for and has quite a few more limitations on how many things you can list for sale so I really would say that selling on Etsy would be my top recommendation as that is where I personally have found the majority of my success!
How Did You Set Up Your Online Store?
Setting up a store on Etsy is super simple, you go to create a storefront on Etsy. You then will have to provide all of your personal information and can just get started with your SSN if you don't already have an LLC set up.
This will mean you are a sole proprietor, but you can always talk to your CPA to ensure which way to set it up is best for you or even change this later.
You will also need to provide a credit card and connect your bank account using a service called Stripe.
If you have a larger bank, this connection might be instant, but for smaller banks, they may need to send a test deposit to your account to confirm it which can take a few days.
Then you need to create a listing on Etsy to finalize and open your store. I do have a free mini-course that walks you through this whole process as well!
What Are the Costs and Profits in Print on Demand?
The profit that you make on Etsy is typically around 25%-30% of the price you sell it for depending on how you price your items.
This means of the $770k that I have sold on Etsy, I have been able to keep a profit of around $231,000 in the last three years!
There are some other expenses like paying for the design software, Etsy research software like Everbee, and buying mockups. Altogether though, you will spend I'd say less than $70/Month between all of these things per month depending on what you decide you'd want.
The other thing to know with Print On Demand the way the payments work is that you are the middleman between Printify and Etsy.
So when a customer orders a product, you will pay Printify to print and ship the item to the customer, and then you will get your payment from Etsy for the purchase price minus any Etsy fees.
For your first 90 days on Etsy, you will be on something called payment reserves where they only pay you for the full price of the purchase AFTER you have mailed the product.
They also only pay you once per week for the first 90 days as well, to help deter sellers from scamming Etsy's customers out of money. So this means that in the beginning, you do need to pay for the products first, and then get reimbursed a week later.
I would recommend because of this to have a few hundred dollars to get started with. After the 90 days though you can change it to get paid daily on Etsy and you will get reimbursed the next day!
How Do You Market Your Print On Demand Products?
The majority of my strategies in selling on Etsy to optimize for organic search traffic.
This means doing lots of research on what is already selling well on the platform or preparing in advance for things I know will sell well like sweatshirts for Christmas a few months prior.
Etsy already brings millions of shoppers to their platforms every month, so all you need to do is figure out what they are already coming to the platform searching for and buying, then find ways to add value and get people to purchase yours over the competition in that niche.
We obviously never want to copy so some ways you can do that is by turning say a funny t-shirt saying, into couples matching funny shirts instead.
Selling items in bundles like matching family shirt sets has been a really big strategy for me and my students to grow our incomes in general because then your average order goes up by a lot when someone buys say 5 shirts instead of just 1!
I also run ads on Etsy using their Etsy Ad service, but I think of this as more gasoline that you pour on a fire that's already burning.
Running ads on products that aren't well researched or don't add value to the search results won't work, you still have to optimize for organic search traffic in the beginning and then Etsy's ads can help to get your winning products in front of more people that are searching for that type of item faster!
How many hours a week do you work on average?
This number has changed a lot over time, in the beginning, I spent 20+ hours working on my business for probably the first 2 years. A lot of that time I actually was working full time as well, but I found time to work before work, after work, the weekends, and even on my breaks.
I did eventually quit my job 1.5 years in when I was making about enough to replace my income. It was a scary decision and felt like a big leap of faith but I had my husband there to support me as well and it was the best decision I ever made!
Since then though in 2022 I started my YouTube channel and coaching program and fell in love with teaching other people how to follow in my footsteps and find success as well.
I have helped many students get their first sale, first 100, first 1,000 or even sell their first $100,000 in revenue! So nowadays I spend about 20-30 minutes per day just managing my Etsy store.
What type of person do you think this would be good for?
I'd say this business is a good fit for anyone who really has the drive, dedication, or dream to start a business and plans to run it for years to come.
You also have to be someone who is willing to do the research and understands that it will be hard at first just like mostly everything else you've ever tried and that you have to practice and study to get good at it.
I've seen a lot of people get started saying, well I'll just try it for a month and if it doesn't work then I'll quit.
But for a lot of people, it takes time to learn the skills needed to succeed and it can take a few months of putting in the hard work and research before you really start to see the fruits of your labor.
You've got to have a little bit of grit and a positive attitude to carry you through the uncertain times of your first year.
Eventually, this business gets very consistent and predictable, but it takes time to get there and that first year getting it going for the first time. I can promise that it is so worth it though!
Being able to quit my full-time job and work for myself has been the most magical and life-changing experience.
How can someone get started with print-on-demand?
I've got a lot of resources to help new people get started with Print On Demand! I've got my free YouTube channel where I have lots of great tutorials and a free mini-course that walks you through the beginning steps.
If you don't have tons of time to learn it all yourself one video at a time with trial and error, or you just would rather have an exact roadmap of step-by-step instructions of what to do along the way and what pitfalls to avoid then I also have my course available as well called The POD Roadmap.
I took all of the lessons I learned selling over the past three years and recorded everything in a step-by-step over 8 hour long course that gives exact actionable steps throughout with tons of resources like,
Excel documents to help you price your products for a profit easily
Bestseller design guide to help 10x your design knowledge and skip that awkward not knowing how to design phase
In-depth income and expense report so you can know exactly how much of your profit you are keeping each month
6-figure research document to help you quickly and easily build a list of 100's of profitable products to design to save you hours of time researching what to sell
A private community filled with other sellers that are at the same point in their journey as you or further along so all of your questions will get answered along the way!
I also run live coaching calls where we get together and I teach in a group setting more in-depth topics and go over what niches you should be designing for depending on what holidays/seasons are coming up!
If all of that sounds like something you are interested in, then I'd love to have you join me and my group of over 400 Etsy sellers. I am so confident that you will love the course, I offer a no-questions-asked 7-day refund policy! You can check it out here.
---
Thank you Cassiy for such an in-depth interview!
I am so big on courses because we live in such an advantageous time, instead of paying $100k+ for a college degree that takes 4+ years, I can actually pay a couple of hundred dollars and learn a skill that can earn me more than my college degree can in just one day!
I mean are you serious? So thank you Cassiy for shortening the learning curve for us and providing a course where we can learn from someone who is doing so well and providing so much value.
I not only love the course Cassiy has created, but I love the success stories of those who have taken her course even more! For a peak inside, click here.
So, is this something you're interested in? Let us know in the comment section below.
If you're looking for more ways to make money from home download our Free Ebook to give you some more of the best ways to make money from home.