If you want to improve your trading performance, you'll need to invest in the right tools. Trade Ideas is one potential tool, a premium trading platform that features a wider range of functionality than many competing platforms. In this Trade Ideas review, we'll look at the pros and cons of Trade Ideas and see whether this premium platform is worth the price.
Pros
Impressive AI Trade Assistant
Excellent Stock Scanning and Alerts
Cons
Only US Stock & ETF Coverage
What Does Trade Ideas Offer?
At its core, Trade Ideas is a stock scanner and technical analysis tool. But with the wealth of additional features offered, it really acts as a comprehensive trading platform. With Trade Ideas, users can go from idea origination to trade execution, all in one place.
In this Trade Ideas review, we'll first cover the three basic areas in which Trade Ideas can serve traders. Then, we'll look at the advanced features that set Trade Ideas apart.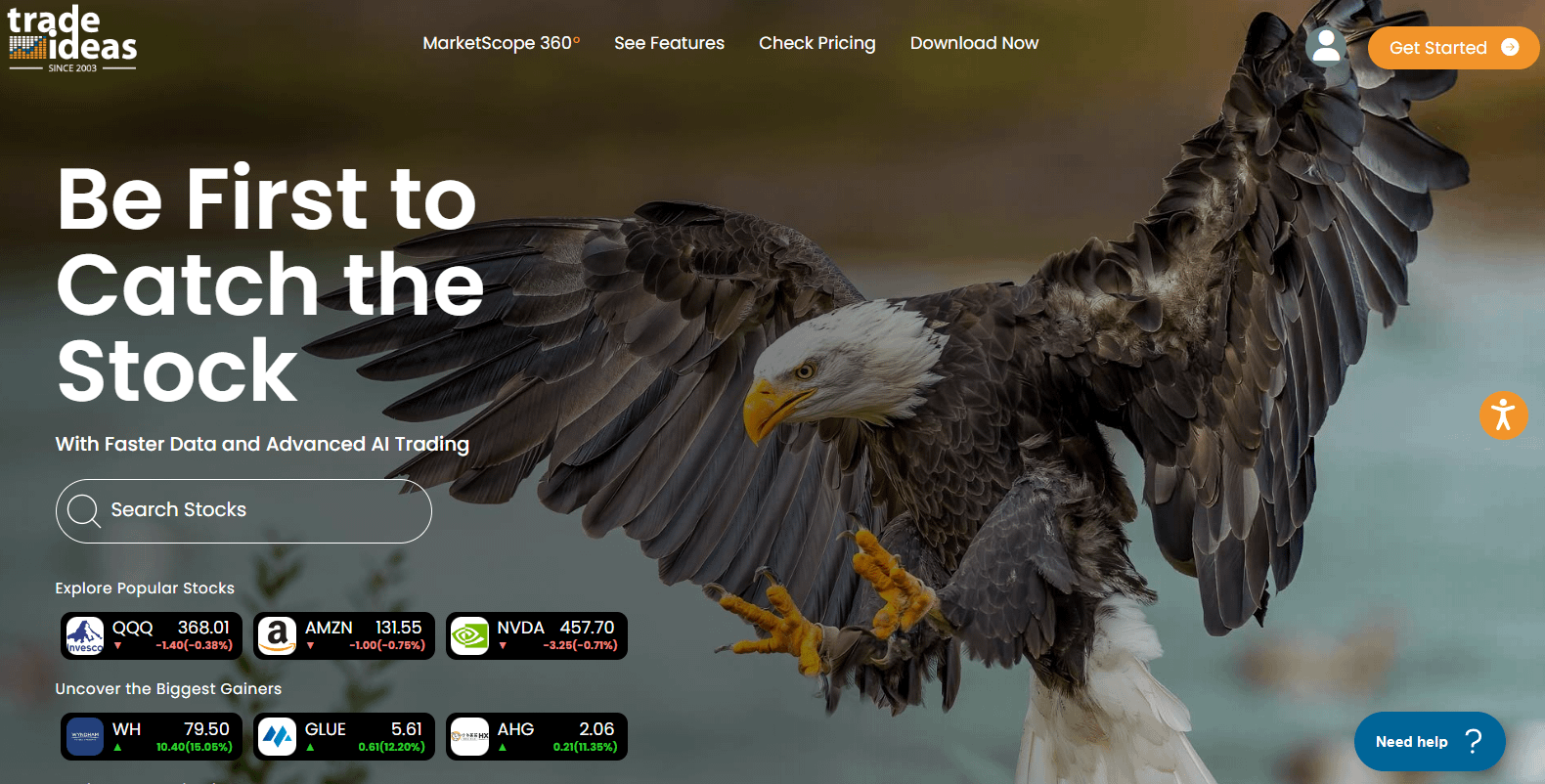 Stock Scanning
The Trade Ideas stock scanner is one of the most powerful parts of the platform. The scanner is highly configurable and updates in real-time to keep up with the pace of live trading.
This ensures you don't have to spend time constantly rerunning scans, freeing you up for more complicated analysis. The scanner comes with plenty of preset filters but is also highly customizable; you can scan based on price action, volume, chart pattern, exchange, order flow, and more.
Unfortunately, however, the Trade Ideas "stock scanner" is really just a stock scanner. You can only research and trade stocks and ETFs on the platform, and not any of the additional instruments traders might be interested in, like currencies, crypto, or futures. Moreover, only U.S. equities are available; the platform does not allow you access to international markets.
👉 Learn more: Interested in global markets? Understand the nuances of how to invest in foreign stocks with our latest post.
Charting
No technical analysis platform would be complete without charting capabilities. Trade Ideas offers all the charting you would expect in a well-rounded technical analysis solution.
Traders can use basic price charts, candlestick charts, and advanced tick charts, which contain the most data. These charts can be scaled across time frames, from one minute to monthly. Finally, Trade Ideas features a wide variety of pre-built indicators and patterns, as well as the ability to manually markup charts.
Training and Education
The last major area that highlights the basic functionality of Trade Ideas is the platform's training and educational offerings. Trading can be a difficult skill to learn, with a lot of complex terminology and concepts. Trade Ideas does a good job of making that process easier for burgeoning traders.
The platform features a robust user guide, multiple video playlists, free daily support sessions, and a free trading room with an experienced trader streaming live. While these training and educational resources won't add value for all users, inexperienced traders should find much to learn here.
👉 Learn more: If you're on the hunt for the best stock screeners, this post might have what you're looking for.
Trade Ideas Advanced Features
What we've covered so far are just the basic features of Trade Ideas. In reality, charting, scanning, and education functionalities are fairly commonplace among trading platforms. It's the advanced features, including some very impressive AI tools, that make Trade Ideas stand out.
Artificial Intelligence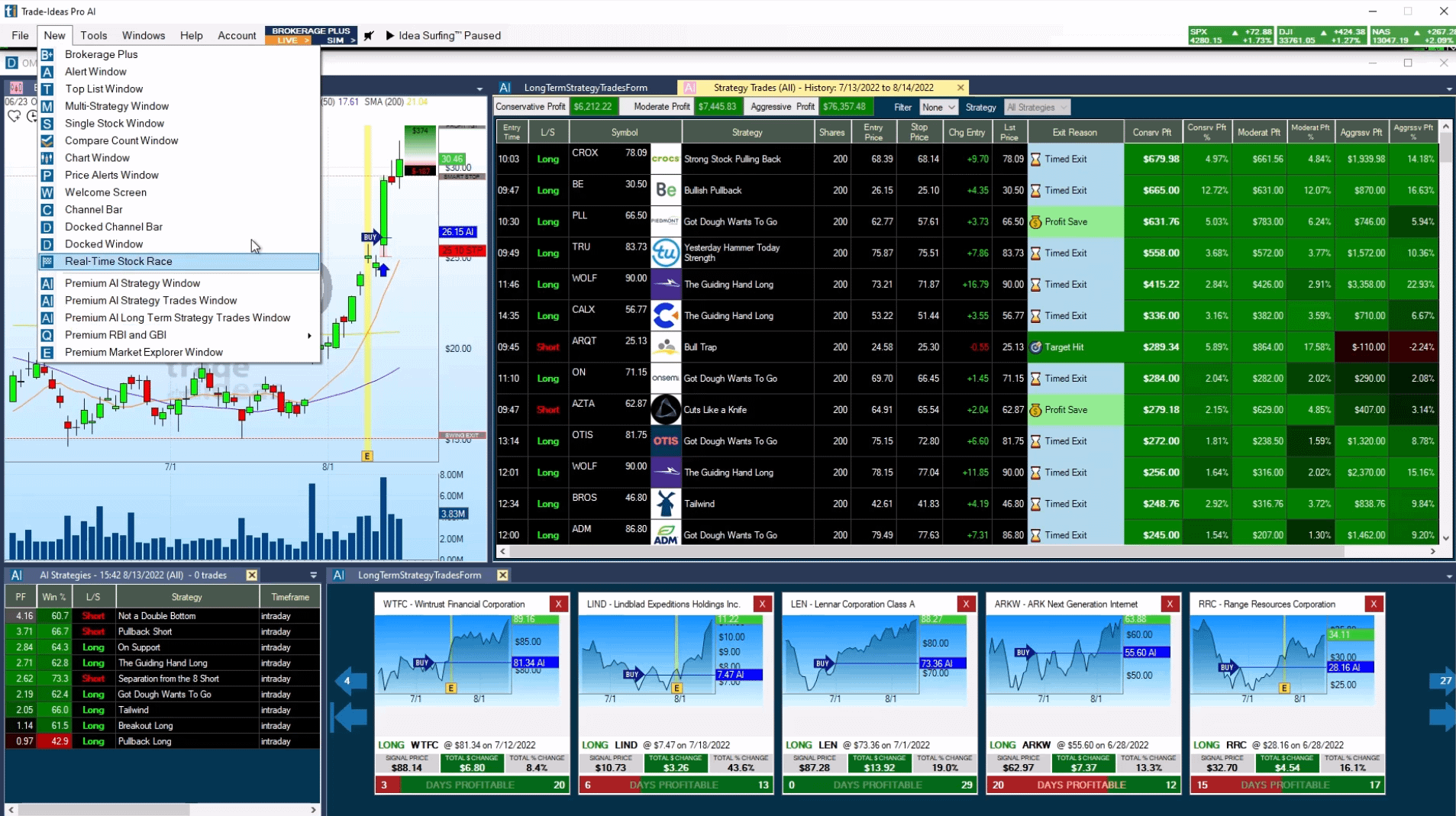 Trade Ideas was at the forefront of leveraging AI technology to improve trading performance, having launched its own AI named "Holly" back in 2016. Since that time, they claim, Holly has consistently outperformed market benchmarks.
There are several iterations of Holly today as Trade Ideas has improved the technology, including "Holly Neo," "Holly Grail," and "Holly 2.0." Unlike other platforms, these AI tools aren't just performing automatic pattern recognition. Instead, they're fully-fledged trading assistants, recommending entry points, risk limits, and exit points.
Holly comes with about 60 built-in strategies that it optimizes each night with a backtest. According to Trade Ideas, Holly will recommend about 5 to 25 trades a day, with no positions held overnight. In our view, Holly is the most powerful part of the whole platform and one of the main reasons traders should consider using Trade Ideas.
👉 Learn more: Stay informed about the evolving tech market with our overview of this year's best AI stocks.
Streaming Alerts
On the back of Trade Ideas' scanning functionality, the platform has built out an alert system that will help ensure traders don't miss any of their ideal setups. As we mentioned before, the scanners on Trade Ideas aren't just one-and-done; instead, they update in real-time as the market changes.
The scanners can be combined to provide nearly endless alert customization, and there is no limit to the number of alert windows you can create. In addition, Trade Ideas offers sound callouts when an alert is triggered, an efficient way to be notified that an opportunity has presented itself.
With many platforms, traders might have to choose between looking for new opportunities and analyzing existing opportunities. This isn't the case with Trade Ideas.
Direct Trade Execution
Another excellent feature of Trade Ideas is the platform's built-in trade execution. Most analysis tools require you to use your broker's interface to place trades, which can create a sizable time gap between identifying opportunities and capitalizing on them. Unlike these alternatives, Trade Ideas offers trading through a system they call "Brokerage Plus."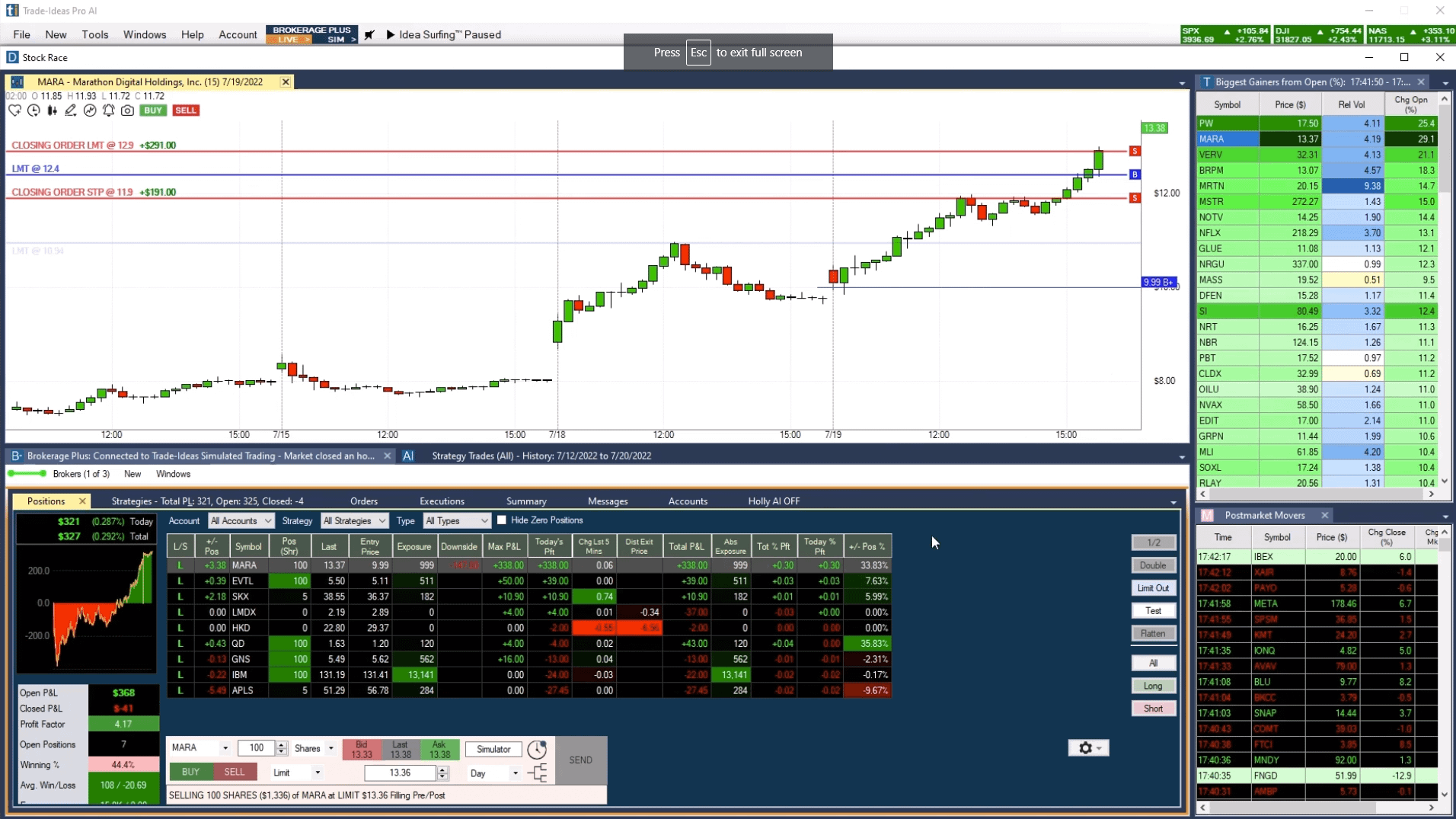 Brokerage Plus lets you place trades and monitor your current positions directly on Trade Ideas. However, it should be noted that you'll need to link a brokerage account to Trade Ideas to do this, and not all brokers participate. Some of the more popular ones that do include Interactive Brokers, E*TRADE, and Thinkorswim.
Trade Ideas also stands out for the trading flexibility they offer. Users can place one-click trades directly through scanners or charts, significantly speeding up execution time. Moreover, you can create an automated trading system based on your own trading strategies or the recommendations of the Holly AI.
The major drawback to executing on Trade Ideas is that you are only able to trade U.S. stocks and ETFs. If your strategies rely on international stocks or any other asset class, Trade Ideas may not be the right fit for you.
👉 Learn more: If you're looking to optimize your stock trading, our article provides a comprehensive rundown of the best online brokers available.
Simulated Trading & Backtesting
The simulated trading functionality of Trade Ideas is just as impressive as its real trading functionality. Trade Ideas features paper trading accounts that let users train under real market conditions without putting any money at stake.
In addition, Trade Ideas lets you test your trading strategies historically with a proprietary backtesting system they call "OddsMaker." OddsMaker is more thorough than most backtesting programs, featuring the ability to adjust your starting equity, buying power, brokerage commissions, and more. While no backtesting program can truly replicate live trading performance, OddsMaker comes close.
Once you run the backtesting program, you can study the data to improve your strategies. Trade Ideas offers detailed profit and loss information directly on the platform, as well as the ability to export the data for more thorough analysis.
👉 Learn more: Get a clearer understanding of stock backtesting with our rundown on the leading platforms in the market.
How Does Trade Ideas Work?
Getting started with Trade Ideas isn't quite as simple as it is with other trading platforms. One reason is that Trade Ideas does not offer a free trial, so it's difficult to get to know the platform before committing to a subscription. However, Trade Ideas does have what they call a "Test Drive" event each quarter, where prospective users get a few weeks of access to the platform for a small fee.
The only section of the platform free users can access is a series of market dashboards. While these might be informative for some users, a better method of understanding the platform prior to paying is through the wide range of videos and guides that Trade Ideas publishes.
If you do sign up, there are several ways to use the platform in practice. Traders can download a desktop version of the platform, although it will only work on Windows computers. If you're a Mac or Linux user, or if you just prefer not to download anything, you can use a web-based version of Trade Ideas as well. Note that there is no mobile app available for Trade Ideas.
Finally, if you decide Trade Ideas is not right for you, canceling can be done directly through the account management page. If you run into trouble, Trade Ideas says you can contact [email protected] for support. Bear in mind that Trade Ideas does not offer refunds for unused subscriptions, which is important to know if you plan on purchasing an annual subscription.
Plans and Pricing
Another important aspect we need to cover in our Trade Ideas review is the pricing plan. Trade Ideas offers two main tiers, which can be purchased either monthly or annually (for a substantial discount). There is no free trial for Trade Ideas, but you can take advantage of the quarterly "Test Drive" of its platform for a small fee. Pricing details for the two tiers are summarized below.
| | | |
| --- | --- | --- |
| Standard Plan | $118 | $999 |
| Premium Plan | $228 | $1,999 |
While the Standard plan has a fairly robust feature set, there are some notable exclusions – like the Holly AI, which is only accessible in the Premium plan. An overview of the feature differences between the two plans can be found below.
| | Standard Plan | Premium Plan |
| --- | --- | --- |
| Backtesting | No | Yes |
| Pattern Recognition | No | Yes |
| Charts | 10 | 20 |
| Smart Risk Levels | No | Yes |
| AI Trade Assistant | No | Yes |
As you can see, there are significant differences between the Standard and Premium plans. Both tiers feature charting, patterns, scanning, alerts, and more. However, the few differences that do exist are quite important. Most notably, backtesting, automated pattern recognition, and AI functionality are missing from the Standard plan.
These are some of the key features that make Trade Ideas such a powerful tool. Therefore, if traders decide to use the platform, they're likely going to be best served by going with the Premium plan, even if it is significantly more expensive.
There are simply too many cheaper, competitive alternatives on the market to justify opting for the Standard plan. Ultimately, deciding whether or not Trade Ideas is worth it depends on your unique trading style and preferences. In the next section, we'll offer some guidance to help you make your decision.
Is Trade Ideas Worth It?
Trade Ideas is a comprehensive, premium trading platform. That doesn't come cheap: the plans are very expensive compared to alternative solutions you could use. But when it comes to trading, it's important to weigh the price tag of the tool with the potential for improved profits. In other words, the best tools pay for themselves.
To understand if Trade Ideas is worth it, we'll look at the two subscription tiers separately. While the Premium tier unlocks just a few extra features, these features are very important and make Trade Ideas a much more powerful tool.
Standard Plan
Ultimately, the Trade Ideas Standard plan is unlikely to be worth it for most traders. At its cheapest ($84/month annually), the plan is far more expensive than a competitor like TradingView (read our review of TradingView).
Even when compared with a competitor like TrendSpider, which is more expensive than TradingView, the Standard plan provides questionable value. For a similar price, users can get a superior tier on TrendSpider. If you'd like to learn more about that platform, we also have a review of TrendSpider.
👉 Learn more: Understand the key differences and similarities with our in-depth analysis of TrendSpider vs TradingView.
Trade Ideas certainly has strong basic functionality, particularly in terms of scanning. But this basic functionality simply isn't worth the high price traders will pay for an advanced platform.
Premium Plan
The Premium tier unlocks access to automatic pattern detection, backtesting, and, most importantly, the AI trading assistant. While the AI assistant won't be right for every single trader, feedback from many traders online indicates that the Holly AI has helped their trading tremendously.
Therefore, the Trade Ideas Premium plan is likely worth it – with one caveat. The tools we're highlighting are very specialized and designed for experienced traders. In fact, if you take a look at the Trade Ideas user interface, it seems like something you'd see on Wall Street.
If you're an experienced trader who believes that the advanced tools on Trade Ideas will make an appreciable contribution to improving your profits, we encourage you to use one of the quarterly Test Drives to try out the platform. For inexperienced traders who are still mastering the basics, though, Trade Ideas is probably not the right platform for you.
Verdict
We hope our Trade Ideas Review provided you with the insights needed to determine if this trading platform aligns with your investment strategies and goals. Trade Ideas is a platform with very strong functionality whose specialty features set it apart from the competition. It can serve as a comprehensive trading platform for many U.S. stock traders, taking users from opportunity discovery to trade execution. However, since Trade Ideas doesn't offer international stocks or other asset classes, traders working in other markets should look elsewhere.
The platform's stock scanning function, combined with a real-time alert system, is one of the best on the market. While its charting may leave something to be desired, the vast majority of traders will be well suited by its automatic pattern detection system. The wealth of educational content is also excellent.
Trade Ideas' AI technology, which is a market leader, continues to be the feature that will draw most traders in. "Holly," as the AI is known, can provide trade recommendations based on 60 pre-built strategies. If you need to test out any strategies, including AI-generated ones, Trade Ideas offers simulated trading and backtesting.
But all these positive attributes don't merit an unconditional recommendation. Trade Ideas is expensive, especially for the Premium tier, in which the strongest functionality is unlocked. For many new traders, who will only be able to leverage basic features anyway, cheaper platforms would be better. If you're an advanced user, however, Trade Ideas could help you take your trading to the next level.