More Australians are feeling the impact of the fixed rate cliff as they roll off ultra-low fixed rates, leading to substantial mortgage hikes across the country.
According to Lendi Group research, only 21% of mortgage holders in Australia still benefit from pandemic-era low interest rates.
The home loan platform and broker network has broken down the average cost for homeownership in Australia following successive interest rate rises, which has taken the average mortgage rate from a low of 2% in May 2022 to the current average of 6.27% on a basic interest rate.
The highest percentage of those who remain on a fixed rate loan are in NSW (22.27%), followed by Queensland (22%), Australian Capital Territory (21.35%) and the Northern Territory (20.5%) while just 17% of people in Tasmania are yet to roll off.
Of those in this category, approximately 34% are singles facing these rate hikes alone, while 65.9% are couples or families who will suffer from a jump in repayments once their fixed rate ends.

Further analysis of current mortgage rates across the country revealed homeowners rolling off their fixed rate, who are sitting on the national average mortgage of $585,000, face a minimum increase in their monthly repayments of $1,000 every month, compared to before the tightening cycle.
The highest increase is in NSW, where borrowers are being slugged a $1,708-a-month jump on their mortgage, followed by Victoria at $1,421, ACT at $1,395 and Queensland at $1,237.
Nationally, average monthly repayments now total $3,865, which is an additional $1,387 every month, when compared to repayments on a 2% interest rate, just 18 months ago.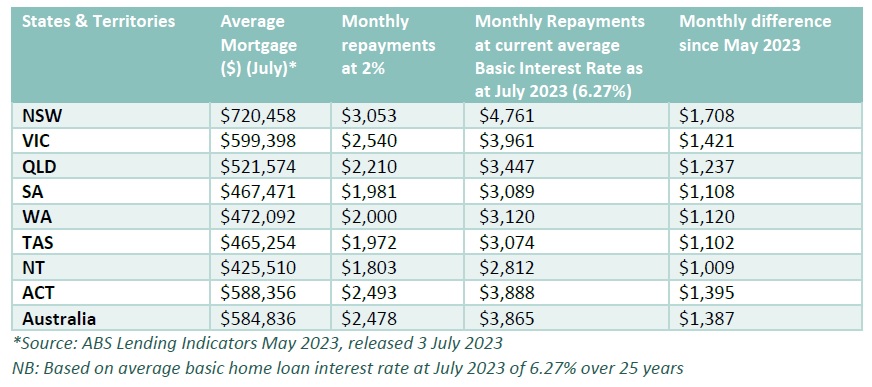 Lendi Group co-founder and CEO David Hyman (pictured above) said the impacts of the fixed rate cliff were already flowing through the economy.
"The Reserve Bank's decision to hold interest rates for a second month is welcome news, however our data reveals, despite the hold, the vast majority of Australians are already living with enormous increases in their monthly repayments," Hyman said.
With interest rates unlikely to materially decrease soon, Hyman said the "clock is ticking" for the 20% of homeowners who are yet to bear the full brunt of the rate hikes.
"As rates remain sticky, we will likely see more hurt in the housing market, particularly among those single homeowners, families on a low or single income and investors who hold more than one property," he said.
"We know expendable income is drying up and more people are being forced consider all options to afford their property. For many newer homeowners it is the first time they've been put under such strain."
Hyman said brokers were "seeing this hardship firsthand".
"This is supported by research conducted by Aussie in June which revealed 29% of homeowners are struggling to make their repayments and an incredible 23% are using more than 50% of their total household income to service their mortgage."
Why refinancing 'must not be overlooked'
Lendi Group also calculated the potential cost savings each month on the average mortgage per state if a homeowner was to refinance and shave 0.45 basis points off their loan.
The company said this was the current averaging savings being achieved through its broker network which includes both Lendi and Aussie. Lendi Group says its holds one in every 15 loans across the country.
"Our data shows the minimum amount a household would save with a 45bps reduction is $117 each month, while homeowners in New South Wales can save close $200 each month," Hyman said.
"Australia wide, the average potential saving is $161 every month, which is money that can be better spent towards the groceries, bills and other household essentials.
"In this current cost-of-living squeeze, any amount of savings should be actively pursued to ease the financial, emotional, and mental burden of rising interest rates. Our brokers are there to support homeowners on this journey and unravel the complexity of the property lending market, to help Australians achieve the best result."
What do you think of the mortgage cliff? Comment below.