5. DoorDash
🏆 Best for Cashing Out Earnings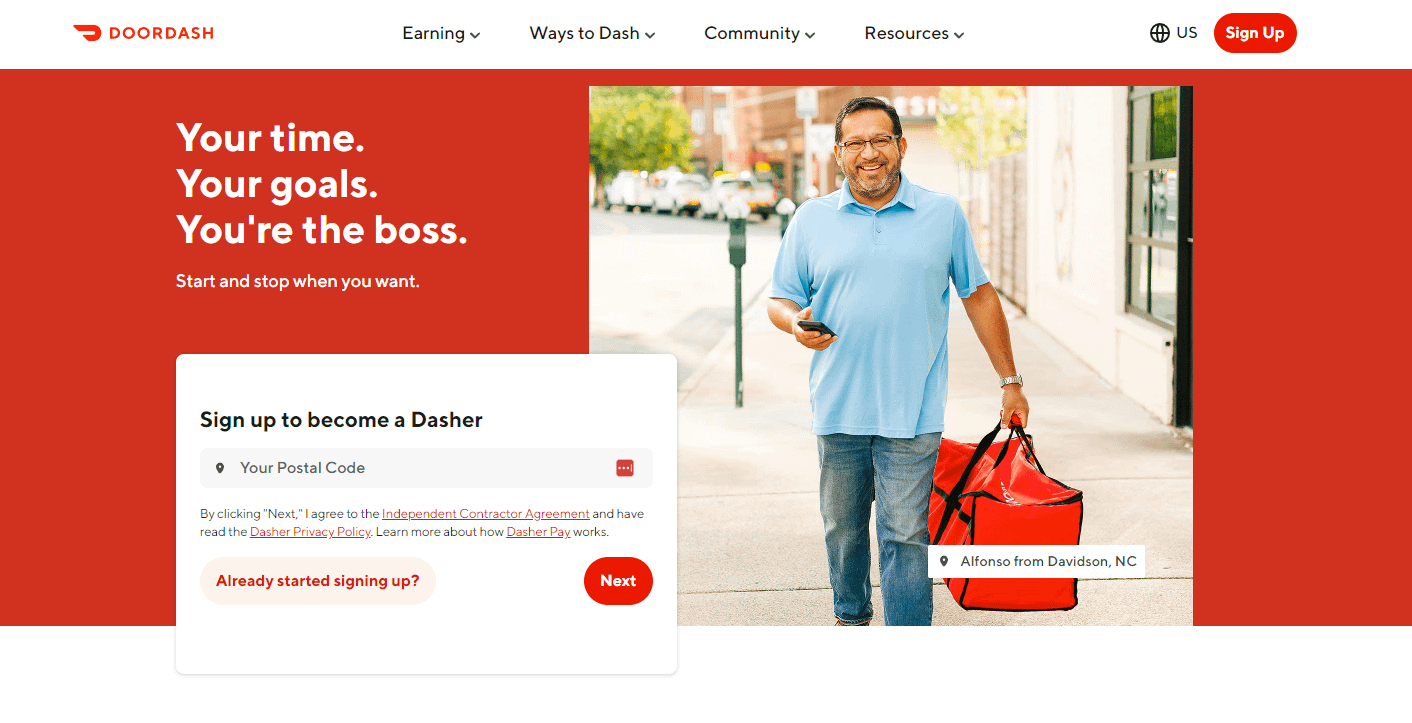 Much like GrubHub, DoorDash is a service that primarily offers the delivery of restaurant takeout. They have also expanded to include orders for groceries, pet stores, and more.
There are 3 key areas where DoorDash differs from Grubhub: scheduling model, service area, and cash-out options.
Instead of scheduling, DoorDash orders are issued on-demand, and there is no pre-set area. You can deliver in any area. Plus, with DoorDash being the largest food delivery service, they offer more delivery opportunities.
The cashout options are where DoorDash really beats out the competition. In addition to the weekly pay option and fee-based instant cashout, DoorDash also supports a fee-free prepaid Dasher card.
➕ Pros:
Provides supplemental commercial insurance.
Offers multiple bonuses and earning models.
➖ Cons:
Lack of transparency in earnings.
Decreasing base pay.
| Driver Requirements | |
| --- | --- |
| Minimum Age | 18 years old. |
| Location | Available in all 50 states. |
| Vehicle | Any vehicle, including scooters and bikes. |
| License & Insurance | Valid driver's license and minimum state-mandated personal coverage (unless you are delivering via bike). |
| Smartphone | Android or iPhone. |
| Other | Insulated bag (free after first delivery). |
Dasher Sign-Up Steps
Start an application on the DoorDash website by filling out your information (i.e., name, date of birth, car details).
Upload any needed documents, like a copy of your driver's license, and agree to a background check.
After you've passed your background check, choose how you want to get paid and enter any necessary banking info.
Download the Dasher driving app and select your first order.
After completing your first order, choose the address to which you would like your Red Card and the insulated bag shipped.
How to Increase Your Earnings
🧮️ How Are Earnings Calculated?
On every order from DoorDash, there will be base pay. According to DoorDash, this can range from $2 – $10 based on time spent and distance traveled. The rest of a Dasher's pay comes from tips and promotions.
🎁 Bonuses & Promotions
The two most common types of promotions are Peak Pay and Challenges.
Peak Pay is a bonus you get for completing deliveries during busy hours, i.e., look for red zone areas on the Dasher map.
Challenges are bonuses for completing a set number of hours in a set time frame. For instance, an extra $20 for completing 15 deliveries.
In limited situations, DoorDash also offers guaranteed earnings. This is a fixed minimum pay for completing X deliveries. "Earn at least $500 in total earnings for 50 deliveries in the next week." is the example used on DoorDash's website.
DoorDash has recently started to roll out an hourly pay model, where you can earn a set amount per hour. This can be a helpful way to combat long wait times at restaurants.
💰 How Are Earnings Paid?
DoorDash pays drivers every Wednesday for the previous Monday thru Sunday delivery period. Payment is through direct deposit.
For those who want their pay faster, DoorDash offers Fast Pay for $1.99, which transfers earnings directly to your linked debit card, or you can signup for the DasherDirect prepaid card to automatically cash out earnings instantly, for free.
Driver Reviews 
The reviews on Glassdoor for DoorDash seem very dependent on individual driver experience. Some drivers have great experiences with orders and tips.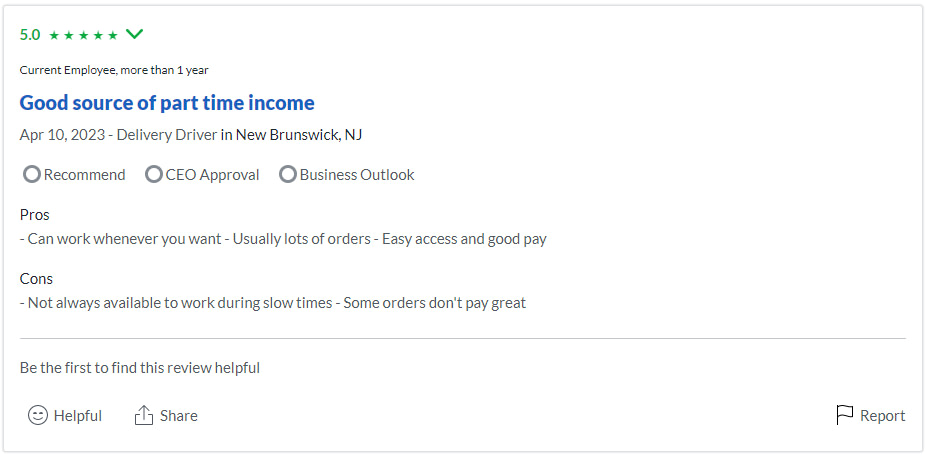 The less-than-positive reviews, though, repeatedly discuss unreliable earnings.
Unfortunately, the pay concerns don't stop there. Many Dashers on Reddit have started to complain about unannounced decreases in base pay and the lack of transparency with earnings.