If you're wondering how to buy Blue Origin stock, you're not alone. The billionaire space race has been a media staple, with Elon Musk's SpaceX and Richard Branson's Virgin Galactic facing off with Blue Origin, the brainchild of Amazon's Jeff Bezos. Of these three contenders, only Virgin Galactic (NYSE: SPCE) is currently a public company. We've already looked at SpaceX, but how well is Blue Origin positioned to compete, and can you buy Blue Origin stock?
Let's take a closer look at how to buy Blue Origin stock.
Blue Origin: FAST FACTS
Industry
Aerospace, Space Flight
Key Product
Space Components, Launch Vehicles
Key Competitors
SpaceX, Virgin Galactic
Key Investors
Employees
Jeff Bezos, NASA, US Space Force
6000
Founder
Jeff Bezos
CEO
Bob Smith
Founded In
2000
Website
https://www.blueorigin.com/
Current Valuation
Undetermined
Projected IPO Date
Unknown
What Is Blue Origin?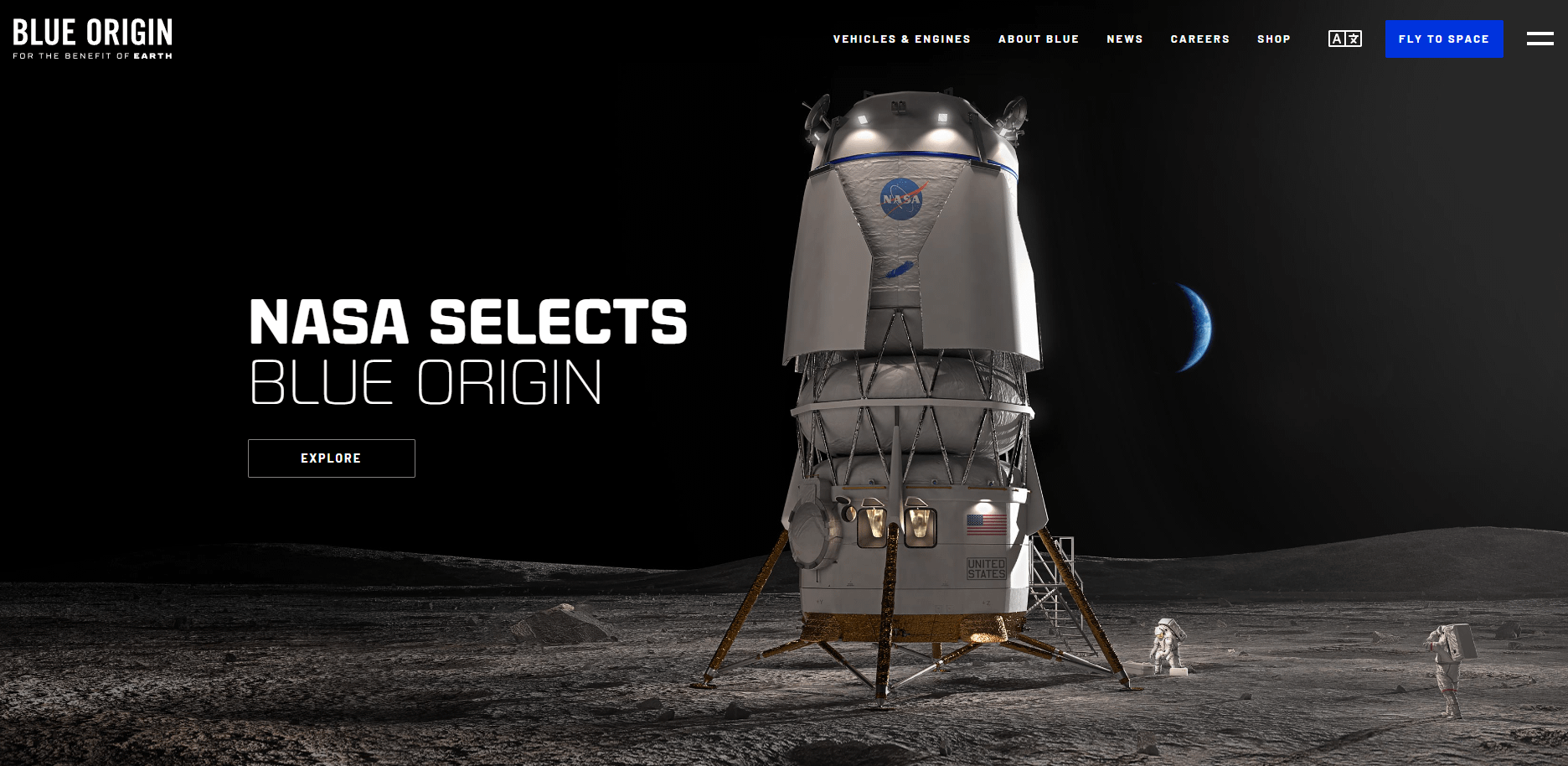 Blue Origin is a privately held company based in Kent, Washington, USA, with launch facilities in Texas. The company maintains a rocket engine manufacturing plant in Alabama and an additional launch site at Cape Canaveral, Florida.
Blue Origin is the brainchild of Jeff Bezos, the founder of Amazon and off-again-on-again richest man in the world. Bezos' involvement has a direct impact on the structure of the company: instead of relying on venture capital, the company has been funded by Bezos personally, with some capital contributions from US government agencies.
Because of the absence of venture capital investment, it is impossible to cite a specific valuation for Blue Origin.
🤵 Learn more: You might find it interesting to explore the investment narrative of Elon Musk in our recent post – a detailed peek into his journey.
The Business
Blue Origin has several lines of business, all related to the aerospace and defense industries. The company is focused on developing reusable spacecraft and engines.
Rocket Engines
Blue Origin has several rocket engines currently in production:
The BE-3 and its variants are liquid hydrogen/liquid oxygen engines capable of controlled landings.
The BE-4 engine is a liquid oxygen/liquid natural gas engine developed for the Atlas V and Vulcan Centaur rockets operated by the United Launch Alliance (ULA), which had previously used Russian engines.
The BE-7 engine is currently under development and is designed for use on a lunar lander.
These rocket engines are made both for Blue Origin's own launch vehicles and for use in other craft.
Launch Vehicles
Blue Origin has incorporated its engines into two launch vehicle designs.
New Shepard is a reusable sub-orbital launch vehicle capable of vertical takeoffs and landings. It was developed for space tourism and is the vehicle that carried the highly publicized Jeff Bezos space trip on July 20, 2001.
New Glenn is a heavy lift launch vehicle powered by seven BE-4 engines. New Glenn is currently under development and is expected to be launch-ready in Q3 2024. It will have twice the payload capacity of any other available launch system and the highest potential payload size. New Glenn will compete with the Falcon and Falcon Heavy rockets from SpaceX.
NASA has selected the New Glenn launch vehicle for the deployment of its two Escape and Plasma Acceleration and Dynamics Explorers (ESCAPADE) missions. These will be placed in orbit around Mars approximately one year after launch, which is scheduled for late 2004.
Blue Moon
Blue Moon is a crew-carrying lunar landing vehicle that is expected to carry payloads of up to 3.6 tons to the moon's surface with a soft landing. A larger variant is planned, with the ability to carry up to 6.5 tons.
NASA has entered into a $3.4 billion contract with Blue Origin to use the Blue Moon landing vehicle for its planned Artemis mission, which is intended to explore the moon – first with an unmanned mission and then with a manned mission – and prepare for a potential manned mission to Mars.
Other Projects
Blue Origin is involved with other space-focused projects, mainly in consortiums with other companies.
Orbital Reef is a low-orbit space station being designed for both NASA and commercial use. Blue Origin, Boeing, Sierra Space, and other companies are working on the project, which passed an initial design review in August 2022.
Nuclear rocket propulsion is widely seen as the future of space flight. The Defense Advanced Research Projects Agency (DARPA) has selected Blue Origin and Lockheed Martin to develop competing spacecraft concepts, with General Atomics developing the reactor.
These projects are forward-looking and could be considered speculative, but they carry substantial government funding, and it is possible that they could hold major places in the future of space exploration.
Blue Origin and Project Kuiper
Project Kuiper is an effort to provide global broadband services through a constellation of low-earth orbit satellites. This is very similar to Starlink, a subsidiary of Elon Musk's SpaceX, and Project Kuiper will compete directly with Starlink.
Project Kuiper is not a part of Blue Origin. It is a direct subsidiary of Amazon. Project Kuiper uses Blue Origin's launch services, along with those of other providers. That makes Project Kuiper a customer of Blue Origin, but other than the direct involvement of Jeff Bezos in both projects, there is no ownership connection.
Blue Origin competes with equipment and launch services provided by SpaceX, and the two often compete for space-related contracts awarded by the US government and private companies. Blue Origin does not, however, compete directly with Starlink.
When Will Blue Origin Hold Its IPO?
There is no indication that Blue Origin is preparing for an IPO. Because the company is not financed by venture capital, there are no investors pressing for an exit strategy, and the company can wait as long as Mr. Bezos' capacity to finance the company continues, potentially a very long time.
Any prediction of an IPO date for Blue Origin would be entirely speculative.
Blue Origin's Financing
Blue Origin has raised $167 in three funding tranches.
| Date | Round | Raised |
| --- | --- | --- |
| August 2018 | Grant | $130M |
| September 2021 | Grant | $24M |
| December 2021 | Grant | $13M |
Additional working capital has been sourced from contracts with NASA and the US Space Force.
How Can You Buy Blue Origin Stock, Really?
Blue Origin is still privately held, meaning its shares are not available on the stock market yet. So, you might be wondering how to buy Blue Origin stock through other avenues.
📊 Learn more: Discover the process of selling stock in a private company with our informative guide.
How to Buy Blue Origin Stock: Invest Through a Pre-IPO Secondary Market
If you want to learn how to buy Blue Origin stock before it goes public, you should know that there is a secondary market for pre-IPO shares. Online pre-IPO marketplaces may acquire shares from early investors or employees who have received shares through stock options.
📊 Learn more: Explore the methods for purchasing pre-IPO stock and gaining early access with our informative guide.
You may be able to buy Blue Origin shares through these marketplaces.
To use these platforms, you will have to register and open an account. You may need to meet a minimum level of income and investment experience to qualify, and there may be other criteria. There's no guarantee that any marketplace will have Blue Origin shares available.
📚 Learn more: Get an unbiased look at Equitybee, including its workings and potential drawbacks, in our comprehensive review.
How to Buy Blue Origin Stock: Invest in the IPO
When exploring how to buy Blue Origin stock, it's important to note that several major brokers offer their account holders the chance to participate in IPOs. All of them have requirements that investors have to meet. You will have to answer questions to confirm that you comply with the rules on IPO investment.
Most IPOs allocate only a small number of shares for retail investors. Even if you qualify, you may not be able to be able to buy the number of shares you want. You may not be able to buy shares at all.
Many IPO purchases come with a lock-up period, usually 90 or 180 days. You will not be able to sell your shares until this period expires.
📈 Learn more: Discover the top online brokers for stock trading and make informed investment decisions with our in-depth post.
How to Buy Blue Origin Stock: Invest After the IPO
The most conservative approach on how to buy Blue Origin stock would be to wait for the IPO and buy the shares in the public post-IPO market. You can do this through any brokerage account.
You won't get in at the low price offered by pre-IPO or IPO purchases, but it's the simplest way to invest, and there's still a substantial upside if the company succeeds.
Are There Any Concerns About Blue Origin?
Like all companies, an investment in Blue Origin carries risks. Those risks are accentuated by Blue Origin's status as a private company with no plan to go public in the near or even medium-term future.
These are some risks specific to Blue Origin.
Accident risk. Any serious or fatal accident, even if Blue Origin is not involved, could have a heavy impact on the prospects of the entire commercial space industry, including Blue Origin.
Dependence on Government Contracts. Blue Origin relies heavily on US government contracts. Failure to deliver adequate performance or to bid competitively on future projects could jeopardize that business.
Capital-intensive business. The commercial space business requires enormous amounts of capital with a very long return horizon. Failures and setbacks are expected.
Dependence on a single individual. Blue Origin is heavily dependent on Jeff Bezos and might be unable to continue if anything happens to him.
No visible exit strategy. There is no indication that Blue Origin is planning for an IPO or other liquidity event. Shareowners may not be able to dispose of their holdings.
Any or all of these factors could emerge as significant threats to Blue Origin.
Can Blue Origin Compete?
Blue Origin is one of three billionaire-funded commercial space companies. There are other private companies in this space, including diversified aerospace giants like Boeing and Lockheed Martin, but SpaceX and Virgin Galactic are widely seen as the primary competitors for Blue Origin.
Virgin Galactic is using a strategy similar to that of Blue Origin, focused mainly on launch services and space tourism. The company has consistently posted losses since its inception.
SpaceX is also developing launch vehicles but is heavily reliant on Starlink, its satellite-based internet service. Starlink is expected to provide 40% of SpaceX's 2023 revenue, giving it a continuing revenue stream from subscriptions. Starlink is also considered an IPO candidate in its own right.
Jeff Bezos is adopting a different strategy, focusing Blue Origin on launch services and high-profile government contracts. Bezos' entry into the satellite internet market, Project Kuiper, is a completely separate company under Amazon.
It remains to be seen which of these companies – if any – prevails in the private space race and which strategy will emerge on top. It is not even clear whether Bezos expects Blue Origin to become a public company and a major contributor to his net worth or whether he is focused mainly on building a personal place in the history of space exploration.
Conclusion on How to Buy Blue Origin Stock
Hopefully, this post has clarified how to buy Blue Origin stock. There are ways to invest in private companies like Blue Origin. Some ways are more difficult than others. But if you're willing to do some digging, you might be able to purchase Blue Origin stock before the company's IPO.
Blue Origin is a highly speculative investment with substantial risks. There's no way to anticipate when an IPO will be held, so your funds could be tied up for some time. If the gamble pays off, the gains could be substantial.
If you want to stay up-to-date on when Blue Origin goes public, sign up for our newsletter, and we will let you know!
FAQs
What Is Blue Origin?
Blue Origin designs and manufactures rocket engines, launch vehicles, space stations, and other space-related equipment. It also expects to offer space tourism packages using reusable spacecraft.
How Can I Buy Blue Origin Stock?
Blue Origin is still privately held, meaning its shares are not available on the stock market yet. There are ways to purchase pre-IPO stock, but success is not guaranteed, and there may be qualifying requirements. There is no assurance that Blue Origin will ever go public.
Are There Any Concerns About Blue Origin?
Blue Origin is exposed to accident risk. It is also in a business that has very high operating costs and requires huge amounts of capital, and it is almost entirely dependent on the involvement of Jeff Bezos.